Osaka Roars Back & Defeats Azarenka in Historic All-Kastles US Open Final; Bruno Wins Men's Doubles Championship
September 14, 2020 - World TeamTennis (WTT) - Washington Kastles News Release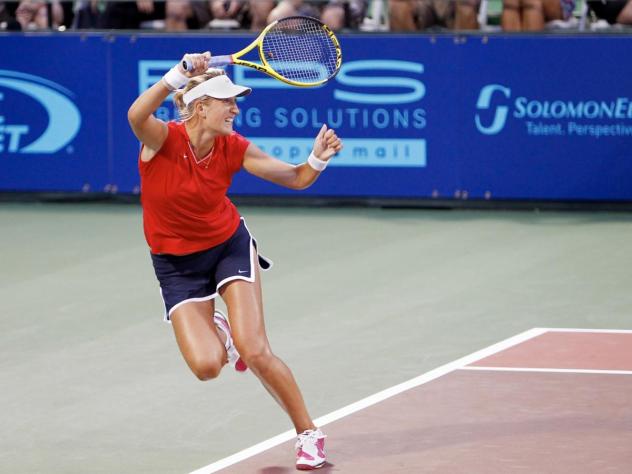 Victoria Azarenka with the Washington Kastles at City Center in 2010
(Washington Kastles, Credit: Washington Kastles)
This weekend, former Kastles star and #4 seed Naomi Osaka (2018) lifted the US Open champions' trophy inside Arthur Ashe Stadium to cap an unprecedented tournament in the history of tennis.
Last night, the first US Open men's title ever settled in a 5th set tiebreak was won by Dominic Thiem over two-time Citi Open champion (2017 and 2018) Alexander Zverev, 2-6, 4-6, 6-4, 6-3, 7-6(6), in one the tightest matches in recent history.
On Saturday, in a thrilling comeback, 22-year-old Osaka of Japan overcame a forceful assault from Belarusian former world #1 and fellow former Kastle Victoria Azarenka (2010) to win her second US Open and third Grand Slam title, 1-6, 6-3, 6-3, in the first major championship to be held since the worldwide shutdown caused by the novel coronavirus Covid-19.
"I think I played some really good tennis this week, and I can be happy about that," said Osaka in her victory speech, aimed at a largely television audience. "I also think everything off the court was definitely building up. I had some moments where I was very stressed out. Honestly, I was learning a lot during all these matches that I played in the Open."
It's been over 25 years since a woman has come back to win the singles championship after dropping the opening set. In 1994, Spanish star Arantxa Sanchez Vicario succeeded against 22-time Grand Slam champion Steffi Graf.
It was also a historic tournament for Kastles players and fans. This year's women's singles championship featured a first-ever all-Kastles semifinals, after an unprecedented five former Kastles stars advanced to the quarterfinals!
Prior to the final, Osaka defeated former Kastle and recent Top Seed Open champion Jennifer Brady (2019) in a riveting semifinal showdown, 7-6(1), 3-6, 6-3, while Azarenka bested Kastles legend and 23-time Grand Slam champion Serena Williams (2008-09, 2011) in the second semifinal, 1-6, 6-3, 6-3, which was arguably the blockbuster event of the tournament. Williams had defeated Azarenka in her last Grand Slam final appearance at the 2013 US Open, but could not repeat the feat in 2020.
Both two-time Grand Slam champions heading into the final, Osaka led Azarenka in their career head-to-head, 2-1, having won their two most recent clashes, including a thrilling three-setter at the 2019 French Open. The duo were scheduled to face off two weeks ago at the Western & Southern Open, before Osaka withdrew from the final, due to a left hamstring injury, handing Azarenka her first title since she gave birth to son Leo in late 2016.
The Belarusian and two-time Australian Open champ (2012-13) was, indeed, in champion form in New York this summer. She dropped just two sets en route to the final and was invincible in the opening set against Osaka. Azarenka's ability to absorb and redirect her opponents' pace enabled her to score two, consecutive and three breaks total to take the first set and roar ahead, 2-0, in the second.
"I think it's definitely been a great three weeks of tennis," said Azareanka after the match. "I haven't had such results in quite a long time, so I'm very excited for it. Today, it's a loss, but it doesn't change for me much. Of course, I would have loved to win today. It is what it is. I gave everything that I could on the court."
But Osaka had also been in top form throughout the fortnight. And after defeating Brady in the semifinals and yet another former Kastle, Marta Kostyuk (2019) in the third round, 6-3, 6-7(4), 6-2, Osaka clearly had the confidence to persevere in another three set contest.
"I just thought to myself to be positive, don't lose, 6-1, 6-0," said Osaka about her inner monologue early in the second set. "Hopefully give her a slight run for her money. I just sort of ran with that line of thinking."
She got back on track in the third game, redirecting shots more quickly and forcefully. She transformed from shaky to sure-footed. She had just five winners in the first set, compared to 16 in the second, and went from 13 unforced errors to a mere five.
By the third set, Azarenka was visibly rattled, double-faulting to set up breakpoints, then netting a forehand to close a 17-stroke exchange and fall behind 1-3. But the former Kastles star would not go quietly.
Even after Osaka surged ahead 4-1 and held four breakpoints in the next game, Azarenka refused to throw in the towel. She managed to hold and break to narrow Osaka's lead to 4-3.
But the Japanese star stopped her Kastles rival there, winning the next two games to claim her second title in New York. Osaka won her first US Open championship in 2018, defeating Serena Williams in another titanic all-Kastles final, and her second Grand Slam title at the 2019 Australian Open, beating two-time Wimbledon champion Petra Kvitova.
"I actually don't want to play you in more finals,'' a smiling Osaka told Azarenka afterward. "I didn't enjoy that.''
After her historic performance in Flushing Meadows, Osaka will rise to #3 in the WTA rankings.
Nicole Melichar Reaches Women's Doubles Final
Former Kastles doubles star Bruno Soares, shown here with teammate Nicole Melichar at Kastles Stadium on Union Market in 2019, picked up his sixth Grand Slam title on Thursday, after defeating Wesley Koolhof and Nikola Mektic to win the 2020 US Open men's doubles championship with Mate Pavic. (Jack Gorman)
Elsewhere, Kastles doubles legend Bruno Soares and Mate Pavic won the men's doubles championship, defeating Wesley Koolhof and Nikola Mektic, 7-5, 6-3, to lift their first Grand Slam trophy as a team.
"It means a lot," said Soares on court after the victory. "That's what we practice for. That's what we were trying to do in these five months off, working for this moment. We're extremely happy. It's been a tough year for everyone. Really glad at the work that everyone put into this event to give us the opportunity to get back on the court. To start with a Grand Slam title, I think it's a very positive way to come back for us."
It is the sixth Grand Slam title for Soares. The Brazilian former doubles world #2 won his first men's doubles Slam at the 2016 Australian Open and second at the 2016 US Open, both partnering with British doubles star Jamie Murray. Soares has also won three Grand Slam mixed doubles titles, two at the US Open (2012 and 2014) and one at the 2016 Australian Open.
Soares teamed up with Pavic, who is a four-time Grand Slam champion, after the French Open last summer. Since then, the pair won the Rolex Shanghai Masters and reached the final of Stockholm, but this is clearly their best result together, to date.
They lost in the first round of the Western & Southern Open, the first tournament since the ATP Tour resumed, but battled past four former US Open champions en route to earning the title at the same venue, due to the coronavirus.
In the first round, they rallied from a break down in the third set against 2019 US Open finalists Marcel Granollers and Horacio Zeballos. Then in the second round, the duo ousted 2018 US Open and Wimbledon champ Jack Sock, who led the New York Empire to the 2020 WTT title and partnered in NY with Jackson Withrow, who at one point served for the match.
"[This gave us] a lot of confidence," Pavic said of their start to the tournament. "We did have tough matches. We got through tough moments throughout the week. [We're] very happy to be here lifting the title, great tournament."
The pair will look to continue their momentum in the third Grand Slam of the season, the rescheduled French Open at Roland Garros, which begins at the end of the month.
In the women's doubles draw, former Kastle Nicole Melichar (2018-19) and Xu Yifan fell to Laura Siegemund and Vera Zvonareva, 6-4, 6-4, in the final on Friday. The unseeded, German-Russian tandem were unstoppable at this year's tournament, upsetting #7 seeds Victoria Azarenka and Sofia Kenin and #2 seeds Elise Mertens and Aryna Sabalenka en route to the champion round.
Prior to the final, Melichar and Xu ousted Philadelphia Freedoms duo Taylor Townsend and Asia Muhammad in a sensational women's doubles semifinal that saw Melichar and Xu save a match point in a nail-biting, third-set tiebreak before prevailing, 6-4, 3-6, 7-6(7), and in the early rounds defeated 2019 Citi Open champions and fan favorites Coco Gauff and Caty McNally in two, tiebreak sets, 7-6(4), 7-6(2).
Images from this story
• Discuss this story on the World TeamTennis message board...


World TeamTennis Stories from September 14, 2020
The opinions expressed in this release are those of the organization issuing it, and do not necessarily reflect the thoughts or opinions of OurSports Central or its staff.