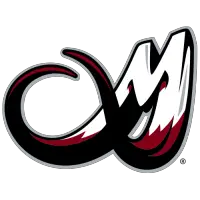 NLL Finals Rematch to Conclude in Buffalo as Colorado Looks to Repeat
May 31, 2023 - National Lacrosse League (NLL) - Colorado Mammoth News Release



Either the league's script writers copy pasted last year's spicy postseason matchups and re-created the same playoff scenario as last year, or the Colorado Mammoth and Buffalo Bandits are two organizations with true championship cultures, deemed to meet again. Regardless of where fans fall on the matter, this year's meetings have only provided sparks.
Seeing the defending 2022 NLL Champion Colorado Mammoth pick up a quality 16-10 victory over the defending East Conference Champions inside the Loud House Monday afternoon, Mammoth fans, who have already begun their plans to head east and support the team at KeyBank Center, weren't surprised in the least when they saw the burgundy boys show up and show out in the "Win or Go Home" Game 2 showdown.
Anytime you see Buffalo included within a matchup, or potentially any of the offensive-forward East Conference teams, you know goals are going to be happening left and right. Not to say that the West Conference doesn't bring the same firepower each year, but rather a conference who's learned to prioritize goaltending and physical defensive units: a formula which has helped produce cups out West for, well a while now.
Seeing 16 tallies in the game score, fans would typically assume it was the Dhane Smith-led squad who'd be next to the elite mark, but instead Monday afternoon, it was Colorado, despite having just one goal on the board through the first 12 and a half minutes of play. Again allowing the opposition to get things started quickly, the Mammoth found themselves down 3-1 before things started to click late in the first. Eventually ripping off a four-goal run as the opening quarter concluded and keeping it going into the second, Colorado received scoring efforts from Tim Edwards and Connor Robinson before seeing Flyin Ryan Lee cash in a pair of scores within 24 seconds (1:24, 1:48).
Smith was able to earn one back for the visiting team, but Lee quickly completed his second-quarter hat trick with another stellar finish, which was followed up with another Robinson goal three minutes later. With Buffalo's Chris Cloutier and Colorado's Zed Williams exchanging tallies as the half come to a close, the home team took an 8-5 advantage into the break.
Continuing to ride the momentum of the Loud House, the defending champions went on to outscore the Bandits 5-2 throughout the third quarter, seeing Eli McLaughlin pick up a hat trick throughout the productive 15 minutes of action. Lee and Williams also notched goals as the contest began to chippy, which would see a total of 58 penalty minutes (42 for Buffalo, 16 for Colorado), while Nanticoke found twine twice for Buffalo. Doubling down the opposition 93 seconds into the final quarter, Tyson Gibson made it a 14-7 game to kick things off, but Nanticoke and Fraser continued to punch the clock, each answering with goals as the session raged on.
With just under five to play, the magic man Connor Robinson sealed the deal with third of the night as the third Mammoth forward to reach the three-goal mark. Nanticoke followed that score up just 17 seconds later with a goal of his own, and fourth of the contest, but that would serve as Buffalo's last conversion. Becoming the seventh forward on the night to find the scoresheet, Dylan Kinnear solidified a 16-10 final with a penalty shot score at the 14:26 mark, quite the exclamation mark.
Liger McLaughlin (3g, 4a) and Flyin Ryan Lee paced the Mammoth with seven points each, while Zed Williams (2g, 4a) and Connor Robinson (3g, 2a) helped spark the Game 2 victory. Netminder Dillon Ward stopped 38-of-48 in his fourth win of the postseason. Dhane Smith did his thing for the Bandits, racking up eight points (2g, 6a) in Game 2, but other than Tehoka Nanticoke (4g, 0a) and Chris Cloutier (1g, 4a) stepping up Monday, it was a bit of a one-man show for Buffalo.
Looking at overall postseason scoring for the Bandits, Smith has done his part with 40 points (13g, 27a), but Cloutier at 27 points (12g, 15a) has just one more than Josh Byrne's 26 points (11g, 15a) despite playing in two more games than the injured Byrne. Kyle Buchanan (5g, 16a) and Nanticoke (14g, 6a) round out the top five producers and serving as the five Bandits forwards to surpass the 20-point mark through five games. The fact that Byrne still ranks third not only speaks to how talented the scorer is, but how much the team relies on him to be that 1B option to Smith's 1A. Typically flashy and a regular on the scoresheet, Chase Fraser has managed just 10 points (8g, 2a), albeit eight goals, good for fifth-most on the squad. When Buffalo is clicking, Fraser and Byrne are part of that top-end production, an aspect the team hasn't seen during the NLL Finals so far.
Meanwhile for the Mammoth, four players have eclipsed the 25-point mark so far, as the team continues to feature each of its top offensive threats on an ever-night basis. Seeing the team produce three hat trick efforts Monday amidst eight different scorers, Colorado will need to continue to utilize its options if they hope to solve veteran netminder Matt Vinc Saturday night in Game 3.
Neither team submitted and personnel transactions ahead of Monday's Game 2, but fans on both side of the aisle will continue to keep their eye on forward Josh Byrne's availability, who was moved to the team's Injured Reserve List ahead of the NLL Finals. Defenseman Josh Sullivan and forward Ty Thompson remain on Colorado's Injured Reserve List. Mammoth fans can stay tuned to coloradomammoth.com, the team's social media channels and NLL.com's transaction page for the team's latest transactions, news and beyond heading into this weekend's Game 3 battle with the Bandits.
Saturday's Game 3 of the NLL Finals in Buffalo represents the third of three scheduled postseason matchups scheduled against the Bandits, the fourth overall contest to take place between the two storied franchises during this year and last overall contest of the NLL's 2022-23 campaign. It will also represent the third competition between the teams to take place inside KeyBank Center this season, with Colorado earning a 13-8 win in March during the regular season before seeing Buffalo steal a 13-12 victory in Game 1 of this year's NLL Finals.
For all the marbles, Game 3 of the NLL Finals is slated to begin at 5:30 p.m. MT and can be viewed on Altitude TV and ESPN+. Mammoth fans in the Denver area are encouraged to head over to Bender's in Westminster for the official Colorado Mammoth Game 3 NLL Finals Watch Party!
Consistency is Key
Continuing to evolve during his first NLL Finals action, star forward Ryan Lee put on a show for Mammoth fans inside Ball Arena Monday, racking up seven points (4g, 3a) during his first Finals game inside at the Loud House. Earning three of the four within just over five minutes of second-quarter action, he continues to fly across creases while operating the team's championship-caliber offense. With spots on both the PLL's Redwoods and Team Canada's outdoor roster awaiting the skilled righty, he'll look to carry his team to a second-straight parade after missing a majority of last year's run with a lower-body injury.
It's not just Lee filling nets though, as Liger McLaughlin now has hat tricks in three of six postseason matchups after recording seven points (3g, 4a) of his own Monday afternoon. Joining Lee and Smith as one of three forwards to meet the 30-point mark during this year's playoff run, McLaughlin has been fearless, never backing down from doing the dirty work down low or taking a fierce rip from the outside. Working alongside Connor Robinson, Chris Wardle, Dylan Kinnear and company, Colorado arguably rosters the most talented offensive unit in the league top to bottom, which continues to show up on the scoring sheet.
With Lee's 34 points (11g, 23a) representing the second-highest total among all players during the 2023 NLL postseason, combined with Eli McLaughlin (14g, 16a), Zed Williams (12g, 15a) and Connor Robinson (11g, 14a) each ranking within the NLL's Top 7 producers, the team's top scorers represent four of five Mammoth players who have logged at least one point in all six postseason contests, including:
Ryan Lee (4g, 5a), (0g, 4a), (0g, 6a), (1g, 1a), (2g, 4a), (4g, 3a) = 34 points (11g, 23a)
Eli McLaughlin (4g, 2a), (1g, 2a), (2g, 3a), (1g, 2a), (3g, 3a), (3g, 4a) = 30 points (14g, 16a)
Zed Williams (2g, 3a), (1g, 2a), (3g, 1a), (2g, 2a), (2g, 3a), (2g, 4a) = 27 points (12g, 15a)
Connor Robinson (0g, 1a), (3g, 2a), (3g, 4a), (1g, 1a), (1g, 4a), (3g, 2a) = 25 points (11g, 14a)
Chris Wardle (1g, 0a), (2g, 0a), (1g, 2a), (1g, 1a), (1g, 0a), (1g, 0a) = 10 points (7g, 3a)
Get in the Game
Mammoth games can be viewed on Altitude TV and streamed live via ESPN+. Saturday's game against the Buffalo Bandits can be viewed on Altitude TV and ESPN+. Mammoth fans can keep an eye on coloradomammoth.com and the team's social media channels for the latest news, transactions and organizational updates throughout the 2022-23 NLL season.
• Discuss this story on the National Lacrosse League message board...


National Lacrosse League Stories from May 31, 2023
The opinions expressed in this release are those of the organization issuing it, and do not necessarily reflect the thoughts or opinions of OurSports Central or its staff.