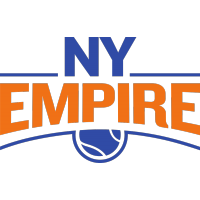 New York Empire Upset Philadelphia Freedoms to Make Second Straight World Teamtennis Final
August 1, 2020 - World TeamTennis (WTT) - New York Empire News Release



WHITE SULPHUR SPRINGS, W.V. - New York Empire Coach Luke Jensen bet on two of his Grand Slam doubles champions in the first World TeamTennis Semifinal, and it paid off for him in a big way as the Empire upset the top-seeded Philadelphia Freedoms, 22-18, to make the WTT final for a second consecutive year on Saturday at the Court at Creekside at The Greenbrier Resort.
Jensen doubled down on Jack Sock and Coco Vandeweghe and his stars responded with a huge 5-1 middle Mixed Doubles set to extend an early lead to 14-9 that would prove insurmountable for the Freedoms to overcome. Philadelphia ends the year at 12-3.
The 8-7 Empire, which also beat the Freedoms in last year's playoff semifinals before falling in the final to Springfield, will play in the final on Sunday at 12 p.m. ET and live on CBS Television Network. New York got the clinching win from four-time Grand Slam champion and former world top-10 player Sock, playing in his third WTT season and first for the Empire. Sock and the Empire will face the winner of the evening semifinal between Orlando Storm and Chicago Smash.
Sock clinched the win with a 5-3 tiebreaker win over the Freedoms' Taylor Fritz in Men's Singles to take the set 5-4. "It's very exciting," said Sock, who has won Wimbledon twice and the US Open twice in doubles. "The camaraderie and energy we have, we all feed off each other pretty well and play our best tennis. We are going to keep going. We don't mind being the underdogs as the four seed."
Fritz, who on Friday was named the league's Male Most Valuable Player, actually won more points in the close set, 25-24, but the power-serving Sock never lost his serve. "I knew if I would have gotten broken it could have been stressful and didn't want to have to be extended to a Super Tiebreaker," Sock said.
Jensen said Sock has been the difference maker this season. "It's absolutely unbelievable and we have such a great team vibe," Jensen said. "The coach's position here is don't screw it up because the players know how to practice and they know their games. It's important that I empower them, win or lose, to have fun. When we lost to Philadelphia a few days ago I wanted to make sure they were still having fun because we still put pressure of them. It just carries over. And then, just giving them little hints; serve to the backhand here."
In the fourth set Women's Doubles Philadelphia remained alive with a 5-3 set win for Taylor Townsend and Caroline Dolehide over Vandeweghe and 2018 Wimbledon doubles champion Nicole Melichar.
Sock and Vandeweghe started fast in Mixed Doubles breaking Fabrice Martin's serve and Sock holding for the early 2-0 set lead. Down 0-4, the Freedoms subbed in Fritz for Martin and got one game before Sock closed out the set on his serve, 5-1, and a 14-9 lead.
"I probably was a little too late subbing in Taylor," Freedoms Coach Craig Kardon said. "They were just the better team today. They played like they had nothing to lose, and we played like we had everything to lose. Jack and Coco are probably the best doubles team in the league."
Reigning Australian Open singles champion Sofia Kenin avenged a loss to Vandeweghe on Thursday in Women's Singles posting a 5-4 lead to pull the Freedoms to within one in the overall score, 9-8.
"It's great to get a New York team to the final," said Vandeweghe, who is the niece of former New York Knicks star Kiki Vandeweghe and who was traded by San Diego to the Empire before the trade deadline last Sunday. "I liked playing for San Diego, but just glad I got the opportunity to play for a title."
At stake on Sunday is the coveted King Trophy and a $500,000 payout to the winning team. The finalists will split $250,000 as a total of $1-million prize money was added to this year's playoffs.
WTT CEO Carlos Silva was happy the weather held for the first semifinal played outdoors, and applauded his WTT team for what has been an incredible three-week season. "Sometimes you have to be lucky, but I do think that you get lucky when you plan really hard," Silva said. "You make your own luck, and I think we did that here. I think we looked a little smart, and it was a great decision to come to The Greenbrier."
New York Empire def. PHILADELPHIA FREEDOMS, 22-18
Men's Doubles: Jack Sock/Neal Skupski (Empire) def. Taylor Fritz/Fabrice Martin (Freedoms), 5-3
Women's Singles: Sofia Kenin (Freedoms) def. Coco Vandeweghe (Empire), 5-4
Mixed Doubles: Sock/Vandeweghe (Empire) def. Martin>Taylor Townsend (Freedoms), 5-1
(Down 0-4, the Freedoms substituted Fritz in for Martin).
Women's Doubles: Caroline Dolehide/Townsend (Freedoms) def. Caroline Dolehide/Vandeweghe (Empire), 5-3
Men's Singles: Sock (Empire) def. Fritz (Freedoms), 5-4
NOTEBOOK:
n WTT MALE AND FEMALE MVPS NAMED:
o Philadelphia Freedoms' Taylor Fritz and Chicago Smash's Bethanie Mattek-Sands on Friday were named 2020 WTT Male and Female Most Valuable Players, respectively. Each player was presented with a Shinola Detroit watch.
WHERE TO WATCH: CBS Sports, the official television partner of World TeamTennis, will air the finals LIVE on broadcast television when CBS Television Network showcases the WTT Finals on tomorrow at noon ET/9 AM PT.
Images from this story
• Discuss this story on the World TeamTennis message board...


World TeamTennis Stories from August 1, 2020
The opinions expressed in this release are those of the organization issuing it, and do not necessarily reflect the thoughts or opinions of OurSports Central or its staff.