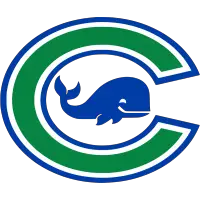 Marchment Enjoying Early Success and Experiences
December 4, 2021 - Premier Hockey Federation (PHF) - Connecticut Whale News Release



Kennedy Marchment is making the most of early season opportunities with the Connecticut Whale and is quickly establishing herself as a player to watch in the Premier Hockey Federation.
With seven points in six games the Courtice, Ontario native leads her club and all PHF newcomers in scoring through November, showing no signs of any trouble transitioning following three years overseas.
"All around it's been great and the girls on the team have been really welcoming," Marchment said. "The people here are definitely my favorite part. It's nerve wracking coming to a new team but everyone has made it fun going to the rink and that's the most important thing. Just enjoying the game."
Before her senior season at St. Lawrence University, Marchment was the second overall pick by the Buffalo Beauts in the 2017 draft. She chose to compete in the SDHL after graduation but signed with the Whale as a free agent this offseason and has felt comfortable in Connecticut ever since.
"Everyone reached out when I arrived," she said. "We had a team meeting with our owner Tobin (Kelly) and GM Alexis (Moed) who talked about why they want to be part of the PHF. It was great because it builds that personal aspect with people who are here to help. Tobin has done a lot for us. Our new dressing room upgrades really makes a difference and flying to Toronto for games was professional. Those are big things for us and for women's hockey."
The new Whale leadership is part of a new PHF era that Marchment is excited for.
"I was ready for something different and to be closer to home. I wasn't ready to be done with hockey and this is a great opportunity in a league that is growing. What the league stands for, creating a love for the game with younger girls playing hockey, the way everything is going is up. I want to try and make the PHF the best it can be, a sustainable league, and it's important to show it can be done and grow."
Marchment, who turns 25 on Monday, lives with teammate and fellow Canadian Allie Munroe who also joined the Whale as a free agent acquisition from the SDHL. On the ice she's found chemistry playing with the likes of veterans Emma Vlasic and Alyssa Wohlfeiler who are tied for second in team scoring with five points each through six games.
"Both (Vlasic and Wohlfeiler) are very, very good players and both can put the puck in the net," Marchment says. "Personally I've had to adapt as we learn each other's styles but it's been advantageous using their knowledge about other teams and that aspect of the game. It's been fun playing new teams and interesting with our schedule to get a look at everybody before Christmas."
Marchment has always been an offensive threat as a 2017 Patty Kazmaier Award finalist given her 56-point NCAA season, and scoring 62 goals with 188 points in 106 SDHL games from 2018-2021. She notes the adjustment going from Olympic ice in Sweden to the smaller North American surface.
"I definitely consider myself an offensive player to the team," she says. "I am trying to develop my defensive game, too, but use the offensive zone most to my advantage. I try to get pucks to the net, and assistant coach Jeff Devenney has been helping make me more of a shooter and releasing the puck quicker because over here you don't have as much time."
The Whale's most recent road trip to Toronto certainly gave Marchment some familiarity, not only as a Canadian, but by playing on the larger ice at York Canlan where the Six call home. She scored in both games to bring her season total to four and will go down in history as the first player to tally a PHF goal north of the border.
"It was really cool to score," she says. "Despite the outcome we still have a lot to take away from that weekend. It was pretty special for me, coming back from overseas and having family there to watch me. It was honestly just a really cool experience with such a great turnout in Toronto. They did an amazing job and it is a great thing for the league."
The Marchment's are definitely a hockey family. Kennedy's Dad Wayne coached a number of junior teams and her Mom Christine has played and served in administrative roles. Older sisters Melissa and Carly also played hockey, as did brother Jake who was a 2014 draft pick of the Los Angeles Kings. Her uncle Bryan Marchment played 926 NHL games, and cousin Mason is a member of the Florida Panthers.
"My family has had a major impact on my life and career," she says. "My mom is the backbone of the family. She does it all. Driving us to practices, watching all of our games, feeding us and so much more. My dad is someone I talk to before and after every game. He is one of the biggest influences in my life. I have three older siblings all of whom have paved the way for me. My two sisters have given me confidence and support throughout my life regardless of any other factor. My brother has been one of my biggest hockey role models for me to look up to. He always pushed me and practiced with me on the driveway or anywhere he could. I thank my family for any and all success I have."
The Whale are currently fourth in the PHF standings with seven points from a pair of regulation wins against Metropolitan and Boston, plus an overtime loss to the Pride. They'll be looking to bounce back from back-to-back losses in Toronto with a weekend series at home against the Minnesota Whitecaps who walk into Danbury Ice Arena with a fifth place record.
"We had a bit of a break and pushed the reset button," Marchment said. "Our record isn't where we want it to be and we believe we are better than our record shows. We've had some positive practices to help get us ready. We aren't in panic mode. Minnesota will be a good test but we have the roster to get six points at home."
• Discuss this story on the Premier Hockey Federation message board...


Premier Hockey Federation Stories from December 4, 2021
The opinions expressed in this release are those of the organization issuing it, and do not necessarily reflect the thoughts or opinions of OurSports Central or its staff.