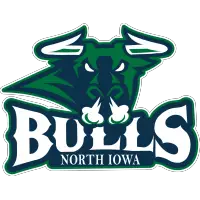 Bruins Beat Bulls on Black Friday, End North Iowa Win Streak
November 26, 2021 - North American Hockey League (NAHL) - North Iowa Bulls News Release



North Iowa captain Sean Vlasich and Austin's Liam Whitehouse
(North Iowa Bulls, Credit: Alissha Ames)
AUSTIN, Minn. - Black Friday is known for being a day to pick things up - the first thing to pick up is a good deal on Christmas gifts early in the morning, and by the middle of the day, the focus has shifted to picking up something to eat while watching the big game.
The North Iowa Bulls and Austin Bruins were focused on picking up a win Friday night, and there was no bigger game on their schedule with both teams keeping recent streaks in mind.
The Bruins wiped out their recent four-game losing streak and ended North Iowa's five-game winning streak in the process, finishing with three unanswered goals for a 5-3 win at Riverside Arena. Every game between the two has been a battle to the final horn, with none of the five matchups this season decided by more than two goals.
The scoring started at the 5:40 mark of the first period, when Michael Mesic took a pass from Logan Dombrowsky out of the right-wing corner and ripped it past Hudson Hodges into the top corner of the net for a 1-0 lead.
With time winding down on a penalty to Jake LaRusso, Austin answered on a goal from Sutter Muzzatti - at 12:11 of the period, Muzzatti slithering his way from the corner around a defenseman and in front of the net for a point-blank forehand to tie the game at 1-1.
The scoring picked up in a hurry in the second period, starting with a beauty from Simone Dadie, who split two defenders on his way through the Austin zone and snuck one through the five-hole just 2:01 into the period for a 2-1 North Iowa lead.
The Bulls' lead lasted just 42 seconds, thanks to a turnover behind the net and a setup pass from Muzzatti to Gavin Morrissey, who knocked in a one-timer for the 2-2 tie.
Fast-forward just 95 seconds, and the Bulls would grab the lead again - Jack Boxer slipped the puck free of a crowd along the neutral-zone boards, springing Byron Hartley to race into the Bruins' zone and fire a wrister past Hodges on his stick side for a 3-2 lead.
The Bruins started their decisive scoring run just before the halfway mark of the second period - with 10:26 left in the period, Furuseth walked the puck down the right-wing wall and snapped a shot from about 10 feet above the goal line. That shot went to the back post, beating Hunter Garvey and tying the game one last time at 3-3.
The last word of the game went to Michal Jasenec, who earned both the game-winner and the insurance goal in the waning minutes. With 8:06 left in the second, the Bruins grabbed the lead for good when Jasenec snuck one off the bottom of the crossbar for a 4-3 advantage.
His second goal with 2:19 remaining came on a rebound, with Garvey swatting a chance from Ocean Wallace. The second chance settled just in front of the goal line and Jasenec was able to scrape it past for the final tally of the game.
Muzzatti had a hand in all of the game's first three goals, scoring one and adding a pair of assists, while Jasenec one-upped him with two goals and two assists.
Garvey took the loss for North Iowa, making 17 saves on 22 Austin shots, also ending a personal five-game winning streak. Hodges did enough to earn the win, making 20 saves of his own. North Iowa picked up 16 shots on goal in the first 20 minutes, but added just seven the rest of the way, scoring on two out of their three chances in the second period.
The Bulls fall back to 13-5-0-2 with the loss, while the Bruins bumped their mark to 12-7-1-2 with the victory. They moved back within a point of North Iowa for the Central Division lead, though the Bulls have two games in hand. North Iowa also holds four games in hand on Minot, who edged Aberdeen 4-3 on Friday to jump into a tie for second place in the standings.
North Iowa and Austin square off again Saturday night in Mason City as their 12-game season series reaches its halfway mark. The opening puck drop is slated for 7:30 p.m. at the Mason City Arena.
North Iowa 1 2 0 - 3
Austin 1 3 1 - 5
1st Period-1, North Iowa, Mesic 6 (Dombrowsky), 5:40. 2, Austin, Muzzatti 6 (Wallace, Jasenec), 12:11 (PP). Penalties-LaRusso Nio (tripping-minor), 10:22.
2nd Period-3, North Iowa, Dadie 4 (Bulger, Japchen), 2:01. 4, Austin, Morrissey 4 (Muzzatti, Furuseth), 2:43. 5, North Iowa, Hartley 7 (Boxer), 4:18. 6, Austin, Furuseth 4 (Jasenec), 9:34. 7, Austin, Jasenec 4 (Muzzatti, Richards), 11:54. Penalties-LaRusso Nio (unsportsmanlike conduct-minor), 4:18; Catalano Aus (slashing-minor), 4:18; Catalano Aus (abuse of official-gross misc), 4:28; Simmons-Fischer Aus (tripping-minor), 12:15; Dombrowsky Nio (checking from behind-minor, checking from behind-10 misc), 19:03; Japchen Nio (roughing-minor), 19:31; Simmons-Fischer Aus (roughing-minor), 19:31.
3rd Period-8, Austin, Jasenec 5 (Wallace, Richards), 17:41. Penalties-Dadie Nio (roughing-minor), 2:57; McClellan Aus (roughing-minor), 2:57; Mesic Nio (cross checking-minor), 8:44; Dadie Nio (roughing-minor), 12:51; Richards Aus (slashing-minor), 12:51; LaRusso Nio (second misconduct penalty in same game-ej), 20:00.
Shots on Goal-North Iowa 16-3-4-23. Austin 8-8-6-22.
Power Play Opportunities-North Iowa 0 / 1; Austin 1 / 3.
Goalies-North Iowa, Garvey 9-3-0-2 (22 shots-17 saves). Austin, Hodges 8-5-1-0 (23 shots-20 saves).
A-647
Referees-Anthony Vikhter.
Linesmen-Alex Schuhmacher, Matt Valerio.
Images from this story
• Discuss this story on the North American Hockey League message board...


North American Hockey League Stories from November 26, 2021
The opinions expressed in this release are those of the organization issuing it, and do not necessarily reflect the thoughts or opinions of OurSports Central or its staff.
Other Recent North Iowa Bulls Stories