Brigade Today // June 10, 2019
June 10, 2019 - Arena Football League (AFL) - Baltimore Brigade News Release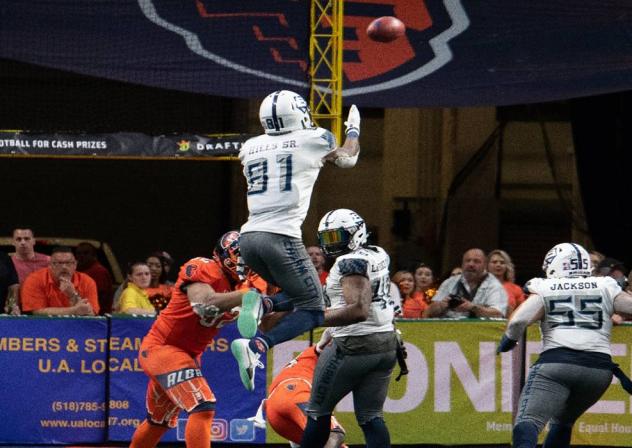 Baltimore Brigade wide receiver Joe Hills leaps high for a ball against the Albany Empire
(Baltimore Brigade)
Hills catches season-high four scores, nears career milestone
SCORE BY QUARTER 1 2 3 4 FINAL
BALTIMORE 14 14 14 0 42
ALBANY 7 14 14 6 41
The Baltimore Brigade (4-3) handed the Albany Empire (6-1) their first loss of the season, 42-41, Saturday night at Times Union Center in Albany, N.Y. Brigade quarterback Shane Boyd was named the game's Most Valuable Player, throwing for 261 yards and six touchdowns, tying a season high set in Week 1.
"We had fun out there tonight," Boyd said. "Guys did their jobs. We built off last week and we did what we needed to do. We'll celebrate this one, but we need to continue to build as we hit the second half of the season."
Brigade wide receiver Joe Hills set season highs in receptions (13), receiving yards (137) and receiving touchdowns (4) and was named Offensive Player of the Game. The performance marked his 99th straight game played with a receiving touchdown.
TEAMMATE TALK
QUARTERBACK SHANE BOYD
On game win
"We had a focus. We had a goal to come in here and bounce back from our tough loss last week. So, I am proud of my guys and how we fought, how we overcame adversity, how we kept our foot on the pedal and just played football. We were having fun today and that was something great to watch from all of these players."
WIDE RECEIVER JOE HILLS
On game win
"We wanted to go out and put on a great performance. We had a lot to prove as a team and I had a lot to prove as a receiver. People talk in this league about who the best is and we went out there and showed them."
DEFENSIVE BACK JOSH VICTORIAN
On the Baltimore defense mindset
"We're hungry. A lot of people disrespect us around the league, I feel like. So each game we try to come out here and show people who we are."
LINEBACKER DEXTER JACKSON
On defense preparation leading up to the game
"First, you need to get at them up front and cover in the back. Number two, with an offense like this you can't have any missed assignments and no blown coverages. Last, when they give you opportunities, you need to take advantage of them."
WIDE RECEIVER MILTON WILLIAMS III
On playing as a team
"We need to play a complete game as a team. The offense might have a real good week and then the defense might have a real good week, but when we play together as one then no one can stop us."
JOE HILLS NEARS MAJOR AFL RECORD
Wide receiver Joe Hills is on course to hit a major Arena Football League record with 100 consecutive games with a receiving touchdown. The closest receiver to Hills' record was AFL Hall of Famer Damian Harrell, who held the previous record with 78 straight games until Joe broke it on July 15, 2017. In comparison with the NFL, the record for consecutive games with a receiving touchdown is only at 13 games and held by wide receiver Jerry Rice. The NFL record increases to 18 consecutive games with a touchdown when including both rushing and receiving scores and is held by LaDainian Tomlinson and Lenny Moore.
With Hills' four-touchdown performance last week, he currently sits at 99 consecutive games. Hills is one of Baltimore's dynamic wideouts and has racked up 44 receptions for 464 yards and 13 touchdowns this season. Overall, Hills is 14th on the AFL all-time leaderboard in receiving yards with 10,374 and has racked up a total of 858 receptions and 276 touchdowns in his seven years. Tune in for Baltimore's matchup against the Columbus Destroyers on Saturday, June 15 at 3:30 p.m.
GAME SEVEN RECAP: THE NUMBERS
BALTIMORE PASSING
Comp ATT % YDS TD INT RATE
Boyd, Shane 24 37 64.9 261 6 1 113.9
BALTIMORE RECEIVING
Number YDS TD
Hills, Joe 13 137 4
Collins, Brandon 7 103 2
Williams. Milton 4 21 0
BALTIMORE RUSHING
ATT YDS TD
Nixon, Rory 4 5 0
Collins, Brandon 1 1 0
Boyd, Shane 1 0 0
BALTIMORE KICKOFF RETURNS
Number YDS TD
Philips, Ervin 2 18 0
BALTIMORE KICKING
PAT FIELD GOALS
Made ATT % Made ATT %
Stevens, T.C. 6 6 100.0 0 1 0
BALTIMORE DEFENSE LEADERS
TACKLES FUMBLES INT
TOT UA A FF FR TD NO YDS TD
Victorian, Josh 5 4 2 0 0 0 1 6 0
Robinson, Jamal 3 3 0 0 0 0 0 0 0
Powell, Joe 2.5 2 1 0 0 0 1 38 0
Cato-Bishop, Darryl 1 1 0 0 0 0 0 0 0
UPCOMING BALTIMORE BRIGADE GAMES:
The Baltimore Brigade take on the Columbus Destroyers on Saturday, June 15 at 3:30 p.m. for their third consecutive road game. Then for Week 9, Baltimore take on the Washington Valor on Thursday, June 20 at 7:00 p.m. at Capitol One Arena. Check out all the games (schedule here ) live on NBC Sports Washington, ESPN3 or the ESPN App.
TICKETS:
For additional information about joining the Battalion full season ticket membership club, as well as other group and all-inclusive ticket packages, call the Brigade Ticket Sales office at 667-930-0200 or email [email protected]
Images from this story
• Discuss this story on the Arena Football League message board...


Arena Football League Stories from June 10, 2019
The opinions expressed in this release are those of the organization issuing it, and do not necessarily reflect the thoughts or opinions of OurSports Central or its staff.