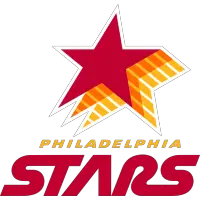 Around the USFL
by Fran Stuchbury
June 30, 2022 - United States Football League (USFL) - Philadelphia Stars



Following playoff victories in Canton, Ohio, last weekend, the Philadelphia Stars and Birmingham Stallions advanced to the inaugural United States Football League Championship Game.
Philadelphia Stars 19 New Jersey Generals 14
The Stars defense stepped up in their victory over New Jersey. The Generals were shut out in the opening half for the first time this season.
Philadelphia held the powerful New Jersey running game to 106 yards rushing and intercepted two Luis Perez passes. Perez had thrown just one pick all season. Amani Dennis' interception with 30 seconds left sealed the win for Philadelphia.
New Jersey forced a pair of second-half turnovers deep in its own territory to keep the game close and took the lead when KaVontae Turpin took a punt back 78 yards for a score.
The Stars offense failed to finish much of the second half. After four trips into the New Jersey red-zone netted just three points, wide receiver Maurice Alexander returned a punt 87 yards for the game-winning touchdown with under two minutes remaining.
Highlights:
Birmingham Stallions 31 New Orleans Breakers 17
This game came down to two plays. During the regular season, Kyle Sloter threw more interceptions, 11, than touchdowns, nine. That trend continued with Sloter throwing one touchdown and two interceptions, including a back-breaker in the second quarter when the Breakers were driving down the field. An ill-advised throw under heavy pressue was intercepted by Stallions linebacker DeMarquis Gates and returned 71-yards for a touchdown to give the Stallions a 14-7 lead.
After New Orleans tied the game at 14-14 late in the second quarter and it appeared the momentum had shifted in their favor, Stallions receiver Victor Bolden returned a kickoff 90 yards for a touchdown - the first kickoff return for a touchdown in the USFL - which gave the Stallions a 21-14 half-time lead.
In the second half the Stallions defense held New Orleans to only three points, and Birmingham scored a late touchdown to put the game out of reach.
Top plays from USFL's First Round
Ratings
Saturday 3 pm est. on FOX - Philadelphia Stars vs. New Jersey Generals - 957,000 viewers
Saturday 8 pm est. on NBC - New Orleans Breakers vs. Birmingham Stallions - 998,000 viewers
USFL CHAMPIONSHIP PREVIEW
Philadelphia Stars vs. Birmingham Stallions
Sunday July 3, 2022 - 7:30 pm est. on FOX
Previous Matchup - May 15, 2022 - Birmingham Stallions 30 Philadelphia Stars 17
Highlights from the first meeting:
Head Coaches
Philadelphia Stars coach Bart Andrus has a lot of alternative football league coaching experience having coached in NFL Europe, the United Football League, Canadian Football League and The Spring League. He was NFL Europe Coach of the Year with the Amsterdam Admirals in 2005 and won World Bowl XIII that season.
Birmingham Stallions head man Skip Holtz has coached college football his entire career. He has been a head coach with Connecticut, East Carolina, South Florida and Louisiana Tech. He won two Conference USA championships with East Carolina in 2008 and 2009, and also took Conference USA Coach of the Year honors with Louisiana Tech in 2016.
Edge: Philadelphia
Quarterbacks
Philadelphia's Case Cookus passed for 1,340 yards, 12 touchdowns and five interceptions since taking over the starting role after Bryan Scott went down with a season-ending knee injury in week three. He did a solid job spreading the ball to different receivers.
Birmingham's J'Mar Smith passed for 1,572 yards, 10 touchdowns and six interceptions. He played quarterback for Skip Holtz at Louisiana Tech.
Edge: Philadelphia
Running Backs
With leading rusher Matt Colburn II out with an injury, Darnell Holland and recently-signed Dexter Jackson will try to fill that void. Jackson played college football at Notre Dame.
The Stallions have more running back weapons with CJ Marable who racked up 400 rushing yards and mid-season pickup Bo Scarborough who contributed 353 yards.
Edge: Birmingham
Wide Receivers and Tight Ends
Stars WR Jordan Suell finished the season with 37 receptions for 379 yards and three touchdowns. Tight end Bug Howard added 30 catches for 371 yards and four scores. Maurice Alexander is another oft-used wide receiver.
The Stallions Victor Boldem topped the squad with 42 receptions for 422 yards and one touchdown. Marlon Williams grabbed 31 catches for 466 yards and four touchdowns. Tight end Sage Surrat joined the Stallions midway through the season and added 11 receptions for 148 yards.
Edge: Birmingham
Defense
Philadelphia's best player on defense is cornerback Channing Stribling who intercepted seven passes to lead the USFL. Defensive end Adam Rodriguez led the Stars with nine sacks and was a big contributor on defense in their victory over the Generals, putting a lot of pressure on quarterback Luis Perez. The Stars gave up some yards, but they finished +8 in turnover margin.
The Stallions have several play makers on defense with linebackers DeMarqis Gates and Scooby Wright leading the charge. Gates leads the teams with 6.5 sacks, and when healthy, Wright has been a leader on defense. Cornerback Christian McFarland contributed 11 total tackles in their victory last week. The Stallions defense surrendered an average of just 16 points per game.
Edge: Birmingham
Special Teams
Stars kicker Luis Aguilar connected on 8 of 10 field goal attempts while averaging was 38.9 yards per punt. Maurice Alexander led the USFL with 787 kick return yards and was third in the USFL with 164 punt return yards.
Birmingham's Brandon Aubrey proved to be one of the league's most pleasant surprises, connecting on 18 of 21 field goal attempts and leading the USFL with 76 kicking points. Punter Colby Wadman averaged 45.1 yards per boot. Victor Bolden racked up 618 kick return yards, fourth in the USFL, and finished second with 176 punt return yards.
Edge: Birmingham
Prediction
Championship football games often come down to quarterback play. If that's the case, Philadelphia may have an edge as Cookus has made more big plays than the Stallions' J'Mar Smith. The Stars have been the hottest team in the USFL the second half of the season.
On the other hand, throughout the season the Stallions defense has made big plays time after time. The Stars will have to avoid turnovers and slow the Birmingham running attack.
If the Stars defense performs as well this week as it did last week against the New Jersey Generals, it could lead them to victory.
Final Score: Philadelphia Stars 27, Birmingham Stallions 17
• Discuss this story on the United States Football League message board...


United States Football League Stories from June 30, 2022
The opinions expressed in this article are those of the writer(s), and do not necessarily reflect the thoughts or opinions of OurSports Central or its staff.