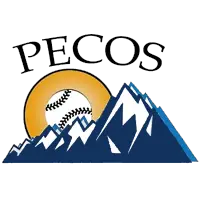 Along the Pecos League Trail
by Bruce Baskin
August 14, 2023 - Pecos League (Pecos)



2023 PECOS LEAGUE SEASON IN REVIEW, OSC AWARDS
With San Rafael's pennant-clinching 2-0 win on Saturday over Tucson, the 2023 Pecos League season has come to a close after 399 regular season and playoff games over eleven weeks. Although both the Pacifics and Saguaros were regular season champions in their respective divisions, theirs were not the only notable performances this year.
In the Pacific Division, San Rafael led wire-to-wire but a terrific battle for the remaining three playoff berths involved five teams. Monterey went 24-4 at home and barely eked out second place by a half-game over Bakersfield. A last-day win by Lancaster clinched fourth, edging out Marysville by one game. Martinez was in the hunt until three straight losses over the final weekend left them in sixth, 2.5 games out of the postseason. Vallejo won only one of four games and was never a factor and Dublin was a disastrous 4-44 (2-38 on the road).
Tucson's Mountain Division supremacy was built on a 22-9 record away from home as the Saguaros held off charging Alpine. The Cowboys regrouped after the tragic June 9 death of pitcher Jared Strait in an auto accident en route to Austin for a game and won their last 13 games to edge out fading Trinidad for second by percentage points. Garden City beat out defending champion Roswell for fourth. Neither Blackwell nor Santa Fe were contenders, although the Fuego's Parker DePasquale had a late-season, five-homer game than included three first-inning longballs (likely a pro baseball mark at any level). Austin suffered through a horrible 1-47 year, losing their final 38 games and forfeiting their last contest at Alpine.
Among individual batters, both divisions had Triple Crown winners. Lancaster's Evan Antonellis joined the team in mid-June after starting the year in Austin and went on to lead the Pacific Division in batting (an amazing .500), homers (19) and RBIs (87) over 35 games. In the Mountain Division, Trinidad outfielder Jason Rooks was likewise tops in batting (.470), homers (22) and RBIs (84), adding 20 stolen bases in 24 attempts.
San Rafael's Alex Valasek led Pacific pitchers in ERA (1.68) and strikeouts (94) but fell one win short of the 7 accrued by five other pitchers, including teammates Eric Parnow and Kohto Hasegawa, Bakersfield's Austin Toerner and Joe Riddle (who also pitched Austin to their lone win, homering in that game) and Greg Salazar of Monterey.
Tucson's Jaymon Cervantes had the Mountain's lowest ERA (3.61) while Jordan Harris of Garden City led the division in strikeouts (77). Two pitchers, Ben Kowalski and Alpine's Matthew Hess led with 7 wins apiece. Hess finished second in ERA (3.83) and tied Kowalski for second in K's (67).
And now it's OSCies time so please pass the envelope (insert drum roll). Here are this year's OurSports Central Pecos League Award winners:
MOUNTAIN DIVISION MOST VALUABLE PLAYER: Jason Rooks, Trinidad Triggers
MOUNTAIN DIVISION PITCHER OF THE YEAR: Matthew Hess, Alpine Cowboys
PACIFIC DIVISION MOST VALUABLE PLAYER: Evan Antonellis, Lancaster Sound Breakers
PACIFIC DIVISION PITCHER OF THE YEAR: Alex Valazek, San Rafael Pacifics
PECOS LEAGUE PLAYOFFS MOST VALUABLE PLAYER: Steve Joyner, Tucson Saguaros
• Discuss this story on the Pecos League message board...


Pecos League Stories from August 14, 2023
The opinions expressed in this article are those of the writer(s), and do not necessarily reflect the thoughts or opinions of OurSports Central or its staff.