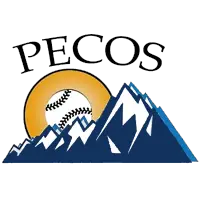 Along the Pecos League Trail
by Bruce Baskin
May 22, 2023 - Pecos League (Pecos)



Road trips sometimes take ten hours or more before players reach the ballpark in time for the opening game of a series. A carpool of five players, not a team bus, will pull into a gas station along the way and pool their own resources and pay $50 or more so they can get back on the road toward their destination.
A player goes 3-for-5 with a homer and a double during a win on the road, but then reality intrudes when he goes to a fast food place after the game. Fishing through his pockets, he may find only a couple of dollar bills and a quarter or two, meaning "dinner" will be a burger and a small soft drink.
A pitcher throws a perfect slider on 2-and-2 pitch knee-high over the outside corner, only to have the right-handed batter reach out and make enough contact for the ball to carry beyond the 285-foot right field marker (in a ballpark sitting 7,000 feet above sea level) for a three-run homer. Despite throwing well with good location on his breaking stuff, the pitcher is now trailing 9-6 and it's only the bottom of the third inning.
Welcome to the Pecos League, the last chance loop of professional baseball. If you can't make it there, you may not make it anywhere.
The Pecos League is an independent circuit formed by Texan Andrew Dunn in 2010, playing its first season one year later. Starting with five teams in New Mexico and one in Texas for 2011, the Pecos has grown to 16 teams in six states stretching from Texas and Kansas to California. Dunn remains commissioner and is in the enviable position of not having to deal with rogue owners, since he owns 15 of the 16 teams in the league himself (the Alpine, TX Cowboys being the lone exception).
From his Houston location, Dunn has run the Pecos League on a budget since Day One. A very tight budget. While major league teams averaged a payroll of $104 million in 2021, the Mets topping the list at $235 million, a Pecos League team payroll may average closer to $1,200 a week for its 22-man roster, or about $55 per player every seven days. Meal money on road trips? Forget it.
Road trips, by the way, vary from team to team. A handful might use buses to ferry players and coaches from places like Garden City, Kansas to Tuscon, Arizona but most players and coaches travel by carpool caravans and pay for gas out of their own pockets. A team office staff usually includes a housing coordinator matching players with families who'll let them sleep in a spare bedroom for the Pecos League's 10-week season from late May to early August in exchange for season tickets or other considerations not involving cash. Pecos League families open their homes to players out of the goodness of their hearts.
Survival in the Pecos League requires both a deep love of the game and the willingness to make personal sacrifices. The hope among players is that performing well in the Pecos will lead to opportunities in leagues higher up the pro baseball ladder (and other leagues are ALL higher up the baseball ladder). It's not about the money or the glory of playing in front of tiny crowds as an outfielder with the Martinez Sturgeon, but rather fighting to chase the dream most have had since playing Little League.
Surprisingly, the quality of baseball in the Pecos League is pretty good, much better than one might expect. Most players have college experience while others have previously played in other independent leagues and even in MLB systems. A handful of Pecos alumni have even gone on to reach the big league, with former Douglas and White Sands catcher Yermin Mercedes setting a major league record by starting his 2021 season with eight consecutive hits for the Chicago White Sox and leading the American League in batting early in the campaign.
Marysville Drakes manager Bill Rogan, entering his fourth season as a skipper in the Pecos, says the quality of play is generally comparable to Short-Season Class A or Rookie League ball in the former minor league setup. Players coming in from the college ranks will often struggle if they played in Division III, NAIA or junior college programs while Division I and II products generally have better track records.
The Pecos has always been a hitter's league, due to the smaller dimensions of many of its ballparks and high elevation of many Mountain Division clubs. In 2022, Pecos teams averaged a collective .310 batting average while mound staffs coughed up 7.49 earned-runs per nine innings. The league is a variation on a 1950's classroom nuclear attack drill: pitch, duck and cover.
So this is what I'll be writing about this summer (for free, of course). Some may consider it a big drop from writing about Class AAA-level leagues in Mexico since 2005, but I don't. To me, it's about giving more exposure to young players fighting the odds and conditions to convert a shot in the lowest league in America's baseball pecking order into a chance in another league or even overseas in Europe.
I've always been a fan of the underdog and if these guys are willing to put themselves through trials and tribulations you'll never see elsewhere, I'm willing to spend my summer trying to give them a little extra exposure beyond the towns and cities they play in. I hope "along the Pecos League Trail" helps do that for them.
• Discuss this story on the Pecos League message board...


Pecos League Stories from May 22, 2023
The opinions expressed in this article are those of the writer(s), and do not necessarily reflect the thoughts or opinions of OurSports Central or its staff.