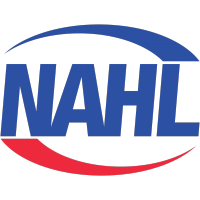 Air Force Head Coach Frank Serratore to Speak at Dinner of Champions
May 3, 2019 - North American Hockey League (NAHL) News Release



DALLAS, TEXAS - The North American Hockey League (NAHL) is pleased to announce that Air Force Academy head coach Frank Serratore will be the keynote speaker at this year's Robertson Cup Dinner of Champions. The Robertson Cup Dinner of Champions takes place on Thursday, May 9th at 7pm at the Radisson Hotel in Roseville, Minnesota and will be attended by the four teams participating in this year's Robertson Cup. The event is closed to the public, but open to credentialed members of the media.
Serratore just completed his 22nd season at Air Force with a 395-350-86 record at the Academy. He has an overall mark of 441-442-95 in 26 seasons as a college head coach. He is one of just 21 coaches in the history of NCAA hockey with 400 or more wins at a Division I institution, and one of just five active coaches. Not only has Serratore turned the Falcon program around, he has turned it into a legitimate national contender, with seven conference championships and seven NCAA appearances in the last 12 years. Over the last 10 years, Air Force has beaten a team ranked in the top five in the nation nine times.
There is no NCAA Division I team that has more NAHL graduates on their roster than Air Force. This past season, 24 former NAHL players were on the roster, and currently 12 players that played in the NAHL during the 2018-19 season are committed to play for the program next season.
"I am a huge proponent of the NAHL and very proud of my affiliation with the league. The Air Force roster is stocked primarily with former NAHL players, and my son Tim, played on a Robertson Cup Champion with Bismarck in 2010. I am looking very forward to being part of the Robertson Cup festivities and can't wait for the games to begin," said Serratore.
"There may be no better champion and advocate for NAHL and it's players than Frank Serratore. As someone who has supported our league's mission from the beginning, Frank is a smart, innovative hockey mind, who understands how to coach and recruit. He is the perfect person to speak to our players and will no doubt resonate with them," said NAHL Commissioner and President Mark Frankenfeld. "The Air Force roster is full of NAHL graduates and not only has Frank built that program into National contender each season, but he has also developed those player into young men who are serving our country for years to come. He embodies all that is right about NCAA hockey and I know our players will enjoy what he has to say."
Serratore came to the Academy from the Manitoba Moose of the International Hockey League, where he was the director of hockey operations in 1996. He was the head coach and general manager of the Minnesota Moose (before they moved to Manitoba) in 1994 and 1995. Prior to his position in Manitoba, Serratore was the head coach at the University of Denver from 1990-1994. During that time, he led the Pioneers to a 49-91-9 record in four seasons and is credited with rebuilding a struggling Pioneer program. In 1995 and 1997, Pioneer teams which were recruited during his tenure made two NCAA final eight appearances and placed third in the WCHA.
Serratore attended Western Michigan University from 1977-79 before earning his bachelor's degree in physical education from Bemidji State University in 1982. He lettered four years in hockey at the two schools playing goalie. He then earned a master's degree in athletic administration/physical education from North Dakota in 1994. He played two seasons for the St. Paul Vulcans (USHL) from 1975-77, winning both the Anderson Cup and Clark Cup, and had a brief stint with the Nashville South Stars (Central Hockey League) in 1982. The native of Coleraine, Minnesota, is no stranger to coaching at the Olympic development level. In August 2003, Serratore was the head coach of the United States Under-17 Team that won the gold medal at the Five Nations Tournament in Prievizda, Slovakia. He has coached at two USA Hockey Olympic Sports Festivals and has been the coach of the USA Hockey Development Program since 1985. In 1993, he coached the West team to the silver medal at the U.S. Olympic Sports Festival in San Antonio, Texas.
The 2019 NAHL Robertson Cup Championship begins in one week and will be held from May 10-14 at Fogerty Arena in Blaine, Minnesota. The Robertson Cup crowns the NAHL's National Champion. For more information on the Robertson Cup Championship Tournament, including schedule, ticket information, hotels, rental cars and other event information, visit http://nahl.com/robertson-cup/
• Discuss this story on the North American Hockey League message board...


North American Hockey League Stories from May 3, 2019
The opinions expressed in this release are those of the organization issuing it, and do not necessarily reflect the thoughts or opinions of OurSports Central or its staff.