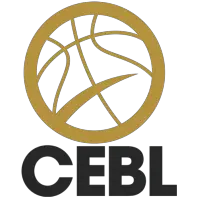 2022 CEBL U SPORTS Draft Class Announced
April 19, 2022 - Canadian Elite Basketball League (CEBL) News Release



The Canadian Elite Basketball League (CEBL) announced the results of the 2022 CEBL U SPORTS Draft on Tuesday after the 10 CEBL franchises drafted 20 student-athletes from 19 Canadian universities over two rounds of selections. This is a coveted opportunity for top players in U SPORTS to get a chance to experience professional basketball by practicing and playing alongside veteran pro's from the NBA, NBA G League, Canadian National team, and top international leagues.
Each team had one pick in each of the two rounds. The order of selection was based on the order of the official launch dates of the three new expansion teams followed by the reverse order of finish in the 2021 regular season standings, with the Scarborough Shooting Stars holding first pick. Scarborough drafted David Muenkat as their first-ever CEBL U SPORTS Draft pick, a third year 6-foot-7 forward from St. Francis Xavier University. Muenkat averaged 13.8 points and 9.6 rebounds in the 2021-22 season and received the StFX Men's Basketball Coach's Award in 2022.
The Montréal Alliance selected Alain Louis of Carleton University with the second pick of the first round. The Montréal native won the 2021-22 U SPORTS National Championship with Carleton, received U SPORTS Final 8 Finals MVP honours and was also named as an Ontario University Athletics (OUA) East Second Team All-Star in 2022. Louis was also drafted in the 2021 CEBL U SPORTS Draft by the Ottawa BlackJacks.
The Newfoundland Growlers selected St. John's native Cole Long of Memorial University who finished tenth in per game scoring average (19.8 points) and third in rebounding average (10.6) in the nation. Long is a two-time Atlantic University Sport (AUS) First Team All-Star and won the Butler Trophy for Memorial Male Athlete of The Year honours in 2019-20.
The Saskatchewan Rattlers picked Anthony Tsegakele of Brandon University fourth overall. After being picked sixth overall in last year's draft by the Fraser Valley Bandits, Tsegakele went on to win the Brandon University Men's Basketball Most Valuable Player award and was named to the Canada West All-Star Third Team in the 2021-22 season. He finished the season ranked second nationally in rebounding with an average of 11.9 per game. The Ottawa BlackJacks then followed with the selection of Nervens Demosthene of the University of Saskatchewan, who was picked first overall by the Rattlers in the 2021 CEBL U SPORTS Draft.
The Guelph Nighthawks picked Elijah Miller of the University of Prince Edward Island sixth overall. Miller, a Second Team All-Canadian and an AUS First Team All-Star in 2021-22 averaged 17.4 points, 5.0 rebounds and 5.6 rebounds in 14 games played. The Fraser Valley Bandits then selected 6-foot-9 forward and 2021-22 OUA West First Team All-Star Thomas Kennedy. The Windsor, Ont. native was drafted by the Hamilton Honey Badgers in 2021 and averaged 5.3 points, 4.5 rebounds and 16.3 minutes in 14 games last summer.
Hamilton picked Keevan Veinot of Dalhousie University eighth overall. This is Veinot's second season as a U SPORTS player with the Honey Badgers. The Port Williams, N.S. native appeared in nine games with Hamilton last summer, averaging 7.2 points, 1.4 rebounds, 1.3 assists and 14.8 minutes in nine appearances. The fifth-year graduate led Dalhousie to its third straight AUS Men's Hoops victory while winning First Team All-Star, Tournament MVP and Championship All-Star honours.
The Niagara River Lions picked two-time and current CEBL U SPORTS Player Of The Year Lloyd Pandi, ninth overall. Pandi was also drafted by Niagara in 2021. A fourth-year guard from Carleton University, Pandi averaged 7.6 points, 3.3 rebounds, 1.5 steals, and 22.0 minutes in 14 games for Niagara in 2021. The 6-foot-4 Ottawa native won the Mike Moser Memorial Trophy for the U SPORTS Most Outstanding Player of The Year honours this year and led Carleton to their third consecutive U SPORTS National Championship. Edmonton Stingers selected Patrick Vandervelden of Mount Royal University tenth overall to complete the first round.
The complete 2022 CEBL U SPORTS Draft results can be found via this link: https://www.cebl.ca/2022-u-sports-draft-results
The CEBL, which tips off its fourth season May 25, is Canada's largest professional sports league with 10 teams located in six provinces from coast to coast. A league created by Canadians for Canadians, the CEBL has the highest percentage of Canadian players of any professional league in the country, with 75 per cent of its current rosters being Canadians. Players and coaches bring experience from the NBA, NBA G League, top international leagues, the Canadian National team program, and top NCAA programs as well as U SPORTS. The only First Division Professional League Partner of Canada Basketball, the CEBL season runs from May through August.
More information about the CEBL may be found at CEBL.ca, as well as on Instagram, Twitter, TikTok, LinkedIn, Facebook and YouTube (@cebleague).
Quotes:
"This Draft Class is exceptional. U SPORTS programs continue to develop some of our country's best players, and we can't wait for these rising stars to play alongside top professional talent from around the world. We hope that opportunities like this continue to help forge future pro basketball stars who can represent Canada domestically and on the world stage."
[Mike Morreale, Commissioner & CEO, CEBL]
"U SPORTS is extremely proud of all players selected in this year's CEBL U SPORTS Draft. These student-athletes have battled through adversity with the uncertainty of the pandemic and their tremendous tenacity both on and off the court is certainly commendable. The CEBL has provided these individuals with a unique opportunity to pursue their professional careers while playing in their home country and is vital to the growth of basketball in Canada. We look forward to watching the draft class thrive across the country this summer."
• Discuss this story on the Canadian Elite Basketball League message board...


Canadian Elite Basketball League Stories from April 19, 2022
The opinions expressed in this release are those of the organization issuing it, and do not necessarily reflect the thoughts or opinions of OurSports Central or its staff.