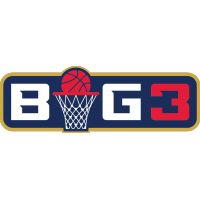 Weekly Sports League and Franchise Report
by Dan Krieger
March 30, 2020 - BIG3 (BIG3)



BASEBALL
Major League Baseball: If the 2020 regular season does eventually start play, MLB and the MLB Players Association worked out some details of what a shortened season would feature. It was agreed the schedule could include doubleheaders with possible seven-inning games, regular-season games being played in October, and the November playoffs and World Series games being held at neutral-site domes or stadiums in warmer climates.
Western Association of Professional Baseball: Nothing has been heard from the proposed independent WAPB since it announced its first team called the Henderson (NV) Hoo in September 2019. When the league was first announced in July 2019, it planned to start play in 2020 with up to eight teams located throughout Arizona, California, Colorado and Nevada.
Liga Norte de México (LNB): Mexico's lower-level LNB, or Mexican Northern League, announced it will move the start of its 2020 season from April 14 to at least May 12 due to the coronavirus (COVID-19) pandemic. All five teams will return from last season and the league added a sixth team called the Industriales de Otay (Tijuana) for the 2020 season. All teams have at least one affiliation with teams in the higher-level Triple-A Liga Mexicana de Beisbol (LMB).
BASKETBALL
Circuito de Baloncesto de la Costa del Pacifico (CIBACOPA): Mexico's nine-team CIBACOPA, or Pacific Coast Basketball League, had only played about one week of its 2020 season before suspending play on March 18 due to the coronavirus (COVID-19) pandemic. Each team was scheduled to play a 38-game season through May 23.
BIG3: The BIG3 professional 3-on-3 touring basketball league announced six of eight regular-season events originally scheduled for July and August in six different cities will be moved to a controlled Los Angeles venue. The initial two weeks planned for Memphis and New York in late June will go on as planned with playoffs scheduled for Portland (OR) on August 22 and the championship the following week at a site to be determined. The BIG3 has teamed up with the producers of the Big Brother reality show and announced plans for a Big Brother-type reality show that will feature players and referees, who have received a negative coronavirus test, being quarantined in a Los Angeles-area home with a basketball court and playing a three-week tournament of BIG3 basketball.
Universal Basketball Association: As of March 8, 2020, the 29-team semi-pro UBA stopped play in its 2020 season, which was to run from February 1 through June 21, due to the coronavirus (COVID-19) pandemic. Teams in the Western Conference, Southern Conference, Northern Conference and Gold Conference had each played several games, but teams in the Florida-based Eastern Conference had yet to start their 2020 schedules.
American Basketball Association: The men's semi-pro ABA announced a new team called the Chula Vista Suns (San Diego area) has been added as a 2020-21 expansion team.
Women's American Basketball Association: The WABA announced is first international team called the Las Dragonas de Tijuana (Mexico) will be part of the league's 2020 summertime season.
Canadian Elite Basketball League: The CEBL held its player draft this week for the seven teams that will participate in the league's second spring-summer season, which runs from early May through early August 2020. The six teams from last season called the Edmonton (Alberta) Stingers, Fraser Valley Bandits (British Columbia), Guelph Nighthawks (Ontario), Hamilton Honey Badgers (Ontario), Niagara River Lions (Ontario) and Saskatchewan Rattlers will be joined by the expansion Ottawa BlackJacks.
FOOTBALL
The Spring League: The TSL, which is an elite developmental league and scouting event for professional football talent, held its short two-game spring season in Las Vegas earlier this month with three participating teams called the TSL North, TSL East and the Las Vegas Hughes. On March 1, 2020, a team of TSL players defeated a Japan National American Football Team. Last year, the new XFL partnered with the TSL to scout talent and to test potential rules and in-game technology.
National Gridiron League: Although it was uncertain whether the NGL's inaugural 2020 season would have begun as planned on April 18, the league recently announced it has postponed the start of its 2020 season due to the coronavirus (COVID-19) pandemic. The proposed indoor 12-team NGL never got off the ground as planned for a 2019 start, so the inaugural season was pushed back to 2020. The NGL has had several franchise relocations and announced last month its intention to move away from playing indoors and eventually become an eight-man outdoor football league.
HOCKEY
Eastern Hockey League: The Tier-III junior-level EHL with its 19-team EHL and 13-team EHL Premier divisions completed the 2019-20 regular season early this month, but was forced to cancel the remainder of its playoffs and championship game due to the coronavirus (COVID-19) pandemic.
Professional Women's Hockey Players Association: The PWHPA Women's Hockey Showcase, which consists of players boycotting the National Women's Hockey League this season and advocating a new sustainable women's hockey league, completed its 2019-20 "Dream Gap Tour" with a fifth stop in Philadelphia (Voorhees, NJ) on February 29 and March 1, 2020, and a sixth and final stop in Tempe (AZ) on March 6 through March 8.
United States Premier Hockey League: The independent junior-level USPHL organization, which includes the Tier-II 13-team National Collegiate Development Conference and the Tier-III 35-team USPHL Premier Division and 17-team USPHL Elite Division, completed all of its regular-season games but cancelled its end-of-the-season playoffs due to the coronavirus (COVID-19) pandemic.
Western States Hockey League: The junior-level WSHL, which is part of the Amateur Athletic Union's United Hockey, cancelled the playoff and championship games for the 2019-20 season due to the coronavirus (COVID-19) pandemic. The WSHL cancelled only a few late-season games for three Washington-based teams in the Northwest Division in a schedule that ended on March 8. The league started the season with 22 teams, but three teams shut down operations during the middle of the season.
North American 3 Hockey League: The 34-team Tier-III junior-level NA3HL shut down the remainder of the 2019-20 playoffs and season due to the coronavirus (COVID-19). All teams had completed a 47-game regular-season schedule that ended March 8, 2020.
SOCCER
National Premier Soccer League: The men's 94-team amateur-level NPSL announced the cancellation of its 2020 summer season under its current structure due to the coronavirus (COVID-19) pandemic. Only a few California-based teams in the league's West Region had played some games in the 2020 season.
Major Arena Soccer League 2: The nine-team MASL2, or M2, which is a developmental second-level league affiliated with the Major Arena Soccer League, cancelled the remaining seven games on its 2019-20 season schedule due to the coronavirus (COVID-19) pandemic. No games were played after March 8 in a season that was to run through March 21. The league has still not cancelled the season-ending playoffs that could still be played as late as July. Another evaluation of the situation will be held on April 30.
Premier Arena Soccer League: The amateur-level PASL announced earlier this month the cancellation of the remainder of its 2019-20 season due to the coronavirus (COVID-19) pandemic. The PASL consisted of 23 men's teams aligned in four regional divisions and 9 women's teams in two regional divisions. Each division missed only one or two regular-season games due to the cancellation.
Liga MX: The 18-team Liga MX, which is Mexico's top men's soccer league, suspended play for the second half of its two-part 2019-20 Apertura/Clausura season after ten weeks of play due to the coronavirus (COVID-19) pandemic. The 17-week Clausura regular-season schedule was set to end on May 10. The Liga MX's second-level relegation league known as the Ascenso MX and the women's league known as Liga MX Femenil also suspended play for their Clausura seasons.
Women's Premier Soccer League: The 130-team elite-level WPSL has delayed the start of its 2020 regular season from May 9 to May 29 due to the coronavirus (COVID-19) pandemic. Games scheduled in this period will be switched to the end of the season and the league will eliminate the regional playoffs and championship weekend. The Las Vegas Legends men's team in the elite amateur-level National Premier Soccer League recently announced the addition of a 2020 WPSL team by the same name.
National Independent Soccer Association: The men's Division-III professional NISA recently suspended play for its inaugural 2020 Spring Season until May 10 due to the coronavirus (COVID-19) pandemic. This extends a 30-day suspension of league play that was announced on March 12. At that time, the eight NISA teams had only played one or two games in the Spring Season that was to end in mid-June.
OTHER
Western Ultimate League: The new seven-team womxn's WUL ultimate frisbee league was forced to cancel its inaugural 2020 season, which was to have teams play four to six games from March 21 to May 9, 2020, due to the coronavirus (COVID-19) pandemic. The league may try to host some showcase games this summer, but is prepared to return in 2021.
Arena Lacrosse League: Canada's Ontario-based semi-pro ALL postponed the remainder of its 2019-20 season due to the coronavirus (COVID-19) pandemic. The seven-team men's division cancelled eight remaining regular-season games this month on a schedule that was supposed to end March 22. The five-team women's division had completed its regular-season, but had not yet started its playoffs.
Dan Krieger is the creator of the Weekly Sports League & Franchise Report, which has been tracking changes in the sports world's leagues, teams and nicknames since April 2007.
• Discuss this story on the BIG3 message board...


BIG3 Stories from March 30, 2020
The opinions expressed in this article are those of the writer(s), and do not necessarily reflect the thoughts or opinions of OurSports Central or its staff.