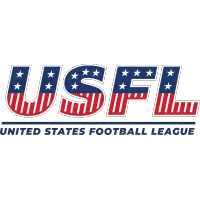 USFL Power Rankings
by Fran Stuchbury
June 17, 2022 - United States Football League (USFL)



In the ninth week of United States Football League play, the New Orleans Breakers clinched the final playoff spot in the South Division, joining the Birmingham Stallions in the postseason. In the North Division, the New Jersey Generals and Philadelphia Stars had already locked up playoff berths.
With nothing on the line but bragging rights and avoiding the North Division cellar, USFL teams will complete their season-long stay in Birmingham this weekend before the playoff participants head to Canton, Ohio, for next week's playoffs. To wrap up the season, the 6-3 Philadelphia Stars take on the 8-1 New Jersey Generals, the 8-1 Birmingham Stallions face the 4-5 Tampa Bay Bandits, the 1-8 Michigan Panthers battle the 1-8 Pittsburgh Maulers, and the 6-3 New Orleans Breakers play the 2-7 Houston Gamblers.
The power rankings after week seven:
1. New Jersey Generals 8-1
With kicker Austin Jones struggling lately, New Jersey released him and signed Caden Novikoff to shore up that position.
2. Birmigham Stallions 8-1
A 17-15 loss to the Houston Gamblers last week may be a blessing in disguise. They face no extra pressure in the season finale.
3. Philadelphia Stars 6-3
Matt Colburn II has spearheaded a vastly-improved running game, leading to four straight wins.
4. New Orleans Breakers 6-3
New Orleans clinched a playoff spot with a win over the Tampa Bay Bandits. They now have an extra week for injured players to get healthy.
5. Tampa Bay Bandits 4-5
After being eliminated from playoff contention last week, Tampa Bay would like to end the season with a .500 record which would come courtesy of a victory over Birmingham.
6. Houston Gamblers 2-7
Houston finally won a game it led at halftime for the first time in seven games.
7. Michigan Panthers 1-8
A victory over Pittsburgh this week would prevent Michigan from having the worst record in the league. The team has played better than its record indicates.
8. Pittsburgh Maulers 1-8
Defensively the Maulers show up, but they have nothing to play for but their second win bonus... or the first pick in the 2023 USFL Draft.
• Discuss this story on the United States Football League message board...


United States Football League Stories from June 17, 2022
The opinions expressed in this article are those of the writer(s), and do not necessarily reflect the thoughts or opinions of OurSports Central or its staff.