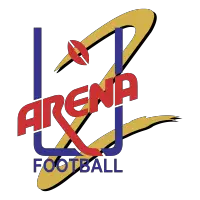 Unitas brings af2 to Wilkes-Barre
by af2 Press Release
July 24, 2001 - arenafootball2 (af2)



ARENAFOOTBALL2 ADDS WILKES-BARRE, PA FOR THE 2002 SEASON
af2 Press Release
PRO FOOTBALL HALL OF FAMER JOHNNY UNITAS JOINS ARENA FOOTBALL
WILKES-BARRE, PA - Marking a historic day in arenafootball2, the League Office announced the addition of its thirty-fourth team, Wilkes-Barre, PA, and a partnership with one of the NFL's all-time greatest quarterbacks, Johnny Unitas. The yet-to-be-named af2 team will begin play in April of 2002 at the First Union Arena.
The team was granted to the operating team of Greg Smith, President of Smith Sports International, LTD and Johnny Unitas, a Pennsylvania native, and Pro Football Hall of Famer.
"Today we begin the next phase of successful ventures at the First Union Arena", stated State Representative Kevin Blaum. "By welcoming our second tenant to this magnificent Arena we are succeeding in the challenge of bringing quality entertainment to the people of Wilkes-Barre and all of Northeastern Pennsylvania. The process of gaining an af2 team was a long road - but one we feel we successfully completed."
"This sport of Arena Football reminds me of the way football used to be played, eight-on-eight, ironman football," said Unitas. "It's intriguing. Modern-day versions of athletes like Art Donovan, John Mackey, and Raymond Berry, who worked other jobs so they could pursue their dream of playing pro football."
"I am excited to be a part of arenafootball2, and its limitless future. It is grass roots, high scoring, the ultimate fan friendly sports experience. It's too late for me to play, but it sure would be fun to compete in what I think is clearly the fastest growing sport around."
"I have a firm belief in the success of arenafootball2 and know it is going to have a bright future in Wilkes-Barre/Scranton," said Smith. "We have been searching throughout the country to be apart of this league and feel strongly that Wilkes-Barre is our best chance for success."
This is the second season of arenafootball2 being played with a record-high 28 teams in the Midwest, Southeast, and Northeast. Wilkes-Barre, PA is the fifth expansion team to be announced for the 2002 season. Previous teams announced were: Albany, NY; Manchester, NH; New Haven, CT; and Uncasville, CT. The addition of Wilkes-Barre solidifies the Northeast market for the 2002 season (including Rochester, NY). It is expected that arenafootball2 will add 10-14 teams for the 2002 season.
"We are happy to bring the fast-paced game of arenafootball2 to the fans of Northeastern Pennsylvania," said Mary Ellen Garling, af2 Executive Director. "The First Union Arena is a first-class facility and the Operating group of Greg Smith and Johnny Unitas are enthusiastic and ready to bring professional football to the Wilkes-Barre community."
Ticketing for the 2002 af2 season will be handled through the Wilkes-Barre/ Scranton AHL Penguin's office. Interested patrons can sign up for information by calling (570) 970.4Af2 (570.970.4232). A twenty five dollars ($25.00) per seat deposit for season tickets can be sent to: af2 Season Tickets, c/o Wilkes-Barre/ Scranton Penguins, 60 Public Square, Wilkes-Barre, PA 18701.
• Discuss this story on the arenafootball2 message board...


arenafootball2 Stories from July 24, 2001
The opinions expressed in this article are those of the writer(s), and do not necessarily reflect the thoughts or opinions of OurSports Central or its staff.