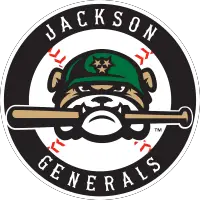 Statement from the Jackson Generals Regarding Stadium Lease Termination
November 15, 2021 - Southern League (SL1) - Jackson Generals News Release



Jackson, TN - First and foremost, the Jackson Generals and its staff and owners are extremely thankful to and appreciative of their many fans, sponsors, and supporters throughout West Tennessee. Since saving the team from a relocation to South Carolina in 2008, our organization has welcomed in excess of two million fans and attendees to The Ballpark at Jackson for Generals games, concerts, college and high school events, church services, holiday shows, and a multitude of charity events. By the most conservative of independent calculations, the Generals have had an economic impact exceeding $70 million dollars on the local economy over this period.
Staff and ownership are forever grateful for the decade of partnership and support of mayors, governors, council members, and other officials. As the Arbitrator went out of his way to recognize, "[Ownerships'] commitment to the Jackson Generals and the City of Jackson was apparent."
As for the Arbitrator's decision, the Arbitrator concluded that, under the terms of the lease, "The 'Minor League System' now belongs to [Major League Baseball] not [the National Association of Professional Baseball Leagues] . . . . The designation of 'A' or 'AA' or 'AAA' Teams now belongs to Major League Baseball not the NAPBL. . . . The NAPBL transferred the trademarks to those designations to MLB. The NAPBL no longer has the authority to designate a Team to 'A' or 'AA' or 'AAA.' The Generals are no longer a Double A (AA) Team and . . . its claim to Double A (AA) status is not legitimate. The authority to make the AA designation belongs only to MiLB and MLB."
In a nutshell, the Arbitrator ruled that the City has a legal right to terminate its lease agreement with the Generals. Mayor Conger has exercised that right to terminate. In the event that a Mayor of Jackson asks the Generals to negotiate a new lease with the City, the Generals will take that call. The Generals are confident that Major League Baseball would be supportive of a request from ownership for a Major League Baseball Partner League relationship in Jackson and have been assured that our concert co-promoter is anxious to resume and expand our partnership.
Generals staff will be available until December 8th. If you have any additional questions, please call 731-988-5299 or email Marcus Sabata at msabata@jacksongeneralsbaseball.com.
• Discuss this story on the Southern League message board...


Southern League Stories from November 15, 2021
The opinions expressed in this release are those of the organization issuing it, and do not necessarily reflect the thoughts or opinions of OurSports Central or its staff.