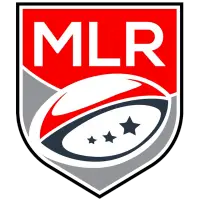 On-Field Drama and Off-Field Growth Signal Bright Future for MLR
April 4, 2019 - Major League Rugby (MLR) News Release



San Diego Legion's suffocating defense holds opponents to 19.37 points per game
(, Credit: Darren Zemanek)
Salt Lake City, Utah; April 4, 2019: Major League Rugby has produced compelling competition on the field and promising growth off it through Season 2's midway point, with three teams jostling for the top spot in the league's standings, and three teams ramping up preparations to join MLR for 2020's expanded Season 3.
Competition has been fierce and entertaining through Week 10 of MLR's 19-week regular season, with the league averaging more than 50 points per game, an average points differential a shade over 10 and over 75 percent of matches decided by less than two scores. NOLA Gold stand alone at the summit, with 33 points (including nine bonus points) and a 6-2 record built on an explosive offense that has produced a league-leading 279 points. NOLA's outside center Tristan Blewett has scored six of his side's 39 tries, tied at the top of the scorer's standings, and Gold flanker Zack Stryffeler anchors the defense with an MLR-best 124 tackles.
Newcomers Rugby United New York lurk close behind Louisiana's finest, with a 7-1 record and 32 points, headlined by all-action fly-half Cathal Marsh, who has assisted five tries and contributed 37 points of his own. RUNY hooker Dylan Fawsitt, meanwhile, is tied with the mercurial Marsh on five assists and has crossed the tryline himself five times. 2018 runners-up the Glendale Raptors round out the top three with 28 points and a 4-3-2 record, with their star trio Harley Davidson, Chad Gough and John Ryberg forming one of the best offensive units in the league, collectively scoring 15 of the club's 35 tries.
Off the field, the New England Free Jacks, Old Glory DC, and Rugby ATL have all made significant progress in the lead up to their 2020 MLR debuts. The Free Jacks are currently hosting the 2019 Cara Cup, a transatlantic series comprising the four Irish provincial A teams from Connacht, Ulster, Munster and Leinster, alongside their New England hosts. The Free Jacks secured an exclusive broadcast partnership for the five-match tournament with NESN, the television home of the Boston Red Sox and the Boston Bruins.
Old Glory DC signed the franchise's first two players, Josh Brown and Will Vakalahi, and held combines in Columbus, Philadelphia, Charlotte and Washington D.C. in search of top-end talent to fill out the rest of their roster. On the business side, Old Glory DC signed on the Scottish Rugby Union as strategic partner to support the growth of the club and the game as a whole in the D.C. area. Less than two months since the club officially unveiled its name and crest, Old Glory DC has already secured five sponsorships for their 2019 exhibition season.
Major League Rugby's newest expansion club Rugby ATL revealed their name on social media and will have more news coming out in the future. Meanwhile in Houston, Aveva Stadium is expected to open this month, becoming the home of the Houston SaberCats and only the second purpose-built, full-time rugby stadium in the United States, after the Glendale Raptors' Infinity Park.
"What we've built in a season and a half is incredible, and I could not be prouder of the players, fans, clubs and our partners that have fueled the impressive growth of Major League Rugby," said Major League Rugby Commissioner Dean Howes. "We're growing steadily and sustainably, and the players are serving up a real spectacle for the fans. Changes and improvements are happening every day, but we're still just scratching the surface of rugby's potential here. The future is bright for North American rugby, and we intend to see MLR right at the forefront."
Best Offense: Points Scored Per Game
1. NOLA Gold 34.88
2. Toronto Arrows 30.00
3. Rugby United New York 28.62
Best Defense: Points Allowed Per Game
1. San Diego Legion 19.37
2. Rugby United New York 20.00
3. Seattle Seawolves 23.25
Tries Scored
1. NOLA Gold 39
2. Glendale Raptors 35
3. Rugby United New York 31
Highest Point Differentials
1. Rugby United New York +69
2. NOLA Gold +64
3. San Diego Legion +44
Lethal Finisher: Top try scorers
1. Avery Oitomen/TOR 6
2. Tristan Blewett/NOLA 6
3. John Ryberg/GLE 6
Points Machine: Most overall points
1. Brock Staller/SEA 88
1. Sam Malcolm/TOR 88
3. JP Eloff/NOLA 85
Wrecking Ball: Most tackles
1. Zack Stryffeler/NOLA 124
2. Ben Mitchell/AUS 111
3. Brad Tucker/SEA 107
Conductor: Most try assists
1. John Ryberg/GLE 6
2. Eric Howard/NOLA 5
2. Cathal Marsh/RUNY 5
2. Dylan Fawsitt/RUNY 5
2. James Denise/RUNY 5
2. Taylor Howden/NOLA 5
Sharp Shooter: Most conversions
1. JP Eloff/NOLA 27
2. Sam Malcolm/TOR 23
3. Brock Staller/SEA 20
Images from this story
• Discuss this story on the Major League Rugby message board...


Major League Rugby Stories from April 4, 2019
The opinions expressed in this release are those of the organization issuing it, and do not necessarily reflect the thoughts or opinions of OurSports Central or its staff.