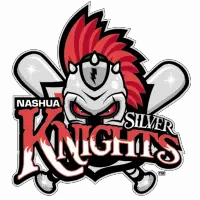 Nashua Silver Knights Named 2020 Futures League Organization of the Year
October 14, 2020 - Futures Collegiate Baseball League (FCBL) - Nashua Silver Knights News Release



WEYMOUTH, Mass. - Following their successes both on and off the field during the Futures Collegiate Baseball League's (FCBL) milestone 10th summer, the Nashua Silver Knights were recognized with both the Organization of the Year Award and William J. Terlecky Executive of the Year honors for General Manager Cam Cook.
Commissioner Joe Paolucci presented both awards during Friday's first-ever Futures League Golf Tournament and Hall of Fame Induction at Cyprian Keyes Golf Club in Boylston, Mass.
The Silver Knights finished 2020 with a record fifth FCBL championship to go with trophies earned in 2011, 2012, 2016 and 2017, but their success extended far beyond the field of play during this unprecedented summer. President & Owner John Creedon Jr.'s staff included Cook, Assistant General Manager Katie Arend, and FCBL Manager of the Year Kyle Jackson, who were all working in their respective roles for the first time.
"Despite the fact that this was a near impossible season to pull off, the Nashua Silver Knights were the class of the Futures League," Paolucci said. "The way they prepared for the season and implemented their plan to keep everyone safe showed incredible leadership. This organization is a class act from top to bottom and has set a great example for the entire league."
"We are humbled and honored to be recognized as the Organization of the Year," said Creedon, who also owns the Worcester Bravehearts, the 2019 Organization of the Year. "Success is about culture, and culture is about people. I'd say that we caught lightning in a bottle with Cam Cook and Katie Arend leading the Silver Knights in our front office and having Kyle Jackson as our skipper. They have created a winning culture on and off the field that the Silver Knights will build on for years to come."
The Silver Knights were at the forefront of the league's efforts to deliver a safe baseball experience for all despite the challenges presented by the coronavirus pandemic. The team put together and executed a comprehensive COVID-19 Readiness Plan that allowed play to commence with strong support from Nashua Mayor Jim Donchess, other city leaders and public health officials, and the New Hampshire Governor's Policy Director. The plan covered procedures for fan, player and staff safety, food services, ballpark cleaning, and ticketing and merchandise sales, among other topics.
Operating Holman Stadium with a 25 percent seating capacity, the Silver Knights hosted two additional games during the first week of the season before Massachusetts reached the appropriate phase of reopening that allowed for sporting events, as well as the entirety of the league's best-of-three championship. More than 11,000 fans enjoyed baseball in Nashua over the course of 24 regular-season and playoff games, including several "safety sellout" crowds.
Cook enjoyed great success during his playing career for the Silver Knights and Nichols College, setting the FCBL's single-season hits record in 2017, as well as the all-time mark at Nichols. He now adds Executive of the Year honors to his extensive baseball resume.
"As a member of Silver Knight championship teams in 2016 and 2017, as well as being the Futures League's hit king, Cam is already known around Nashua as somewhat of a baseball legend," Creedon said. "But he has shifted his focus and worked hard to earn his stripes as a business executive."
Cook helped to lead the team's efforts in getting city and state approval to stage the season and hired, trained and led the staff that successfully kept hundreds of fans safe and healthy all summer long. He tripled the scope of the Silver Knights' youth baseball camp from one week to three and developed an after-school baseball skills clinic that is currently underway, providing the team with a precious off-season revenue stream.
Before the pandemic hit, the Silver Knights were on pace for the most productive offseason in franchise history from a sales and sponsorship perspective. Cook then pivoted effectively to crisis management mode with immeasurable grace and composure.
Cook provided a fresh voice to the FCBL's Rules Committee as it updated and polished baseball standards, and he helped in the creative process of developing the promotional video (produced by Anthony Mancuso) that is being used in connection with expansion opportunities.
In the community, Cook participates in the Greater Nashua Chamber of Commerce's Leadership Greater Nashua program, leads the Chamber's young professionals program, and serves on the Gate City Brewfest steering committee. He recently joined the Board of Directors of Nashua Cal Ripken Baseball.
"Cam has a cool and calm leadership style. He's never too up or too down," Paolucci said. "His demeanor was exactly what was needed considering the stressful season we had due to COVID. He is an impressive guy with a bright future."
Along with Jackson, Cook recruited and managed the roster that brought home the franchise's first championship since 2017 after finishing a half-game behind Worcester in the regular-season standings with a 23-16 record. The Silver Knights boasted seven All-FCBL players including two Most Valuable Player finalists in first baseman Dominic Keegan (Vanderbilt) and outfielder Jared Dupere (Northeastern). Pitcher Nick Guarino (Clark) and designated hitter John Mead (Franklin Pierce) were also named to the All-FCBL First Team.
The FCBL's Executive of the Year Award is named in honor of former North Shore Navigators GM Bill Terlecky, who lost his battle with cancer last October after working in the game of baseball for more than four decades.
"Winning an award with Bill Terlecky's name attached to it makes it that much more special, and although it is my name on the plaque, the 2020 season took everyone in every front office across the league to step up and be at their best to get this thing done," Cook said. "Every single GM in the league went above and beyond this year to do something very few leagues at any level were able to do, and I'm very excited to see what we can do moving forward."
• Discuss this story on the Futures Collegiate Baseball League message board...


Futures Collegiate Baseball League Stories from October 14, 2020
The opinions expressed in this release are those of the organization issuing it, and do not necessarily reflect the thoughts or opinions of OurSports Central or its staff.
Other Recent Nashua Silver Knights Stories