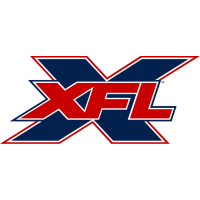 Inside the XFL
by Fran Stuchbury
March 5, 2020 - XFL (XFL)



After four weeks of XFL action, all eight teams are still in the race to make it to the post season.
In the East, the St. Louis BattleHawks sit on top with a 3-1 record. Quarterback Jordan Ta'amu leads the XFL in total yards with 1,062, 876 passing and 186 rushing. Their only loss was a 28-24 road game decision against the undefeated Houston Roughnecks. St. Louis has the best home field advantage in the XFL, averaging over 28,000 fans for the first two games at the Dome.
The DC Defenders started the season at 2-0, wining home game against Seattle and New York. The past two games the Defenders went on the road and lost to previously winless Los Angeles and Tampa Bay by a combined score of 64-9. Defenders quarterback Cardale Jones must perform better on offense after throwing a combined five interceptions in the two losses. They have a chance to get back in first place with a victory at home against St. Louis on Sunday.
Like the DC Defenders, the New York Guardians have been a Jekyll-and-Hyde team, undefeated at home at 2-0 and winless on the road at 0-2. At home, the defense has stepped and made some big plays with sacks, a blocked a field goal and some turnovers. On the road, the Guardians have been outscored by DC and St. Louis a combined 56-9. With quarterback Matt McGloin out last week with an injury, Luis Perez sparked the offense and completed 69% of his passes in their 17-14 victory over the Los Angeles Wildcats. The Guardians may stick with Perez again this week on the road against the Dallas Renegades.
The Tampa Bay Vipers may only be 1-3 but they are number one in total offense in the XFL with 381 yards per game and number one in total defense, allowing just 237 yards per game. The Vipers finally won their first game of the season last week, dominating the DC Defenders 25-0. The first two games the Vipers failed to score an offensive touchdown, but the last two games offensive coordinator Offensive Coordinator Jaime Elizondo called plays instead of head coach Marc Trestman and the offense dramatically improved. Taylor Cornelius has played well lately but look for Aaron Murray to get the starting quarterback job back when he returns from an injury,
In the West, the Houston Roughnecks are a perfect 4-0 thanks to a high-powered, run-and-shoot offense with P.J. Walker passing for 987 yards and 12 touchdowns. Wide receiver Cam Phillips has caught seven of those touchdown passes. The Roughnecks also sport a defense that has created timely turnovers. In their last two victories, both Tampa Bay and Dallas were driving to either tie or win the game but linebacker DeMarquis Gates sealed both victories with a turnover.
The Dallas Renegades are 2-2, having shown flashes of good play but too often suffering from turnovers. In last week's 27-20 loss to the Houston Roughnecks, the Renegades turned the ball over five times. For the season the Renegades have thrown eight interceptions. Quarterback Landry Jones re-injured his knee in that loss will be out for at least another two weeks, so Philip Nelson will get the start this week at home against the New York Guardians. Look for the Renegades to try to establish the running game more with backs Cameron Artis-Payne and Lance Dunbar in order to open up the passing game for Phillips.
The Seattle Dragons are 1-3 but may have finally found their starting quarterback with B.J. Daniels who was able to move the ball in the second half of last week's 23-16 loss to the St. Louis BattleHawks. Daniels rushed for 84 yards and passed for 100 yards that half in place of Brandon Silvers. Jim Zorn hasn't announced a starter this week, but he may have little choice but to go with Daniels. Wide receivers Austin Proehl and Kennan Reynolds have been effective at times.
The Los Angeles Wildcats are also 1-3 but two of their losses have come by a combined 10 points. In Saturday's narrow loss to New York, they were missing two key players on offense with wide receiver Nelson Spruce and running back Martez Carter sidelined. In only three games, quarterback Josh Johnson is third in the XFL in passing yards with 788. The Wildcats have two wide receivers in the top five in the XFL in receiving yards with Spruce third at 256 and Tre McBride fifth with 236. The Wildcats must improve their running game and be a more balanced offense. A home victory this Sunday against the Tampa Bay Vipers would get them to 2-3 and give them momentum for the second half of the season.
Extra Points
Of the 15 touchdowns that were scored in week three, teams converted on two-of-three one-point attempts, four-of-eight two-point tries and two-of-four three point plays.
Here are all the scores from Week 4:

The DC Defenders released cornerback Matt Elam. He had 13.5 tackles and one interception for the Defenders this season.
Tampa Bay Vipers WR/QB Quinton Flowers has requested a trade to another XFL team. He missed last week's game after leaving the team for personal reasons.
St. Louis BattleHawks kicker Taylor Russolino is a perfect seven-for-seven on field goal, including the longest kick of the XFL season from 58 yards.
Dallas Roughnecks offensive coordinator Hal Mumme broke his leg on Sunday after a collision with Cameron Artis-Payne and continued to call the remaining two-and-a-half quarters of the game. He will coach from the booth this week against New York.

Houston Roughnecks quarterback P.J. Walker leads the XFL in touchdowns with 13 (12 passing and one rushing) Here are all of them:

Seattle Dragons cornerback Mohammed Seisay is recovering from a broken bone in his neck that occurred during last week's game against St. Louis. From his Instagram account Seisay wrote "Thank you. Thank you. Thank you. Thank you everyone that reached out. I appreciate all the prayers. Thank you very much. I've got a neck brace on. I did fracture a bone in my neck but I'm in good spirits. I appreciate everyone that reached out. Thank you very much. I will overcome this injury and I will be healthy again. Thank you."
Los Angeles Wildcats wide receiver Tre McBride has been on fire for the team the last two weeks, catching 13 passes for 236 yards and three touchdowns. With McBride and Nelson Spruce, the Wildcats may have the best two starting wide receivers in the XFL.
The Citadel will use some XFL rules in its spring game on March 7th.
Home teams went 3-1 last week.
My XFL best bet lock of the week is the Los Angeles Wildcats -1 over the Tampa Bay Vipers. If it wasn't for a missed field goal by Nick Novak, LA may have defeated New York last week. The Wildcats should be more effective on offense at home, and if wide receiver Nelson Spruce or running back Martez Carter returns from injuries they'll receive a boost. Tampa Bay has improved the past few games but look for the Wildcats to pull out this victory late in the game.
• Discuss this story on the XFL message board...


XFL Stories from March 5, 2020
The opinions expressed in this article are those of the writer(s), and do not necessarily reflect the thoughts or opinions of OurSports Central or its staff.