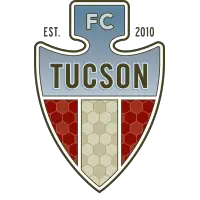 Desert Showcase Has Begun
January 26, 2022 - United Soccer League One (USL1) - FC Tucson News Release



For more than 12 years, Tucson has been the kickoff point for a plethora of Major League Soccer clubs. It's been a bit of a good luck charm, too. In the last 10 years, a team that has trained here has gone on to reach the MLS Cup.
The early tests against good competition and the amenities Tucson provide is what keeps the teams coming back.
"The facilities here are fantastic, the fields are great," said Colorado Rapids head coach Robin Fraser. "Everything in Tucson is fantastic.
"When you set out your preseason plans, the first thing is who's going to be there? Who can we get games with? Because as we make our way through preseason, we have benchmarks of what we're trying to achieve. You can't get a handle on how you're doing without playing some competition."
That level of competition was on display Tuesday night at Hotel Congress, as four MLS coaches gathered together for a press conference to kick off the Desert Showcase presented by Visit Tucson.
Giovanni Savarese, Fraser, Pablo Mastroeni and Brian Schmetzer came together for a half-hour question-and-answer session that covered everything from how they work with the new generation of younger players to what they see as the next evolution of the league.
The evening was presented by Rio Nuevo.
With Schmetzer at the reins, the Sounders have won the 2016 and 2019 titles, and were MLS runner-up n 2017 and 2020.
"My job as a coach, as a manger is to get the best out of people," said Schmetzer. "Whether you're in a corporate job or a soccer job or any sort of management job, you just want to make sure that the people that work with you maximize their talents."
Under Savarese, the TImbers have appeared in the MLS Cup finals in 2018 and 2021. Losing this year's final on penalty kicks to New York City FC.
"For all of us, even if we did well last year, we all want to be competitive," said Savarese. "Preseason is a very important part of making sure that we put everything on the players for what they're going to give us during the year."
The Sounders and Timbers will play the first match in the preseason tournament on Wednesday (Kino North Stadium, 7 p.m., BUY TICKETS).
Robin Fraser led the Colorado Rapids to the best record in the Western Conference in the 2021 season. He took the reins in the middle of 2019, nearly taking the team to the postseason. The Rapids improved to fifth in the conference in 2020 before grabbing the top spot in the 2021 regular-season.
"This year it feels like our starting point is ahead of where it's been," said Fraser. "I feel like this is the first year that I felt like we kind of jumped in where we left off last year."
The Rapids will take on Sporting KC at Kino North Stadium on Saturday, Jan. 29 (BUY TICKETS) and the Houston Dynamo on Saturday, Feb. 4 (BUY TICKETS).
Mastroeni was named interim head coach of Real Salt Lake in the middle of the 2021 season. He led RSL to the Western Conference playoffs with a late-season push that included qualifying on the final day. The club went on to upset Seattle and Sporting KC before falling to Portland.
After his successes, Mastroeni was named permanent head coach of RSL for 2022.
"Having had a crazy run to end last season was really about coming back into preseason and trying to pick up where we left off," said Mastroeni. "We have a new ownership group that are driving a lot of momentum, and it's so important that we get back and find that energy and that drive from day one."
The Desert Showcase will continue with USL teams coming to the region in February as well as a series of Watch Parties for he final six World Cup qualifying games for the U.S. Men's National Team.
• Discuss this story on the United Soccer League One message board...


United Soccer League One Stories from January 26, 2022
The opinions expressed in this release are those of the organization issuing it, and do not necessarily reflect the thoughts or opinions of OurSports Central or its staff.