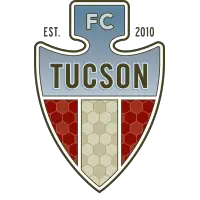 Black History Month: a Letter from Kairand Bellinger
February 28, 2021 - United Soccer League One (USL1) - FC Tucson News Release



As part of Black History Month, FC Tucson is celebrating the stories of players, front office employees, and supporters of the Old Pueblo's club. Today, we share a letter from one of our very own front office leaders: Director of Community & Game Day Engagement, Kairand Bellinger.
FC Tucson, One Community, One Culture, and One Future. I am proud to be part of FC Tucson as the New Director of Community Engagement and Game Day Operations. A united group, a global sport, a global vision, and connecting to my personal passion to impact humanity through the healing expressions of entertainment and the world's greatest sport - soccer. I am so proud to bring my four decades of Southwest programming and events to support my culture, my people, and my city - Tucson.
I was born in Los Angeles and grew up surround by positive creative successful activism. My childhood development in social impact came from being by my mother's and father's side as they created the Watts Happen Coffee House, the now-famous Watts Coffee House which became a sacred art and music center with the goal of being a space to foster social change in 1965. The coffee house rose after the 1965 "Watts Rebellion" and became a major location for civil rights efforts in L.A. From there, they created the countries first super-size Renaissance Fair in Agoura Hills, and the creation of the countries first Charter School, The Area H Alternative School, which opened the national door for future charter schools. My active participation in witnessing my parents move their passion for change through all of the challenging start-up hurdles, to execution, and finally to success, gave me the powerful notion - a personal tool - TO SIMPLY BELIEVE! If you believe in something strong enough, and you know it's right, and you have to human capacity in skills, then you will succeed!
I am the Great(x3) Grandson of a Nigerian Slave from the South Carolina Bellinger Tomotley Plantation on my paternal side, and the Grandson son of a Danish illegal immigrant on my maternal side and both sides of my family have generations of artists, creators, and teachers. When you get to know me, you'll understand that I clearly walk my path today with the blood of Africans and Vikings. Conquerers, slaves, warriors, chiefs, and tribesmen/tribeswomen. It's in my blood today. I feel it! There is a drive inside of me that is strongly connected to both sides of my bloodline.
I seek my black history - I seek to learn and share the story of us, all of us. We are all part of humanity, the horror, war, and fear - however, I feel we are driven by beauty, culture, art, and playful sports. We know how to truly come together and love each other. It is very important for me to share as a father and mentor to ask yourself, "What is my role now? How can I make a difference in our future? And how are you building your personal transferable life and business skills foundation beyond?"
I feel one should understand your/our history to gain strength and conviction for your actions now! Know slavery - the fear, oppression, and death, but also learn what led up to it, why it existed, what was its relationship to the economic global engine, and how these economic systems affect and drive the division we face now. By having this knowledge, and not allowing fear and hate to drive you, you can make clear decisions and forge actions to build a better future for generations to come.
I'd like to end by recognizing black-owned businesses and owners, here in Tucson:
- Jatai Gonder, the owner of OP Records and the Tucson Buckets, an ABA basketball team that works with local charities to bring sports and hope to underserved children in our home town.
- Joseph Blair, Founder of the Blair Foundation. Blair, a former professional basketball player, and Arizona basketball standout helps develop the youth and young adults of Southern Arizona through accessible programs, sports camps, clinics and leagues that build leadership, life skills and community engagement.
- The Family, Friends, and Volunteers at the Dunbar Pavilion. The Dunbar Pavillion is a cultural center working to increase awareness and understanding of the historic and cultural impact of people of African descent. The Pavilion serves as a gathering place for diverse voices and cultures to dialogue about the past and create vision and direction for a more unified future.
- My favorite food destination 'Cafe Desta' 758 S Stone. Cafe Desta has proudly served traditional Ethiopian and Eritrean cuisine in Tucson since 2010.
Peace and Blessings. I'll see you all at our FC Tucson home games.
Best,
Kairand Kevin Bellinger
FC Tucson Director of Community Engagement & Game Day Operations
• Discuss this story on the United Soccer League One message board...


United Soccer League One Stories from February 28, 2021
The opinions expressed in this release are those of the organization issuing it, and do not necessarily reflect the thoughts or opinions of OurSports Central or its staff.