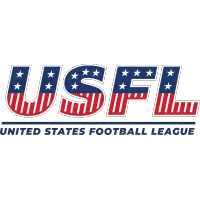 Around the USFL
by Fran Stuchbury
May 25, 2023 - United States Football League (USFL)



The Houston Gamblers exit week six of the United States Football League season as the hottest team in the league, riding a four-game winning streak after a 16-10 victory over the New Jersey Generals.
"First of all, Mike Riley is one of the finest coaches and even finer men that there is," said Gamblers Head Coach Curtis Johnson. "Defensive coordinator Ted Cottrell, I hated when I was in the NFL going up against him because I know he's going stop the run and make it hard on defense. I thought our defense played outstanding. We only committed two penalties for 10 yards. The first two weeks we led the world in penalties, not the USFL. The good thing about our team is they buy into clean games and that's one of the big reasons why they are winning."
Gamblers quarterback Kenji Bahar was back in the starting lineup after missing last week due to an injury, and he completed 19 of 29 passes for 130 yards.
The Gamblers play their home games in Memphis.
"I think you have to bring your own energy," said Bahar "You don't have 20,000 - 30,000 fans in the stand so we prepare for that. We went up against one of the best defenses in the league. We are bringing our energy every week."
Mark Thompson led the Houston ground game with 22 carries for 82 yards and one touchdown. The Gamblers are the number two rushing offense in the USFL behind New Jersey.
"I think it's cool being the away team all the time," Thompson said. "We don't really have a home audience, a home crowd. So we definitely do appreciate the people that come out and support us. We appreciate the people at home who watch us and support us on social media as well. It's adversity every week; we are battling uphill. We are having fun doing it."
Special teams also came up big for the Gamblers with Nick Vogel connecting on all three field goal attempts from 38, 37 and 34 yards.
The Generals have skidded to a three-game losing streak, and fell to 0-3 in one-score games this season. They lead the USFL with 151 yards rushing per game but were held to 69 yards by Houston.
"It was obviously very hard sledding for a very long time," said Generals Head Coach Mike Riley. "We had a couple of really nice plays off the bat. We decided to go for it on fourth-and-two in the midfield, probably a really bad decision. Considering how this game was played later on, it was a really bad decision, because nobody was doing great without good field position and we handed them good field position."
The Gamblers parlayed the fourth down stop into their only touchdown of the game, a six yard run by Thompson.
"We played in some close games which is reminiscent of last season," Riley added. "The thing is we won those games a year ago. We're not this year. We just got to get a win and then keep in mind our goal is to get in the playoffs whatever place that is in. It doesn't really matter; we just want to get in the playoffs. We have to get a win soon to do that."
Kyle Lauletta, who came in last week in place of DeAndre Johnson, played the entire game, passing for 177 yards with one touchdown and one interception.
"I was throwing the ball a little more accurately down the stretch, getting rid of the ball quickly before the rush can get there," said Lauletta. "We stalled in the first half, I wish we had the rhythm we had in the second half."
The second hottest team in the USFL is the Memphis Showboats. After starting the season 0-3 they have won three straight games following a 22-0 shutout victory over the Pittsburgh Maulers, their first home win.
"In a 10-game season, a lot of teams would turn it in after an 0-3 start," said Memphis quarterback Cole Kelley. "It starts with our coaches and the leaders of this team. We keep on working. That's why good things are starting to happen."
The Showboats defense has been dominant over their winning stretch, creating 10 turnovers.
"Obviously, first and foremost to me, understanding what pro football means in Memphis," said Showboats Head Coach Todd Haley on the home victory. "We won the first couple of games on the road; we weren't able to do it here. That was a big thing. It was great to have the fans out there. We talked about it all week: taking our field when you have a home field you practice on every week and the fans have come out to support you. It's not the championship by any means but it was a big step for us as a team."
Special teams made a huge play toward the end of the half with Derrick Dillion turning a 59-yard missed field goal by Chris Blewitt into a 109-yard return for a touchdown.
"I feel we have the best special teams coach in this league (under coach) Frank Gansz Jr.," added Haley. "He is a phenomenal special teams coach. His dad was a great one in the NFL as well. That's something we practiced yesterday in our walk through and at the end of the week. If we are in a long field goal situation, we put hopefully our fastest guy out there. In this case it was Derrick, and he did something special. It didn't happen by accident; it happened by preparation and being aware of the situation. We called the timeout intentionally to make sure they were actually bringing their field goal team out. He made a phenomenal play along with everyone else on the field."
"Obviously when you get shut out, you can't win unless you go into overtime 0-0 and that obviously didn't happen," said Pittsburgh Maulers Head Coach Ray Horton. "A tremendous shout out to the Maulers defense. They played an outstanding game. We had 10 penalties for 90 yards; they had one penalty for nine yards. We can't do that. We can't beat ourselves and the Memphis Showboats. The other biggest factor was they were three-for-three on fourth downs. No blame goes anywhere but to the Pittsburgh Maulers. We beat ourselves today."
The Maulers have surrendered just 17 points per game and 71.5 yards per game on the ground, both the best marks in the league.
"Defensively I think we are the most dominant team in the USFL, but we need the offense and the special teams to come along on the ride as well", Horton added.
After losing to the Gamblers last week, the Birmingham Stallions got back to their winning ways with a 27-13 victory over the Michigan Panthers.
Stallions quarterback Alex McGough continued to lead the charge, completing 19 of 24 passes for 133 yards and two touchdowns while adding 82 rushing yards and another score. He received some support with a solid rushing performance from C.J. Marable with 18 carries for 100 yards. His longest run of the game went for 25 yards.
After winning their first two games of the season on the road, the frigid Panthers have lost four straight at home at Ford Field. Josh Love passed for 222 yards and one touchdown.
A coaching error at the end of the first half cost Michigan a field goal attempt. Panthers leading rusher Reggie Corbin gained 28 yards on eight carries.
"We have to score more touchdowns instead of scoring field goals," Panthers Head Coach Mike Nolan said. "When we get in that line of area we want to make sure we get points out of that. We didn't do that all day. Defensively we weren't consistent enough. They drove the field on us a couple of times and we weren't able to get off third down. Early it was good for us, later it wasn't.
"We're still in the hunt, we're still in the chase. You can still stay encouraged as a player; there is no reason to get your head down. What you strive for is the playoffs and the championship is still there for the taking, as crazy as it sounds. If you played like we have the past few weeks, that's not going to happen. The good Lord is going to take it away from us one of these days if we don't get on track soon, and hopefully it will be this week."
After starting the season a perfect 4-0 the New Orleans Breakers face a two-game losing streak after a 16-10 setback to the Philadelphia Stars. They fell into a three-way tie for first place in the South Division at 4-2 with the Birmingham Stallions and the Houston Gamblers.
The Breakers managed 256 yards of total offense compared to 362 for the Stars. New Orleans has committed five turnovers during the pair of losses.
"Obviously the second week in a row, disappointing game for us, " said Breakers Head Coach John DeFilippo. "I am really disappointed in the number of penalties we had. I thought the taunting penalty by Wes Hills really hurt us. That's just 100 percent selfish, not thinking about the team. That will be addressed and handled. It really just stalled our drive. I thought our defense played a really good game, took the ball away with two interceptions. Offensively we can't do anything right now. We've gone from doing anything we want to not being able to do anything the last two weeks. I have to find out why. I think I know the reason, and we have to get back to being crisper because right now we don't do anything right on offense. It's my job to get this fixed and I plan on doing that."
Thanks to a two-game winning streak the Stars have taken sole possession of first in the North Division at 3-3.
Amani Dennis intercepted a pass by Breakers quarterback McLeod Bethel-Thompson and returned it 72 yards for a touchdown in the second quarter to give Philadelphia a 13-0 lead.
Philadelphia's offensive line has given up the most sacks in the USFL at 23 but did not allow any against New Orleans.
"Very proud of our football team," said Stars Head Coach Bart Andrus. "It was a game that was close; both teams fought hard. I thought New Orleans did a great job with their game plan coming in. ... This was a good win for us, a different landmark we haven't reached in the past. It's not indicative of how good this team can be. We have the objective to get better. We have to score touchdowns on offense; three called back today. We got a touchdown on defense, and that was the first in 16 games of the new USFL Stars team."
Saturday's Pittsburgh Maulers - Memphis Showboats game on USA drew 227,000 viewers, followed by the Birmingham Stallions - Michigan Panthers contest on FOX with 732,000 viewers. On Sunday the New Orleans Breakers - Philadelphia Stars broadcast on FS1 dipped to 217,000 viewers, and the New Jersey Generals - Houston Gamblers showing on FOX closed the weekend with 630,000 viewers.
Every Touchdown of Week 6:
USFL's Top 10 Plays From Week 6:
USFL's Best Mic'd Up Moments from Week 6:
This week the Breakers act as the host team trying to end their two game losing streak in Birmingham against the Stallions at 4 pm est. on FOX. In Canton, Ohio, the Stars play against the Maulers at 9 pm est. on FS1. On Sunday the Gamblers, riding a four-game winning streak, tackle the Memphis Showboats, winners of three straight, at 2:30 pm est. on USA. Back at Canton, the Michigan Panthers, who have lost four straight games, will line up against the New Jersey Generals, who have dropped three straight, at 5:30 pm est. on FS1.
• Discuss this story on the United States Football League message board...


United States Football League Stories from May 25, 2023
The opinions expressed in this article are those of the writer(s), and do not necessarily reflect the thoughts or opinions of OurSports Central or its staff.