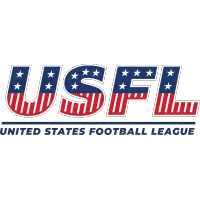 Around the USFL
by Fran Stuchbury
June 15, 2022 - United States Football League (USFL)



Going into the final week of the United States Football League season, the four playoff teams will look to get through their games healthy, so the backups on the New Jersey Generals, Philadelphia Stars, Birmingham Stallions and New Orleans Breakers should see some extra playing time in week ten.
New Orleans secured the final playoff spot in the South Division with a 17-6 victory over the Tampa Bay Bandits in week nine.
Meanwhile, the Michigan Panthers, Pittsburgh Maulers, Tampa Bay Bandits and Houston Gamblers will attempt to end their seasons on a positive note. Also, closing the season with a victory gets each player a win bonus.
The coaching staffs of the four teams outside the playoff picture will receive extra scrutiny this offseason.
South Division
Tampa Bay Bandits - Todd Haley - 4-5 record.
Tampa Bay grabbed the top spot in my power rankings after week one, and some observers felt they were the team to beat with experienced quarterback Jordan Ta'amu leading the way. But the Bandits quickly ran aground, and Ta'amu struggled with turnovers.
In too many Bandits losses the Tampa Bay offense was shutdown by opposing defenses as happened against the Breakers last week. Three sacks, three fumbles, two interceptions and numerous penalties proved too much to overcome. Still, Haley had the Bandits fighting for the postseason in week nine.
Houston Gamblers - Kevin Sumlin - 2-7 record.
The Gamblers led at halftime in seven of their nine games. The team has talent on both offense and defense with running back Mark Thompson, play-making defensive end Chris Odom and linebacker Donald Payne. They played competitive football, losing narrowly week after week until upsetting unbeaten Birmingham. Even after being eliminated from playoff contention, Sumlin's team played hard.
North Division
Michigan Panthers - Jeff Fisher - 1-8 record.
Prior to the kick-off of the USFL season FOX BET named the Panthers the favorite to win the USFL championship, but poor personnel decisions cost the team. Drafting Shea Paterson with the first pick in the USFL Draft proved a big mistake. With USFL rosters first allowing only 38 active players, Fisher opted to have punter Michael Carrizosa, who did not kick field goals while at San Jose State, handle both kicking and punting responsibilities. Carrizosa's punting acumen showed through as he averaged 46.1 yards per punt, but he struggled mightily with kicking, going 0-2 on extra points and only one of four on field goals. Those misses cost the Panthers several early games.
As the biggest name of the USFL coaches, Fisher will probably be back next season if he chooses.
Pittsburgh Maulers - Kirby Wilson - 1-8 record.
It looked like Wilson lost his team prior to the season starting. The coach infamously told running back De'Veon Smith he was cut by the team because of a lack of respect shown to unnamed staff when the player asked for pizza instead of chicken salad in training camp.
One wonders how that move, and Wilson's defense of it, played in the lockerroom. The Maulers looked lifeless early, especially on offense, and improvement was difficult to discern as the roster churned. Wilson used four different quarterbacks, and the lack of consistency at the most important position in football crippled Pittsburgh.
Other decisions backfired or were hard to defend. Instead of attempting to increase a lead against Birmingham, for example, Wilson ran out the clock despite having favorable field position and time outs.
It is hard to see Wilson returning as a USFL head coach next season.
Top 10 plays from USFL's Week 9
Every touchdown scored in Week 9 of the USFL
Ratings
Saturday's 1 pm est. noon NBC - New Jersey Generals vs. Michigan Panthers - 815,000 viewers
Saturday's 6 pm est. on USA - Houston Gamblers vs. Birmingham Stallions - 350,000 viewers
Sunday's 4 pm est. on FOX - Tampa Bay Bandits vs. New Orleans Breakers - 742,000 viewers
Sunday's 7:30 pm est. on FS1 - Philadelphia Stars vs. Pittsburgh Maulers - 389,000 viewers
WEEK TEN SCHEDULE
Saturday noon est. on USA - Philadelphia Stars vs. New Jersey Generals
Saturday 4 pm est. on FOX - Birmingham Stallions vs. Tampa Bay Bandits
Sunday noon on USA - Michigan Panthers vs. Pittsburgh Maulers
Sunday 8:30 pm est. on FS1 - New Orleans Breakers vs. Houston Gamblers
• Discuss this story on the United States Football League message board...


United States Football League Stories from June 15, 2022
The opinions expressed in this article are those of the writer(s), and do not necessarily reflect the thoughts or opinions of OurSports Central or its staff.