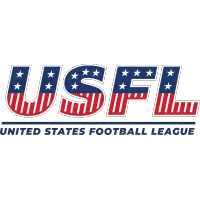 Around the USFL
by Fran Stuchbury
June 2, 2022 - United States Football League (USFL)



This past week two United States Football League teams - the New Jersey Generals and Birmingham Stallions - locked up playoff berths, grabbing two of the available four slots. The top two teams in each division will make the postseason which is slated to begin June 25 in Canton, Ohio.
New Jersey defeated the Tampa Bay Bandits, 20-13, and improved to 6-1 on Saturday. With quarterback De'Andre Johnson out with an ankle injury, part-time starter Luis Perez played the entire game, connecting on 19 of 25 passes for 174 yards and one touchdown.
The next day, undefeated Birmingham topped the Pittsburgh Maulers, 26-16, and improved to a perfect 7-0, scoring a key touchdown on a 52-yard Bobby Holly run on a fake punt.
With the semifinals approaching and no compelling reason to finish first, both the Stallions and Generals hope to minimize injuries over the final three weeks of the regular season.
This week the Philadelphia Stars can clinch a postseason spot with a victory against the Michigan Panthers on Sunday. The New Orleans Breakers can also clinch with a win over Birmingham and a Tampa Bay Bandits loss against the Houston Gamblers on Sunday.
On the other end of the standings lie the 1-6 Maulers. Up 10-6 with the ball on their own 48-yard line late in the first half Sunday, coach Kirby Wilson inexplicably opted to run out the clock instead of attempting to push into field goal range, despite being armed with timeouts. Later in the fourth quarter, kicker Ramiz Ahmed connected on a 58-yard field goal.
In another curious decision, Wilson chose to bench starting quarterback Vad Lee late in the fourth, down just 23-16. Lee had led the Maulers to their only victory two weeks ago despite joining the Pittsburgh roster just days before. Wilson sat Lee in favor of Roland Rivers who had less than a week of practice with the team. The end result was the Maulers not even managing a first down, and the Stallions kicked a field goal to seal the victory. Rivers finished with three completions in nine attempts for 25 yards.
The Maulers have used four different quarterbacks this season, and both passers on the opening day roster have since been released.
A LOOK BACK AT FIRST ROUND USFL QUARTERBACK SELECTIONS
The 2022 USFL Draft's first round was dedicated to quarterback selections for all eight USFL teams. As of now, only three of the eight quarterbacks taken in the first round are still starting with the teams which selected them: Jordan Ta'amu with the Tampa Bay Bandits, Clayton Thorson with the Houston Gamblers and Kyle Sloter with the New Orleans Breakers.
Surprisingly, no team selected Luis Perez in the first round despite his experience in the Alliance of American Football and the XFL. The New Jersey Generals swooped in to sign him later.
Here's a look at the First Round of the USFL Draft for quarterbacks.
1. Michigan Panthers - Shea Patterson - Michigan
With games being played in Birmingham there appeared no need for the Panthers to take a quarterback with ties to Michigan. The team passed up more experienced passers including Jordan Ta'amu and Kyle Sloter. Patterson passed for 973 yards, four touchdowns and five interceptions and added 171 rushing yards and two scores. He was released by the Panthers on May 25th and picked up off waivers by the New Orleans Breakers.
Patterson was seen sitting next to the Breakers defensive coordinator, appearing to offer his expertise on the Michigan game plan this past weekend. Panthers players weren't happy to see their former QB on the New Orleans sidelines. The Breakers ended up winning the game 31-27 in overtime.
2. Tampa Bay Bandits - Jordan Ta'amu - Ole Miss
Ta'amu put up solid stats when he played for the XFL's St. Louis BattleHawks for five games before the league shut down due to COVID-19, compiling 1,050 yards passing, five touchdowns, two interceptions plus 217 rushing yards and one touchdown.
With the Bandits Ta'amu has passed for 1,404 yards, 10 touchdowns and eight interceptions. He leads the Bandits in rushing with 222 yards and one touchdown.
3. Philadelphia Stars - Bryan Scott - Occidental
Scott was reunited with Stars head coach Bart Andrus who coached him in The Spring League. He threw for 558 yards, five touchdowns and two interceptions before suffering a knee injury in week three of the USFL season. In week two, Scott completed 26 of 36 passes for 272 yards, three touchdowns, with one rushing touchdown and one interception in the Stars' 30-23 victory over the Pittsburgh Maulers, earning him OurSports Central USFL Offensive Player of the Week honors.
4. New Jersey Generals - Ben Holmes - Tarleton State
Holmes suffered a toe injury in training camp, and Generals head coach Mike Riley opted to release him on April 1st and sign Luis Perez. That move has paid off as Perez has teamed with De'Andre Johnson to lift the Generals to a 6-1 mark and first place in the North Division. Holmes signed with the Canadian Football League's Montreal Alouettes on May 11th.
5. Houston Gamblers - Clayton Thorson - Northwestern
Thorson has passed for 987 yards, 10 touchdowns and seven interceptions. He has played the season with some nagging injuries and some last-minute heartbreaking losses.
6. Birmingham Stallions - Alex McGough - Florida International
McGough has thrown for 277 yards, two touchdowns and two interceptions in four games for the Stallions, three of them starts. He was benched in favor of J'mar Smith who Skip Holtz coached at Louisiana Tech. The Stallions suffered so many injuries at the wide receiver position that McGough played a couple of snaps against the Maulers at wideout where he was targeted three times, drawing a pass interference penalty but also allowing a ball to go through his hands, resulting in an interception by Bryce Torneden.
7. Pittsburgh Maulers - Kyle Lauletta - Richmond
Lauletta played in four games for the Maulers, two of them starts. He passed for 269 yards, without any touchdowns or interceptions. He was released by the Maulers on May 25th and picked up off waivers by the New Jersey Generals.
8. New Orleans Breakers - Kyle Sloter - Northern Colorado
Sloter leads the USFL in yards passing with 1,499, and has nine touchdown passes and seven interceptions. At times, turnovers have hurt Sloter and the Breakers, but he has spearheaded two last-minute victories for the team.
Against the Houston Gamblers:
Last week against the Panthers:
Only two quarterbacks in the USFL average more than 200 yards passing per game: Sloter with 214.1 yards and Ta'amu with 200.6. They also happen to be the two most experienced passers in the league.
Meanwhile, four USFL teams average more than 125 rushing yards per game: New Jersey with 165.9, Michigan with 161.6, Birmingham with 145.4 and New Orleans with 125.9.
Top plays from USFL's Week 7:
Every Touchdown scored in week seven of the USFL:
RATINGS
Saturday, May 28 - New Jersey Generals vs. Tampa Bay Bandits at 12:00 PM on USA - 228,000 viewers
Saturday, May 28 - New Orleans Breakers vs. Michigan Panthers at 9:00 PM on FS1 - 267,000 viewers
Sunday, May 29 - Birmingham Stallions vs. Pittsburgh Maulers at 2:00 PM on FOX - 830,000 viewers
Sunday, May 29 - Philadelphia Stars vs. Houston Gamblers at 6:00 PM on Peacock - no ratings available
WEEK EIGHT SCHEDULE
Friday 8 pm est. on USA - Pittsburgh Maulers vs. New Jersey Generals
Saturday 3 pm est. on FOX - New Orleans Breakers vs. Birmingham Stallions
Sunday 12 pm est. on FOX - Michigan Panthers vs. Philadelphia Stars
Sunday 4 pm est. on Peacock - Houston Gamblers vs. Tampa Bay Bandits
• Discuss this story on the United States Football League message board...


United States Football League Stories from June 2, 2022
The opinions expressed in this article are those of the writer(s), and do not necessarily reflect the thoughts or opinions of OurSports Central or its staff.