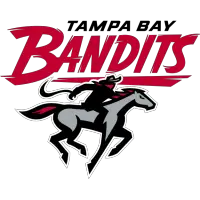 Around the USFL
by Fran Stuchbury
May 4, 2022 - United States Football League (USFL) - Tampa Bay Bandits



Week three of the United States Football League season saw some interesting trends emerge. Nine of the twelve games have been decided by one score including three of the four games this past weekend, providing few yawners and many reasons for the viewing public to stay tuned in.
Two USFL North Division teams are focused on running the football. the New Jersey Generals racked up 269 yards rushing, while the Michigan Panthers ran up a 244-yard effort on the ground, spearheading both teams to victories.
We witnessed the first game-winning field goal when Tampa Bandits kicker Tyler Rausa's 46-yard effort sailed through the uprights in the waning seconds in their 27-26 victory over the Houston Gamblers.
After experiencing scoring struggles for one and a half games, the Bandits got their offense back on track with 134 rushing yards and 255 yards through the air. Tampa Bay will be tested this Saturday against the undefeated Birmingham Stallions.
The Houston Gamblers' two losses have come by a combined six points. If Houston wants to make the playoffs they have find a way to win games that come down to the wire.
The Birmingham Stallions may be the team to beat in the USFL. Playing all their games in front of a biased crowd has provided an advantage, but quarterback J'Mar Smith has also given them an edge on offense. He played college football at Louisiana Tech under Stallions head coach Skip Holtz from 2015 until 2019. Coach Holtz and Smith have been on the same page.
The Stallions defense has earned respect as well. In their 22-13 victory over the New Orleans Breakers several players stood out. Scooby Wright contributed 17 total tackles, eight of them solo, one forced fumble and one pass deflection, while DeMarquis Gates contributed 10 tackles, half a sack, two pass deflections and a key interception late in the game in their victory.
New Orleans Breakers quarterback Kyle Sloter has played with some injuries that may have impacted his performance.
The Michigan Panthers won their first USFL game with a 24-0 victory over the Pittsburgh Maulers. The Panthers defense has been solid all season, and the Michigan offense played smash-mouth football running the ball 42 times for 244 yards. They only had 72 yards passing as they played conservatively after taking an early two-score lead. Starting quarterback Paxton Lynch gave the offense a spark early until he left the game with an injury and was replaced by Shea Patterson.
Michigan hopes to even its record at 2-2 against the Philadelphia Stars on Friday.
So far every USFL team which has played against the Pittsburgh Maulers has looked good. Pittsburgh can't any consistency on offense, and the defense has had a hard time stopping teams. They play the New Jersey Generals on Saturday. The Generals are nin-point favorites. If the Maulers lose and go to 0-4 with only a 10-game season, any chance of making it to the postseason would be very slim.
The New Jersey Generals improved to 2-1 thanks to 269 yards on the ground in their 24-16 victory over the Philadelphia Stars. Running back Trey Williams led the way with 110 yards rushing. The quarterback rotation doesn't seem to be working so far for Luis Perez, with him being replaced by the running quarterback De'Andre Johnson throughout who passed for 130 yards on six of eight passing and adding 94 rushing yards. Perez only completed eight of 15 passes for 75 yards. It's been difficult for him to get into any rhythm.
It might be time for the Generals just to stick with Johnson, instead of rotating him with Perez. Playing against the winless Maulers team might be the perfect time to make the switch.
As for the Philadelphia Stars, Bryan Scott was injured in the first half and did not return. If Scott plays this week their chances of defeating the Michigan Panthers improve.
Here is every touchdown from week three:
RATINGS
Saturday's 4 pm est. - Houston Gamblers - Tampa Bay Bandits game drew 825,000 viewers on FOX going up against Day 3 of the NFL Draft.
That evening in the 8 pm est. broadcast the New Orleans Breakers - Birmingham Stallions faceoff captured 1.114 million viewers which was an increase from last week's prime time game on FOX which saw 1.056 million viewers.
Sunday's 2:30 pm est. game on USA, the Michigan Panthers vs. the Pittsburgh Maulers, averaged 292,000 viewers. Down from last weeks 363,000 viewers on USA.
The New Jersey Generals - Philadelphia Stars game aired on Peacock Premium so no ratings were available.
WEEK FOUR SCHEDULE
Friday 10 pm est. on FS1 - Philadelphia Stars vs. Michigan Panthers
Saturday 2:30 pm est. on Peacock - New Jersey Generals vs. Pittsburgh Maulers
Saturday 7 pm est. on FOX - Tampa Bay Bandits vs. Birmingham Stallions
Sunday 3 pm est. on NBC - Houston Gamblers vs. New Orleans Breakers
• Discuss this story on the United States Football League message board...


United States Football League Stories from May 4, 2022
The opinions expressed in this article are those of the writer(s), and do not necessarily reflect the thoughts or opinions of OurSports Central or its staff.
Other Recent Tampa Bay Bandits Stories