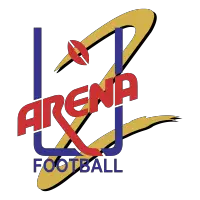 af2 Training Camps Open this Weekend
February 27, 2009 - arenafootball2 (af2) News Release



CHICAGO - Teams from arenafootball2 (af2) officially open training camp this weekend in preparation for the league's 10th anniversary season which begins on March 20.
This Sunday, March 1, four of the af2's 25 member teams get underway with a three-day mini-camp. This year is the third consecutive season that teams get an extra three days to practice, but those first three days are no-contact and for conditioning purposes only. The Central Valley Coyotes, Tri-Cities Fever, South Georgia Wildcats and Florida Firecats, as kickoff weekend participants, all start on Sunday. A listing of af2 training camp start dates is attached on page 2 of this release.
Under af2 rules, teams are allowed to open camp two weeks prior to the week of their first regular season game. Teams are allowed to bring 35 players to camp (not including the optional two-player International Training Squad), but must cut down to 30 on the third day of full contact camp. The final cut to 22 players (19-active; three-inactive) is the Monday prior to their first game by 3:00 p.m. ET.
"We're excited to get our 10th anniversary season underway," af2 President Jerry Kurz said. "We look forward to 2009 being our best season ever, filled with great players and great plays. Most importantly, however, we anticipate the highest level of football and the highest level of entertainment our fans have ever seen."
A highlight of this year's preseason schedule includes a scrimmage between the expansion Milwaukee Iron and the New Zealand Overstayers, the National Arena Football Team of New Zealand. The game, which will take place on March 12 at the Bradley Center, will provide a unique first opportunity for Milwaukee fans to see their hometown Iron in live game action. Individual tickets for the event are on sale now. The game is also available as part of Milwaukee's season ticket package, which can be purchased by contacting an Iron ticket representative at (262) 523-9206.
Scheduled scrimmages/preseason games include:
* All times local
March 12 - New Zealand Overstayers @ Milwaukee - 7:05 PM -- Bradley Center
March 16 - Oklahoma City @ Amarillo - 7:05 PM - Amarillo Civic Center
March 18 - Tulsa @ Bossier-Shreveport - 10:00 AM - CenturyTel Center
March 18 - Arkansas @ Spokane - 7:00 PM - Spokane Arena
March 22 - Iowa @ Peoria - 7:00 PM - Dragon Dome (Pekin, Ill.)
TRAINING CAMP SCHEDULES:
Team Start of Training Camp
Florida Firecats Wed. 3.4.09
Central Valley Coyotes Wed. 3.4.09
South Georgia Wildcats Wed. 3.4.09
Tri-Cities Fever Wed. 3.4.09
Milwaukee Iron Sat. 3.7.09
Green Bay Blizzard Wed. 3.11.09
Albany Firebirds Wed. 3.11.09
Amarillo Dusters Wed. 3.11.09
Arkansas Twisters Wed. 3.11.09
Boise Burn Wed. 3.11.09
Bossier-Shreveport BattleWings Wed. 3.11.09
Corpus Christi Sharks Wed. 3.11.09
Iowa Barnstormers Wed. 3.11.09
Kentucky Horsemen Wed. 3.11.09
Mahoning Valley Thunder Wed. 3.11.09
Manchester Wolves Wed. 3.11.09
Oklahoma City Yard Dawgz Wed. 3.11.09
Peoria Pirates Wed. 3.11.09
Quad City Steamwheelers Wed. 3.11.09
Rio Grande Valley Dorados Wed. 3.11.09
Spokane Shock Wed. 3.11.09
Stockton Lightning Wed. 3.11.09
Tennessee Valley Vipers Wed. 3.11.09
Tulsa Talons Wed. 3.11.09
Wilkes-Barre/Scranton Pioneers Wed. 3.11.09
• Discuss this story on the arenafootball2 message board...


arenafootball2 Stories from February 27, 2009
The opinions expressed in this release are those of the organization issuing it, and do not necessarily reflect the thoughts or opinions of OurSports Central or its staff.