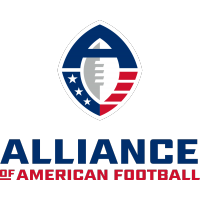 AAF Gains Big, New Investor as League Heads to Week Three
by Fran Stuchbury
February 21, 2019 - Alliance of American Football (AAF)



NHL Carolina Hurricanes owner and entrepreneur Tom Dundon has committed $250 million to the Alliance of American Football.
Dundon had several reasons for making the investment.
"As a lifelong sports fan and entrepreneur, I've always valued the opportunities generated in the ecosystem of sports and entertainment," said Dundon. "I'm impressed with The Alliance's stunning growth in-stadium and across TV, mobile and social media in just these first few weeks."
Dundon's investment gives fans assurance the AAF is committed to the long haul. Dundon said his goal with the AAF is to "make something that people care about, that people will watch."
He's not opposed to having a team in Raleigh, but hasn't had much time to think about it. Raleigh had a pro football team in 1992 in the Raleigh-Durham Skyhawks in the World League of American Football, at the time the NFL's official developmental league. The Skyhawks went 0-10 and averaged 12,066 fans that season. They were not able to sell beer at games, which impacted attendance.
Some thoughts around the league
San Antonio is seeing great fan support so far. In last week's 37-29 loss to the Orlando Apollos, the Commanders drew 29,176 fans, an increase over week one. San Antonio has a football fan base and playing in the Alamo Dome where weather can never be an impact helps, too. San Diego saw its attendance somewhat muted by rain Sunday night.
Every week Apollos head coach Steve Spurrier makes following the league fun. After their victory over the Commanders, he stated the crowd in San Antonio was just as loud as the crowd at Tennessee. For many years when Spurrier was the head coach of Florida, they had a big rivalry with Tennessee.
The Salt Lake Stallions completed several roster moves this week but perhaps most surprising was one transaction they didn't make. Kicker Taylor Bertolet, who connected on just one of four field goal attempts in Salt Lake's narrow 12-9 loss to the Birmingham Iron, remains with the team. A closer look at his misses reveals why he might be getting a second chance. The errant kicks came from 48, 50 and 55 yards, none of them chip-shots. Bertolet gets a chance to redeem himself this week against Arizona.
Stallions quarterback Josh Woodrum who missed last week's game with a hamstring injury will start this week in Salt Lake's home opener against the Arizona Hotshots.
While Salt Lake's defense turned in an impressive showing against Birmingham, a crucial fumbled punt return led to the team's second loss. When the replay official first reviewed the turnover, he thought the returner's knee was down before he had the ball ripped from his grasp on the game-changing play. Despite looks from several different angles, however, he couldn't conclusively prove the ball remained in the returner's possession as his knee hit the ground. He reluctantly had to let the play stand, resulting in a Birmingham Iron recovery and touchdown. The sequence provided a fascinating look at the dilemmas faced by replay officials. Kudos to the AAF for transparency in the review process.
Christian Hackenberg remains the starting quarterback for the Memphis Express this week at Orlando despite having some struggles. In two games he hasn't thrown a touchdown pass while being sacked six times. The offensive line must protect Hackenberg and give him time to throw the football down the field. The Express could have started the season with Zach Mettenberger at quarterback due to him having more experience. This week Hackenberg may have to show more improvement to keep his starting job.
Legends quarterback Matt Simms' play progressed with a 17-of-25 showing for 160 yards, 1 touchdown and 1 interception in their loss to the San Diego Fleet. If he struggles early in their home opener against Birmingham, the chorus to see former University of Georgia passer Aaron Murray take over the job may get louder.
Two running backs rushed for over 100 yards last week. San Diego's Ja'Quan Gardner rolled up 104 yards in their 24-12 victory over the Atlanta Legends. Express RB Zac Stacy also cracked the century mark with 101 yards in their 20-18 loss to Arizona Hotshots.
The Orlando Apollos so far have the most exciting offense in the league, not a big surprise with Spurrier as the head coach. Garret Gilbert passed for 393 yards in their win over San Antonio, and wide receivers Charles Johnson and Jalin Marshall combined for 276 receiving yards.
The ratings were .64 for the Salt Lake - Birmingham game with an average of 1,018,000 viewers for TNT Saturday afternoon. Up against the NBA All-Star Skills Challenge on Saturday and NBA All-Star Game on Sunday, the NFL Network games - Arizona vs. Memphis amd Atlanta vs. San Diego - held their own, averaging about 425,000 viewers.
Three CFL players signed with AAF teams this week: Toronto Argonauts defensive lineman Dylan Wynn has signed with Arizona, Hamilton Tiger-Cats wide receiver Terrell Sinkfield inked with the Orlando Apollos and Calgary Stampeders defensive back Ciante Evans joined the Salt Lake Stallions.
If Birmingham Iron running back Trent Richardson wants to get signed by an NFL team after the AAF season he will have to improve on his 2.4 average yards per carry, though he's scored three touchdowns.
All four winning teams trailed at halftime this past weekend.
The AAF may want to consider mandating each team have home and away uniforms. It was difficult at times to tell the teams apart during the Atlanta - San Diego game on Sunday.
• Discuss this story on the Alliance of American Football message board...


Alliance of American Football Stories from February 21, 2019
The opinions expressed in this article are those of the writer(s), and do not necessarily reflect the thoughts or opinions of OurSports Central or its staff.