Johnstown Tomahawks Forward Andrew Romano and Aston Rebels Defenseman Gvido Jansons
Aston defenseman Gvido Jansons takes the puck away from Tomahawks forward Andrew Romano during Saturday night's game.
Submitted by Johnstown Tomahawks
Credit: George Lucas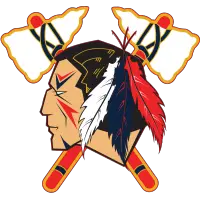 JOHNSTOWN - The Johnstown Tomahawks defeated the Aston Rebels 3-2 in an overtime thriller at the Cambria County War Memorial Arena, Saturday night. The Rebels got on the board first when Dom Garcia deflected a shot past Tomahawks goalie Andrew Lindgren on the power play. Aston increased its lead to 2-0 after a Michael Merulla goal at 10:22 of the first period. The goal was assisted Brendan Kapcheck. During the second ...
Full Story