Williamsport Crosscutters Present Check to James V. Brown Library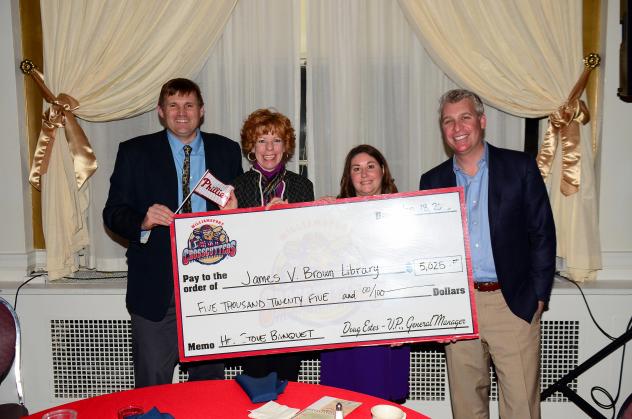 The Williamsport Crosscutters recently donated $5,025 to the James V. Brown Library. The check represents a portion of the proceeds from the team's 10th Annual Hot Stove Dinner with the Phillies. From left to right; Crosscutters VP/General Manager Doug Estes, JVB Assistant Director Melissa Rowse, JVB Executive Director Barb McGary and Crosscutters Principal Owner Peter Freund.
Submitted by Williamsport Crosscutters

The Williamsport Crosscutters kicked of their tenth season with the Philadelphia Phillies with their annual Hot Stove Banquet on January 18 at the Genetti Hotel in downtown Williamsport. The event featured Phillies manager Pete Mackanin and catcher Cameron Rupp in addition to Cutters manager and former World Series MVP Pat Borders and Japanese baseball legend Tom O'Malley. The guests entertained attendees with stories, ans...
Full Story