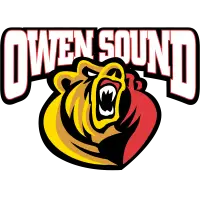 Where Are They Now? Update Edition
April 8, 2021 - Ontario Hockey League (OHL) - Owen Sound Attack News Release



In the middle of February, we provided you an update on where Owen Sound Attack Alumni were playing for the 2020-21 season. Almost two months later, with a number of leagues nearing the end of their seasons or having finished their season, we thought we would take a look at how our alumni have done this year.
Since our last post we have seen Kurtis Gabriel take a more regular spot in the NHL lineup for the San Jose Sharks, while defensemen Jacob Friend signed his first professional contract and is playing for the Jacksonville Icemen of the ECHL.
In the NHL, Attack alumni have performed well thus far. Leading the charge at the forward position are two players at the opposite spectrum of their careers Josh Bailey with the New York Islanders and Nick Suzuki with the Montreal Canadiens. Both players have amassed 24 points, with Bailey scoring 6 times and adding 18 assists and Suzuki tallying 7 goals and 17 assists. At defence, it is Mark Giordano that continues to lead, registering 6 goals and 11 assists on the season. Giordano also recently registered his 500th NHL game played.
At the AHL level, Joseph Blandisi leads all Attack Alumni forwards with 18 points (9 goals and 9 assists) in 23 games with the Laval Rockets, however, it is Jonah Gadjovich who is currently scoring a point per game pace with 8 goals and 1 assist on the season for the Utica Comets and Gemel Smith who has 6 points in just 3 games with the Syracuse Crunch. On the back end, a pair of ex-teammates are at the top of the list with Sean Durzi and Brady Lyle putting out peak performances on the season so far. Durzi has registered 3 goals and 10 assists for 13 points and a minus-3 rating with the Ontario Reign, while Lyle has 5 goals and 5 assists for 10 points and a plus-8 rating for the Providence Bruins.
In the East Coast Hockey League, it is veteran Matt Petgrave leading all Attack alumni with 1 goal and 10 assists and a plus-5 rating in 37 games for the Florida Everblades.
In Europe, it can be tough to compare numbers due to the varying levels of each league however, a number of Attack alumni are having a very successful season. Leading the way from a forward standpoint is Kyle Platzer who has nine goals and 26 assists in 50 games with KooKoo Kouvola, while a pair of Bolzano teammates, Daniel Catanacci who has 18 goals and 10 assists in 40 games and Mike Halmo with 11 goals, 16 assists in 38 games are closed behind Platzer. Damir Sharipzyanov is the loan defensemen in Europe tallying 8 points and a plus-five rating in 48 regular season games and another six points and plus-two rating in 16 playoff games with OMSK Avangard of the KHL.
Unfortunately, we are not able to update any of our USports Alumni as this league did not run this season.
A complete list of Attack Alumni in the different leagues can be found below.
League: National Hockey League (NHL)
FIRST NAME LAST NAME CURRENT TEAM STATS
Josh Bailey New York Islanders 39GP, 6G, 18A, +10
Jordan Binnington St. Louis Blues 29GP, 2.71GAA, .909SV%, 11-11-5
Cody Ceci Pittsburgh Penguins 36GP, 3G, 6A, +13
Kurtis Gabriel San Jose Sharks 11GP, +1
Mark Giordano Calgary Flames 40GP, 6G, 11A, -10
Trevor Lewis Winnipeg Jets 39GP, 1G, 5A, +5
Kurtis MacDermid Los Angeles Kings 24GP, 2G, 2A, -11
Ryan McGill * Vegas Golden Knights NOT APPLICABLE
Brad Richardson Nashville Predators 12GP, 1G, 1A, E
Bobby Ryan Detroit Red Wings 33GP, 7G, 7A, -14
Andrej Sekera Dallas Stars 29GP, 2G, 2A, +6
Andrew Shaw Chicago Blackhawks 14GP, 2G, 2A., -5
Wayne Simmonds Toronto Maple Leafs 22GP, 6G, 2A, -2
Gemel Smith Tampa Bay Lightning 4GP, 3A, +3
Nick Suzuki Montreal Canadiens 36GP, 7G, 17A, +1
* denotes Assistant Coach with current team.
League: American Hockey League
FIRST NAME LAST NAME CURRENT TEAM (AFFILIATE) STATS
Chris Bigras Lehigh Valley Phantoms (PHI) 8GP, 1G, 3A, +5
Joseph Blandisi Laval Rocket (MON) 23GP, 9G, 9A, +8
Trent Bourque Manitoba Moose (WPG) 10GP, 3A, -2
Aidan Dudas Ontario Reign (LAK) 24GP, 5G, 3A, -12
Sean Durzi Ontario Reign (LAK) 25GP, 3G, 10A, -3
Kurtis Gabriel San Jose Barracudas (SJS) 2GP, 2G, 1A, +3
Jonah Gadjovich Utica Comets (VAN) 9GP, 8G, 1A, +4
Kevin Hancock Tucson Roadrunners (ARI) 7GP, 2G, +1
Brady Lyle Providence Bruins (BOS) 17GP, 5G, 5A, +8
Michael McNiven Laval Rocket (MON) 7GP, 2.24GAA, .910SV%, 5-1-1
Jacob Middleton San Jose Barracudas (SJS) 17GP, 2G, 4A, +3
Zach Nastasiuk Wilkes-Barre Scranton Penguins (PIT) 17GP, 1G, 2A, -7
Markus Phillips Ontario Reign (LAK) 17GP, 1G, 2A, -2
Thomas Schemitsch Cleveland Monsters (CBJ) 13GP, 4A, +1
Gemel Smith Syracuse Crunch (TB) 3GP, 3G, 3A, +5
Matthew Struthers Cleveland Monsters (CBJ) 6GP, E
Maksim Sushko Lehigh Valley Phantoms (PHI) 9GP, -5
Garrett Wilson Lehigh Valley Phantoms (PHI) 18GP, 1G, 8A, +3
League: East Coast Hockey League (ECHL)
FIRST NAME LAST NAME CURRENT TEAM (AFFILIATE) STATS
Erik Bradford Jacksonville Icemen (WPG/MB) 13GP, 4G, 1A, E
Jacob Friend Jacksonville Icemen (WPG/MB) 15GP, 3A, E
Alan Lyszczarczyk Tulsa Oilers 25GP, 2G, 2A, -10
Matt Petgrave Florida Everblades (NSH/MIL) 37GP, 1G, 10A, +5
League: European Leagues
FIRST NAME LAST NAME CURRENT TEAM (LEAGUE) STATS
Marek Bartanus Michalovce Dukla HC (SLOVAK) 54GP, 15G, 10A +10
Tyler Beskorowany VSV EC (AUSTRIA) 1GP, 10.34GAA, .773 SV%
Jesse Blacker Barys Nur-Sultan (KHL) 45GP, 3G, 7A, +13
Daniel Catanacci Bolzano (ICE) 40GP, 18G, 10A, +18
Bryson Cianfrone Val Pusteria Wolves (AlpsHL) 5GP, 4G, 1A, +5
Gilbert Gabor Vasterviks IK (Swe-1) 48GP, 2G, 9A, +2
Mike Halmo Bolzano (ICE) 38GP, 11G, 16A, +12
Anton Hedman Djurgardens IF (SweHL) Not Available
Petrus Palmu Ingolstadt ERC (DEL) 31GP, 7G, 11A, +2
Kyle Platzer KooKoo Kouvola (SM-Liga) 50GP, 9G, 26A, +5
Damir Sharipzyanov OMSK Avangard (KHL) 48GP, 2G, 6A, +5 (PO 14GP, 1G, 5A, +2)
• Discuss this story on the Ontario Hockey League message board...


Ontario Hockey League Stories from April 8, 2021
The opinions expressed in this release are those of the organization issuing it, and do not necessarily reflect the thoughts or opinions of OurSports Central or its staff.