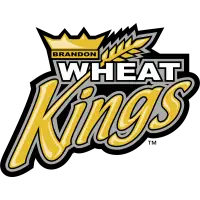 Wheat Kings Name 2020-21 Leadership Group
March 5, 2021 - Western Hockey League (WHL) - Brandon Wheat Kings News Release



Regina, SK - Today the Brandon Wheat Kings announced the team's leadership group for the 2020-21 Western Hockey League season.
Defenceman Braden Schneider (Prince Albert, SK) will serve as team captain and joining him in the leadership group as alternates will be 19-year old forward Ridly Greig (Lethbridge, AB) and 20-year old forward Marcus Sekundiak (Oak Bluff, MB). 19-year old forward Ben McCartney (Macdonald, MB) will also serve as an alternate captain during the Wheat Kings' home games while 20-year old forward Lynden McCallum (Brandon, MB) will wear the 'A' during away games.
The Wheat Kings announced that Schneider would be wearing the 'C' back on February 18th, a choice that Head Coach Don MacGillivray saw as a natural fit.
"He's coming back for his fourth year and is a respected leader on the ice and in our dressing room," says MacGillivray. "He's a player who has always done everything he's asked and he was the obvious choice to lead our group this season. He's a great person to show our players how to play in the Western Hockey League and how to be a Wheat King."
Schneider recently signed an entry-level contract with the NHL's New York Rangers on Thursday, after being drafted 19th overall by the blueshirts in the 2020 NHL Draft.
This will be Ridly Greig's first WHL campaign wearing a letter on his jersey after having a breakout season in 2019-20, finishing with 60 points (26G-34A) in 56 games. Like Schneider, the left-winger was also a 1st Round Pick in the 2020 NHL Draft, selected 28th overall by the Ottawa Senators.
"He's coming into his third year and he's proven to be a top player in this league," says MacGillivray. "He always leads by example on the ice with his work ethic and compete level. He's the type of competitive player you look for in a leadership group".
Marcus Sekundiak is entering his 4th season with the Wheat Kings after being drafted in the 7th round, #154 overall in the 2015 WHL Bantam Draft. He is one of three 20-year olds on the Wheat Kings roster this season alongside McCallum and forward Reid Perepeluk. A 5'11", 187 lbs left-winger, Sekundiak has suited up for 190 games with the Wheat Kings and was the recipient of the 2019-20 Rob Stouffer Award given to the team's Most Inspirational Player.
"Marcus has been with our team his whole way through the WHL and he knows our team's process well," says MacGillivray. "He was drafted late in the WHL Bantam Draft and has earned his way on to our leadership group. He's a great person on and off the ice and his presence in the locker room is felt. He's someone who is always willing to work hard and do what's asked of him so I know this is the right role for him".
McCartney is a 7th-round pick (204th overall) of the Arizona Coyotes in the 2020 NHL draft and is entering his fourth season with the Wheat Kings after being drafted by the club in the 2nd round, 43rd overall in the 2016 WHL Bantam draft. He was the second-highest points leader for the Wheat Kings last season finishing the 2019-20 campaign with 61 points (25G-36A) in 61 games.
"Ben's a player who is always very active in the play and brings a lot to our team on both ends of the ice night-in and night-out, and he's respected by his teammates for that reason," says MacGillivray.
Born and raised in Brandon, McCallum enters his third and final season with the Wheat Kings after playing the previous three seasons with Brandon's U18 AAA squad from 2015-2018. McCallum earned 33 points (18G-15A) in 59 games last season, a 26-point increase from the previous year.
"Lynden is obviously another older guy on our team being one of the 20-year olds but he came off a very serious injury two years ago and really had a terrific season last year," says MacGillivray. "He works hard all the time, competes hard, and is one of the guys who can bring those good habits for the young guys. I think he will have a huge part in helping our new guys navigate the league this season".
The Wheat Kings begin their season on Friday, March 12th against the Moose Jaw Warriors in Regina, SK. All 24 of their games will be played out of Regina's Brandt Centre, which is serving as a hub city for the entire East Division this season.
• Discuss this story on the Western Hockey League message board...


Western Hockey League Stories from March 5, 2021
The opinions expressed in this release are those of the organization issuing it, and do not necessarily reflect the thoughts or opinions of OurSports Central or its staff.