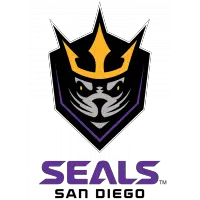 What's up with #5?
August 27, 2021 - National Lacrosse League (NLL) - San Diego Seals News Release



On Saturday night, ninety names will be called and welcomed as the official draft class of 2021. Within that group, the San Diego Seals will, for now, be looking to add six players to the squad entering their third season as an NLL franchise.
Over the last three drafts, General Manager Patrick Merrill has added Austin Staats (1st overall), Tre Leclaire (4th), Connor Fields (10th), Connor Kearnan (11th) and Mac O'Keefe (15th) all in the first round. This year, the Seals will have the 5th overall selection and will be looking to make a big splash while adding a talented young man to the fold.
When you look at past drafts, and specifically the number five pick, one thing clearly stands out- It's an offensive player every year. You have to go all the way back to the 2006 draft when Ian Llord was selected to find the last year a team didn't go with a forward at number five. Is it a coincidence, dumb luck or a strategic ploy in a league that averages 25-30 goals a game?
The last five players taken with the fifth selection include Tanner Cook, Clarke Peterson, Connor Robinson, Austin Shanks and Holden Cattoni. With the exception of Cook who will enter the NLL this year with the Roughnecks, the other four are currently on NLL rosters and have for the most part lived up to their top five billing.
Will Merrill and the Seals buck the trend or keep it going on Saturday night? Let's take a look at who might be available and what they could bring to the Seals.
As much as the Seals and their fans would love to get guys like Jonathan Donville, Ryan Lanchbury or Adam Charalambidies, it's highly unlikely any of those three will still be on the board at five - so then who's left?
Truthfully, there will be a lot of talent still available.
Obviously, Merrill will be at the mercy of the four teams picking in front of him so nothing is set in stone quite yet but what will be left will have him very excited about the addition.
Maybe the most intriguing name is Tehoka Nanticoke. For years, Nanticoke has been on the radar of every NLL GM and had them salivating at the prospects of having him on their team. He's easily one of, if not, the most naturally gifted scorers in this draft, but the last couple years his stock has dropped due to his inability to keep himself on the field at the University at Albany.
A power-forward in every sense of the word, Nanticoke would be a dream right-hander for the Seals to get. He has a great relationship with Austin Staats, as they have been teammates many times playing for Six Nations and the Iroquois Nationals. Sliding him into the right-hand side with Berg, Noble and Leclaire would be a formidable attack. The biggest question would be, if they do take him, can they get him into an environment both on and off the floor to allow him to be his best self. Many felt the same way about Staats when he entered the NLL and having dealt with the situation before, Merrill might be willing to take a chance on the young man who could be the steal of the draft if he can walk the right path.
If the Seals want to stay the course of offensive players with the fifth pick and Nanticoke isn't their guy, then maybe it's the 6-5, 235-pound Kyle Waters. Coming out of the powerhouse Orangeville Northmen (OJALL) program, Waters is a hulking mass with a knack for creating space for his teammates and a deft scoring touch. Like Nanticoke there is a lot of upside to Waters' game, but the one thing holding him back may be his conditioning. The good news is, he understands that when it comes to the pro-game he must be in the best shape of his life when camp comes around and has already been working on getting himself into better shape. Another power-forward type, Waters could slide into the right-hand side and make a big impact with the offense.
The old adage that defense wins championships still reigns supreme and if the Seals are content to wait until pick 23 to take a righty forward, then grabbing one of the top left-handed defensive transition players will be a focal point.
Three players stand out at that role and all three bring a wide range of skill sets.
Jake Boudreau may be the top ranked defensive-transition player  in the draft and is ready to bring his 6'2 frame to the NLL. WIth size and speed out the back, Boudreau put up over 100 points in his final three years of junior lacrosse with the Brampton Excelsiors including a 52 point campaign in 2018. The Seals love to play fast and physical on the back-end and Boudreau fits the mold very well. He hasn't played box lacrosse since 2019 which might be a small concern but it's very unlikely that his game has dropped off in that time; especially as he continues to play a major role at Robert Morris University where he led the team in loose-balls, and finished third in points and assists.
Another name that may be available is Mike McCannell, who a number of teams have very high on their draft-boards. Like Boudreau, McCannell brings a big body that can run with speed, has top ranked skill and can finish in transition.. He won't be asked to be a full time forward but his ability to stay and play in the offensive zone makes him even more appealing, Add his name to the list of talented prospects from the Orangeville Jr A system, McCannel was a defensive leader on the 2019 Minto Cup Championship team and was big part of Mimico's run to a semi-final berth in this year's OJALL shortened season. Merrill himself is an Orangeville Alum and will be very familiar with what McCannell can bring to the table and won't be afraid to call his name Saturday night.
Finally, there's Ryan Barnable from the Whitby Warriors and R.I.T. A full slate of skills are in Barnable's arsenal but he would most likely play a defensive transition role in the NLL when he gets there. While he doesn't have the size as McCannell or Boudreau, he does bring grit, an endless gas tank and what some would classify as 'rat-like' tendencies. He's in your face all game long, will hunt in the corner and muck it up in the middle. Plus he won't be afraid to give a guy a couple extra chops when needed. You love him on your team but you despise playing against him. Barnable helped the Tigers to a D3 National Title this past season and will be one of a few members from that team to hear their names called Saturday night.
Let's throw one more name in just for fun. As mentioned, with Panther City, Georgia, Buffalo and Vancouver picking before them - the Seals will play the waiting game and see who's available but Vancouver could be the biggest caveat in what they do. There are rumblings they may trade the 4th overall pick and that too could throw a wrench in things but, no matter what happens, there is a chance that Patrick Shoemay is still available and he may be too enticing for Merrill to pass up.
Shoemay was a 2020 draftee hopeful but was deemed ineligible days before the draft so has had to wait an entire year for this moment. The former Defender of the Year in the BC Jr A lacrosse loop a few years back, Shoemay is a monster of a young man standing 6'1, 210lbs. He has great footwork, can shut down a team's top threat and plays very well in his systems. There seem to be no signs that a previous leg injury is hampering his game, as during the BCJRA Summer Showcase, he was easily one of the top defenders on the floor every game.
Of the six names listed above, Shoemay and possibly Nanticoke are the only two that won't be returning to college this fall. Do the Seals need a guy that can come into the roster and compete for a job right now? Or do they have the luxury to wait another season for their pick to finish college?
Being a GM isn't an easy job in the NLL. Many of the players in this year's draft haven't played box lacrosse in a couple years and it becomes that much more difficult to scout them. The prep work started many months ago and will all come to fruition this weekend. Who will the next group of Seals rookies be? Join us Saturday night on Facebook and Youtube to find out. 
• Discuss this story on the National Lacrosse League message board...


National Lacrosse League Stories from August 27, 2021
The opinions expressed in this release are those of the organization issuing it, and do not necessarily reflect the thoughts or opinions of OurSports Central or its staff.