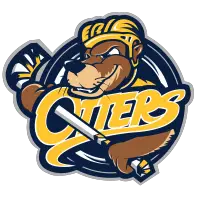 Visan, Benayon, Mcdonald Taken by Otters in 2022 U18 Draft
May 5, 2022 - Ontario Hockey League (OHL) - Erie Otters News Release



Erie, Pennsylvania - Priority Selection Draft week would come to a close on Thursday night, as the Erie Otters would participate in the 2022 Ontario Hockey League Under-18 Priority Selection Draft.
The final OHL Draft of the year, The Under 18 Priority Selection arrives days after the Priority Selection Draft, which saw the Otters select 16 new prospects aged 15 to 16 over 15 rounds. Much like the name implies, the U18 Draft - which started in 2017 - gives teams the opportunity to select any draft-eligible player under the age of 18 - giving players a second-chance at catching scouts' eyes.
In the 2021-22 season, three players selected during U18 Drafts hit the ice for the Otters: Otters' Captain Daniel D'Amato (#4, 2018), Defenseman Ryan Thompson (#8 overall to North Bay, 2019), and Goaltender Marshall Nicholls (#28 overall, 2020).
The sixth-annual U18 Draft would see the Otters come in with three picks, including a top-three pick for the second time in team-history. Looking to build upon the success from the weekend's Priority Selection Draft, Erie would have the 2nd overall (first time in team-history), 22nd overall, and 42nd overall picks.
2nd OVERALL:
The first-ever 2nd overall pick for the Erie Otters in the U18 Draft, Goaltender Vlad Visan played the 2021-22 season with the Burlington Eagles U18 AAA of the OMHA-SCTA.
In 13 total games with the Eagles, the 16-year-old collected a 1.70 GAA in the regular season, and 0.99 GAA in the post-season. The Burlington, ON native also grabbed five shutouts during the season. In the Big Nickel U18 tournament, Visan grabbed a 5-0 record in five games with a 1.20 GAA and a shutout. Visan was awarded best GAA in the SCTA during the season with his 1.70. U18 Scout Jay Harakal spoke to the abilities of Visan in net.
"Vlad has a high compete level with a strong technical game. His work ethic is second to none." said Harakal, "He rises to the occasion when called upon and gives his team a chance to win every game."
Measuring in at 6'2", 225 lbs., the southpaw goaltender will have a chance to be in the mix during the 2022-23 preseason for the Erie Otters.
22nd OVERALL:
Selected with the 22nd overall pick, Left Winger Zachary Benayon spent the 2021-22 season between the GTHL and OJHL, suiting up in 11 games with the latter. In his 11 games with the Georgetown Raiders of the OJHL, Benayon grabbed a goal and assist in 11 games.
The 17-year-old Vaughan, ON native measures in at 6'0", 172 lbs. as a southpaw. U18 Scout Joe Trentadue spoke highly of Benayon's ability.
"Zach is a strong skater that likes to go to the dirty areas to create scoring chances." said Trentadue, "He has a nice combination of size and skill."
With his experience in Jr. A, and tenacity after the puck, Benayon will compete for a spot on the Opening Night roster in the Fall.
42nd OVERALL:
The final pick of the 2022 U18 Priority Selection, Forward Bruce McDonald comes in after spending the 2021-22 season with the Renfrew Wolves U18 AAA, Valley Timberwolves (EOJHL), and Renfrew Wolves (CCHL).
In 32 games with the Renfrew Wolves U18 AAA, McDonald grabbed 44 points (16G+28A), with an additional three points (0G+3A) in 10 games in the EOJHL and CCHL.
McDonald measures in at 6'0", 172 lbs. - similarly to second round pick Zachary Benayon.
RD OV Player Name Pos Height Weight DOB Last Team Source
1 2 Vlad Visan G 6.02 225 10/02/2005 Burlington Eagles U18 AAA OMHA - SCTA
2 22 Zachary Benayon LW 6.00 172 01/25/2005 Georgetown Raiders OJHL
3 42 Bruce McDonald F 6.00 172 12/18/2004 Renfrew Wolves U18 AAA HEO U18
The Erie Otters come into the 2022-23 season as an experienced, youth-lead team with open opportunity for players ready to make an impact. Especially after the loss of key scorers in the Overage group of Dan D'Amato, Brendan Sellan, and Brendan Hoffmann, there will be chances for the next generation of Otters to step in.
With the addition of these three players from the U18 Draft, Erie has selected 19 total players via Drafts this offseason.
ALL-TIME U18 SELECTIONS (incl. 2022 picks):
YearRD OV Player Name Pos Height Weight DOB Last Team Source
2022 1 2 Vlad Visan G 6.02 225 10/02/2005 Burlington Eagles U18 AAA OMHA - SCTA
2019 1 3 Connor Olson LD 6.01 169 03/28/2002 Elgin-Middlesex Chiefs MAAA MHAO
2018 1 4 Daniel D'Amato RW 5.11.25 146 04/08/2001 Vaughan Kings MAAA GTHL
2020 1 8 Ethan Broderick RD 5.07.75 157 07/07/2003 Guelph Gryphons MAAA OMHA - SCTA
2021 1 16 Anthony Piccininno LW 5.07 144 04/01/2004 Don Mills Flyers U18 AAA GTHL
2017 1 20 Matthew Giannini RW 5.07.5 144 08/25/2000 Hamilton Jr. Bulldogs Midget AAA OMHA - SCTA
2022 2 22 Zachary Benayon LW 6.00 172 01/25/2005 Georgetown Raiders OJHL
2019 2 23 Bryce Walcarius G 6.01 150 03/01/2002 Elgin-Middlesex Chiefs MAAA MHAO
2018 2 24 Darius Vitug RW 5.08.5 174 04/01/2002 Toronto Jr. Canadiens MAAA GTHL
2021 2 25 MacGregor Armstrong LD 6.03 185 02/04/2003 Niagara North Stars U18 AAA OMHA - SCTA
2020 2 28 Marshall Nicholls G 5.10.5 155 06/18/2003 Waterloo Wolves MAAA MHAO
2017 2 40 Anthony Carraretto LW 5.08.5 147 10/05/2000 Toronto Nationals Midget AAA GTHL
2022 2 42 Bruce McDonald F 6.00 172 12/18/2004 Renfrow Wolves U18AAA HEO U18
2019 3 43 Zachary Power RW 5.06.25 132 08/20/2002 Rockland Nationals MAAA HEO Midget
2020 3 47 Blake Yetman RW 5.09.25 128 10/02/2002 Whitby Wildcats MAAA OMHA - ETA
2017 3 60 William Anderson G 6.01 186 04/01/2000 Kemptville 73s Midget AAA OEMHL
2017 4 80 Jayden Vaughan LW 5.10 152 06/01/2000 Toronto Jr. Canadiens Midget AAA GTHL
2017 5 96 Evan Miller C 5.06.75 127 03/07/2000 Niagara North Stars Midget AAA OMHA - SCTA
The Erie Otters are thrilled to welcome Vlad, Zachary, and Bruce to the Flagship City, and see what they can bring to Erie in the Fall at Training Camp.
• Discuss this story on the Ontario Hockey League message board...


Ontario Hockey League Stories from May 5, 2022
The opinions expressed in this release are those of the organization issuing it, and do not necessarily reflect the thoughts or opinions of OurSports Central or its staff.