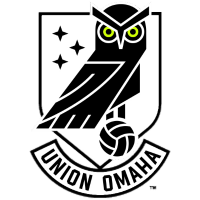 Union Omaha Earns First Win in Home Debut
August 1, 2020 - United Soccer League One (USL1) - Union Omaha News Release



PAPILLION, Neb. - Evan Conway's goal in the 74th minute gave Union Omaha its first-ever goal and victory in front of a sold-out Werner Park on Saturday, Aug.1. After multiple weather delays, Union Omaha's inaugural home game proved to be worth the wait as the Owls beat North Texas SC 1-0. The Búhos dominated possession early on and created multiple chances near the North Texas goal, but the first half ended 0-0. Ethan Vanacore-Decker was especially dangerous, leading Omaha in shots with four in the first half. In the second half, the breakthrough finally came when Conway latched onto a Vanacore-Decker cross and buried it into the back of the North Texas net.
"I got my debut last week, and I got a goal this week," Conway said. "It's like everything came together. All the fans were here, so it felt right."
His goal would be enough to see Omaha through with all three points.
"We're limited with how many people we can bring in - but oh my gosh, it was still so loud, so energetic," said Head Coach Jay Mims. "The fans were in it, so thank you so much, fans. And thank you to the community for coming out here. And what an effort from our guys. Played the championship team - you can see why they're champions, and for our guys to come in here and not only play well, but to get the goal for the fans and to close out the game and win...a beautiful night for Omaha and for Union Omaha."
Next up, Union Omaha travel to Arizona to take on FC Tucson on August 8th.
Key Moments
2' Right out of the gate, Union midfielder Devin Boyce takes a crack from distance that nearly sneaks into the far left corner of the North Texas goal, but the shot stays wide.
7' Ethan Vanacore-Decker receives the ball on the right hand side of NTSC's penalty area and gets a shot off, but North Texas goalkeeper Luis Zamudio is there to make the save.
10' Alex Bruce puts the ball in the back of the net for North Texas, however, the goal is called back for a foul in the buildup against Union Omaha.
22' Zamudio parries away Vanacore-Deckers shot from the middle of the NTSC penalty area after the Union attacker put himself in a great position to score.
33' A Union Omaha cross goes just over Sebastian Contreras' head and falls to Vanacore-Decker whose shot goes over the North Texas' goal.
37' North Texas is awarded a free-kick near the top of Union Omaha's penalty box. Derek Waldeck takes the shot for NTSC and it ricochets safely into Rashid Nuhu's gloves.
42' Luke Hauswirth steals the ball and thunders down the field from the midway line all the way to near the North Texas goal. Hauswirth then cuts inside and takes a shot, but it's blocked by a NTSC defender.
47' North Texas attacker Justin Che drives at the Union defense and finds Bruce, who heads the ball toward Omaha's goal. Union goalkeeper Rashid Nuhu then makes a fantastic save to keep NTSC off the scoresheet.
52' Evan Conway dances past two NTSC defenders in their penalty area and gets a shot off. The ball, however, is deflected just left of the North Texas goal.
72' Che fires in a cross that flies across the face of Union Omaha's goal, but there's no one there on the other end for NTSC.
73' GOAL. Evan Conway scores the first ever goal in Union Omaha history to put Omaha up 1-0. Vanacore-Decker fired in a fantastic ball across the North Texas penalty box and Conway was there to put it away.
85' Elma Nfor cuts inside and lays off a pass for JP Scearce. Searce hits the ball powerfully from range, but the North Texas goalkeeper makes a great save to stop Union from doubling their lead.
87' North Texas counterattacks and looks to have a clear breakaway before Damia Viader times a perfect sliding tackle to block the NTSC attacker's shot on goal.
Game Notes
What a night for Evan Conway. The Omaha winger was awarded his first-ever League One Man of the Match honor after scoring the first competitive goal in Union Omaha history.
Rashid Nuhu was a wall in goal for the Bùhos. The Union shot-stopper made two crucial saves to help keep the team's second consecutive shut-out.
Ethan Vanacore-Decker was electric on the attack for Omaha. The winger led the team in shots (4) and key passes (4), including the game winning assist.
Union Omaha dominated North Texas SC in the possession battle 61.8% to 38.2% and outshot NTSC 12-6.
Union's victory over North Texas moves the Owls up to fourth place in the League One standings with a game in hand on second-place South Georgia Tormenta FC and first-place Greenville Triumph SC.
Next Game
Union Omaha will travel to the Grand Canyon state to take on FC Tucson on Saturday, August 8 at Kino North Complex. Kickoff is scheduled for 7:30 pm C.T.
Union Omaha vs North Texas SC
August 1, 2020
Werner Park (Omaha, NE)
Goals by Half 1 2 F
Union Omaha 0 1 1
North Texas SC 0 0 0
Scoring Summary:
UO: Evan Conway (Ethan Vanacore-Decker) 74'
Misconduct Summary:
NTSC: Juan Alvarez (Yellow Card) 11'
UO: Rashid Nuhu (Yellow Card) 38'
Lineups
NTSC: GK Zamudio, D Easton (Pedrinho 81'), D Batista, D Waldeck, D Che, M Alvarez © (Almaguer 71'), M Rodriguez (Rayo 80'), M Alisson, F Redzic, F Damus, F Bruce (Smith 86')
UO: GK Nuhu, D Osumanu, D Crull , D Hauswirth, D Viader, M David, M Boyce (Ibisevic 93'), M Contreras © (Molina 63'), F Conway, F Vanacore-Decker (Scearce 84'), F Mare (N'For 62')
All statistics contained in this box score are unofficial.
• Discuss this story on the United Soccer League One message board...


United Soccer League One Stories from August 1, 2020
The opinions expressed in this release are those of the organization issuing it, and do not necessarily reflect the thoughts or opinions of OurSports Central or its staff.