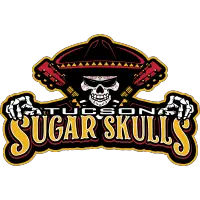 Tucson Defeats Northern Arizona, 56-38, in Final Game of the Season
August 22, 2021 - Indoor Football League (IFL) - Tucson Sugar Skulls News Release



TUCSON, Ariz. - The Tucson Sugar Skulls (6-8) dominated on the road and came away with a 56-38 win over the Northern Arizona Wranglers (1-13) on Saturday.
With the win, the Sugar Skulls took the season series against the Wranglers (2-1).
Unfortunately, even after a standout win in Prescott Valley, the Sugar Skulls fell short of the playoffs due to a Duke City Gladiators win over the Bismarck Bucks earlier on Saturday.
Marvelous Murphy
Quarterback Cory Murphy had a field day against the Wrangler secondary in the final regular season game with 149 passing yards (511) and four touchdowns (11). Murphy also led the team in rushing with 38 yards (268) and a rushing TD (6).
Wide receiver Malik Stanley blew past the opposing defensive backs for a team-high 45 yards (127) and two TDs (4). WR Damond Powell Jr. also made a huge impact on the game with his first receiving TD of the season to go along with his first kick return TD.
Important Interceptions
Defensive back Malik Boynton forced a turnover in the first quarter, it was good enough for his first INT of the season. Boynton also recovered his first fumble of the season on the final Wrangler kickoff to seal the game.
In the final seconds of the second quarter, DB Mike Minter jumped into the opposing quarterback's passing lane for another Sugar Skulls' INT (3). DB Matt Elam took down the Wrangler's QB for the only sack of the night (3) in addition to his team-high 6.5 total tackles (62.5).
No Kicker, No Problem
The Sugar Skulls fielded no kicker entering their showdown on Saturday, and WR Ryan Balentine took over kickoff duties for Tucson.
Kicker Jimmy Camacho ascended to the CFL earlier this week. Despite that, the Sugar Skulls held the Wranglers to 13.8 yards-per-return with only one error coming on an early onside attempt.
On the first PAT for the Wranglers, the Sugar Skulls also blocked the attempt. It was immediately followed by Powell's return TD and it to set the tone for the rest of the game.
Fighting Until the End
The Tucson Sugar Skulls would like to thank their fans for another incredible season. Although did not end the way hoped, the four-game home winning streak to end the season was powered by the amazing Sugar Skulls fans who packed the Boneyard.
• Discuss this story on the Indoor Football League message board...


Indoor Football League Stories from August 22, 2021
The opinions expressed in this release are those of the organization issuing it, and do not necessarily reflect the thoughts or opinions of OurSports Central or its staff.