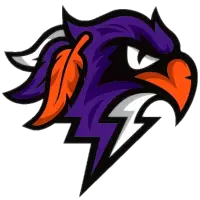 The Journey to a Dream Coming Full Circle for Max Wilson
October 13, 2021 - National Lacrosse League (NLL) - Halifax Thunderbirds News Release



It has been over 580 days since we last saw the National Lacrosse League hit the floor, and a lot has taken place in that time, including two team relocations, an expansion draft, and a pair of entry drafts.
Among the next wave of talent drafted into the league is Max Wilson, who the Halifax Thunderbirds selected with the 12th overall pick back in August.
Wilson, a Victoria, BC native, has played lacrosse since the age of six. Constantly surrounded by the sport, Wilson knew he wanted to reach the top flight of collegiate lacrosse. After being recruited by the New Jersey Institute of Technology in the 2018, he has become a key member of the Highlanders' roster and is now receiving his master's degree in IT sales and analytics. He was also a critical member of the Victoria Jr. Shamrocks lacrosse team, helping the team make it to the Minto Cup final in 2019. After that, he turned his attention to making a leap to the National Lacrosse League.
"I knew I wanted to make it in the NLL draft after my team lost the Minto Cup," Wilson said. "I was extremely motivated to become better. I trained hard and put myself in a good position to perform in the WLA showcase before the draft."
With all of that in mind, he was able to make his dream a reality, as his name was called in the middle of the first round by Halifax. Wilson may have manifested this pick, as he had Scotiabank Centre as his lock screen for six weeks prior to the draft.
"It truly means the world to me that I have the opportunity to play lacrosse in Halifax," Wilson said. "It means I have an opportunity to learn and grow my game from some of the best players in the game of lacrosse. It means the hours of work I have put into the game up until this point have paid off to get me this opportunity. I am extremely grateful."
Wilson takes no opportunity for granted, and this is no exception. He knew how surreal the feeling of having his name called was, but he also knows the road is just beginning. He has worked countless hours to get to this place, but he believes there is still more of his story to be written.
"Being drafted means that all my time given to the game of lacrosse and everything revolving around it with training and dieting has ultimately paid off. But there is still a ton of work still needed to be done to unlock my full potential," Wilson said.
We all know how close-knit the lacrosse community truly is, and Wilson's family ties to the Maritime province truly shows how this selection was meant to be.
"My father grew up in the Maritimes. Recently and coincidentally earlier this year, my father moved to Halifax from Victoria to pursue an amazing career opportunity," Wilson said. "It wasn't easy having my dad move from what was our home, then going across the country. As fate would have it, things turned out really, really well."
Wilson has been recognized over and over for his leadership, dedication, and passion for this sport, and there is no doubt he will be bringing that to Halifax, as well.
He'll be heading back to school to finish up his collegiate career. That time at school and the ensuing summer of box lacrosse will give Wilson an even bigger leg up on most rookies coming into the league. When he's ready to join the Thunderbirds for camp at this time next year, it'll be a homecoming of sorts.
• Discuss this story on the National Lacrosse League message board...


National Lacrosse League Stories from October 13, 2021
The opinions expressed in this release are those of the organization issuing it, and do not necessarily reflect the thoughts or opinions of OurSports Central or its staff.