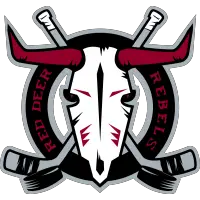 Tarzwell Misses Constant Presence of Teammates; Will Play University Or Pro Hockey Next Season
May 7, 2021 - Western Hockey League (WHL) - Red Deer Rebels News Release



Tarzwell misses constant presence of teammates; will play university or pro hockey next season May 7th 2021, 20:50
He's been back living at home for just three days but Josh Tarzwell misses his teammates already.
"Honestly it's kind of weird not seeing the guys every day. It feels wrong," the Red Deer native, one of three Rebels graduates - along with Chris Douglas and Ethan Anders - this spring, said on Friday.
The Rebels became closer than ever in the just completed season that saw the team play in empty arenas due to the COVID-19 pandemic. The players were housed in the Centrium during the 23-game season with the private boxes set up as sleeping quarters.
It was all over following Tuesday's 4-3 overtime loss to the visiting Calgary Hitmen and the players were out of the Centrium early Wednesday morning and en route to their respective homes across the four western provinces.
"You spend three months seeing the guys for every waking second every single day and then you go to not seeing them at all. It's brutal," said Tarzwell.
The abbreviated season was a tough one for the Rebels who struggled through a 13-game losing streak and finished with a 4-15-4-0 record despite showing definite signs of improvement down the homestretch. To be fair, long-term injuries to key players visibly hampered the team.
"It was very difficult for sure, but I know we did the best we could," said Tarzwell. "I know we had a long slide but we finished really strong. It was good. I think we did well with what we had."
The six-foot-one, 205-pound left winger was acquired from the Lethbridge Hurricanes in December of 2017 and he spent the final three and a half years of his Western Hockey League career with his hometown team.
"I can't say enough about how thankful I was to be able to play at home," he said. "It's not a very common thing in junior hockey so I'm extremely fortunate I was able to play in my hometown.
"At first it was a little stressful but I got used to it. I couldn't have been happier."
Tarzwell, who turned 21 in February, scored seven goals and collected 13 points in 41 games with the Rebels through the final three months and change of the 2017-18 season before recording 28 points, including 11 goals, in 67 games the following year.
He enjoyed a breakout season in 2019-20, sniping 35 goals and adding nine assists and had seven goals and nine points in 16 games this year, missing seven games due to injury.
Tarzwell, who gained international experience when he suited up with Canada Red during the 2016 World U17 Hockey Challenge, was satisfied with his play and offensive contributions this season.
"The team success wasn't there quite as much but I was on pace for the same amount of goals and points (as in 2019-20) in a 68-game season," he said. "If we could have kept going I think a lot of guys would have upped their personal totals. I was happy with how my season went."
Overall, his time with the Rebels was an enjoyable experience for the outgoing forward.
"It was awesome. It was a close group of guys every year no matter what," he said. "I wanted to hang out with the guys every night.
"I did learn more here than I would have anywhere else when it comes to the hockey side of it. Playing for Brent (Sutter) was awesome, he gave me a lot of exposure and I'm really thankful for that."
Tarzwell has orally committed to the Mount Royal University Cougars for the 2021-22 hockey season but will turn pro if he's offered a deal.
"I'm still hoping to sign a pro contract," he noted. "No free agent in the Canadian Hockey League has signed this year so I don't know what's going to happen with that.
"When the window opens up I'm hoping I can get some kind of offer."
Tarzwell and his agent have talked to pro scouts dating back to the 2019-20 season but communication was basically non-existent this year.
"We were shut right down to the point where we couldn't even do Skip The Dishes at first," he said of the team's extended stay within the confines of the Centrium.
"My agent had been talking to some teams, but honestly with the COVID and everything I'm not sure what's going to happen."
• Discuss this story on the Western Hockey League message board...


Western Hockey League Stories from May 7, 2021
The opinions expressed in this release are those of the organization issuing it, and do not necessarily reflect the thoughts or opinions of OurSports Central or its staff.