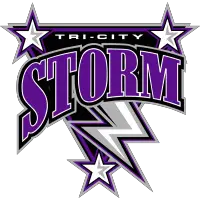 Storm Announce Multiple Roster Changes Ahead of Series against Stars
January 19, 2021 - United States Hockey League (USHL) - Tri-City Storm News Release



Kearney, NE. - The Tri-City Storm has announced multiple roster changes ahead of this weekend's home & home series against the Lincoln Stars. Tri-City has acquired forward Rhett Pitlick from the Muskegon Lumberjacks in exchange for forward Nick Portz. Tri-City has also added defenseman Conner Hutchison to the active roster from the University of Vermont Catamounts (NCAA). Additionally, defenseman Max Smolinski has joined the Johnstown Tomahawks (NAHL) for the remainder of the 2020-2021 season. Smolinski will remain on the Storm's affiliate list. Tri-City returns to action on Friday in the Storm's annual "Pack It In Purple" Game presented by the United Way of the Kearney Area.
Rhett Pitlick, 19, of Chaska, Minnesota has appeared in sixty-nine career games in the USHL for the Omaha Lancers and Muskegon Lumberjacks. Prior to the transaction, Pitlick scored seven goals and recorded seven assists in seventeen games played this season for the Lumberjacks. His forty-two regular season points during the 2019-2020 regular season were the second most of any Lumberjack player. Pitlick has scored twenty-five goals and recorded thirty-six assists to this point in USHL career. He was drafted 102nd overall in the 7th Round of the 2017 USHL Phase I Draft by the Bloomington Thunder. Pitlick made his USHL debut on March 1st, 2019 for the Omaha Lancers. He also scored his first career USHL goal in the same game, a 2-1 home win for the Lancers against the Lincoln Stars. Pitlick skated for Team USA at the 2019 World Junior A Challenge in Dawson Creek, British Columbia. Before his time in the USHL, Pitlick played for the Chaska High School Hawks in Chaska, Minnesota. He previously announced a commitment to play college hockey at the University of Minnesota. Pitlick was selected 131st overall in the 5th Round of the 2019 NHL Draft by the Montreal Canadiens.
"I'm very excited to be joining the Storm. Being traded is not always the easiest thing but I am looking forward to a new start and new opportunities. I have had friends who were apart of this organization who have loved it here, so being apart of this organization is something that I am excited about. I'm trying to be the best version of myself which in turn hopefully helps this organization be more successful." Forward Rhett Pitlick
Conner Hutchison, 20, of Hicksville, New York joins the Storm after appearing in six games this season for the University of Vermont Catamounts. Hutchison skated for the Penticton Vees (BCHL) during the 2019-2020 and 2018-2019 seasons. In total, Hutchison appeared in eighty games with the Vees. He scored eight goals and recorded forty-four assists. Hutchison was drafted 71st overall in the 5th Round of the 2016 USHL Phase I Draft by the Fargo Force and made his USHL debut with the Chicago Steel on April 13th, 2018 in Chicago's 7-5 home win over the Central Illinois Flying Aces. He recorded his first career USHL point in the same game, assisting on a 2nd period goal for the Steel. Prior to his time in the BCHL, Hutchison skated in multiple seasons for the Selects Hockey Academy in South Kent, Connecticut. Conner's brother, Nick, appeared in thirty-seven games for the Storm during the 2012-2013 and 2013-2014 seasons.
"When I heard I was going to Tri-City, I was so excited! It is a great organization and I have heard nothing but great things from friends of mine who played there. My goal for the second half of the year is to grow as a player while improving my game. Last year, my playoffs were cut short, so while having this opportunity to play for the Storm, I hope to contribute to the team in making a deep run in the playoffs." Defenseman Conner Hutchison
Nick Portz, 20, of St. Cloud, Minnesota scored fourteen goals in fifty-four regular season games during the 2018-2019 season with the Minnesota Wilderness (NAHL) before being acquired by the Storm in October of 2019. He also provided the Wilderness offense with eighteen assists. In the 2017-2018 season, Portz led St. Cloud High School with twenty-three goals and twenty-six assists in twenty-five games played. He scored twenty-four goals and recorded nineteen assists in twenty-three games in the 2016-2017 season. After joining the Storm during the 2019-2020 season, Portz scored twenty goals and notched twenty-eight assists in fifty-eight games played. With fifteen goals scored last season, Portz entered the 2020-2021 season as the Storm's top returning scorer. Portz also finished the 2019-2020 season with twenty-three assists. He previously announced a commitment to play college hockey at the University of North Dakota.
Max Smolinski, 17, of Bloomfield Hills, Michigan was drafted 60th overall in the 4th Round of the 2019 USHL Phase I draft and made his USHL debut during the 2019-2020 regular season as an affiliate list callup. Prior to joining the Storm, Smolinski skated for the Little Caesars youth program in Detroit, MI. He also previously played for the Honeybaked youth program in Detroit, MI. Smolinski scored eight goals and registered fifteen assists in forty-nine games played for the Little Caesars 16U AAA team during the 2019-2020 season. He netted six goals and recorded thirty-two assists in seventy-two games played for Little Caesars 16U during the 2018-2019 season. Smolinski has appeared in five career games with the Storm.
"Nick Portz was an integral part of this team over the last year and a half. He will be missed by everyone in the organization. I had a chance to coach Rhett Pitlick on the World Junior A Challenge team last year and we feel he is exactly what our team needs right now. His speed and playmaking ability are elite and should really help our forward group. This transaction also opened up a 2000 spot for us to add Conner Hutchison. Conner is a junior experience offensive defenseman who was a teammate with Zac Jones and Shane Pinto at Selects Academy a few years back. Those guys felt Conner would be a great addition to our team and locker room if given the chance" President of Hockey Operations/Head Coach Anthony Noreen
"Max Smolinski is a good young defenseman and this transition to Johnstown (NAHL) will allow Max an opportunity to gain valuable minutes, ice time, and experience in games and a more prominent role in a team line-up this season. Max will be back with us this season if and when necessary and this move should also help set him up for a strong second junior season with us before embarking on his college career. Being close to home for me - I know Johnstown has a great set up and that their Head Coach Mike Letizia will treat Max right moving forward and that is very important to our club."
"Nick Portz has been a valuable member of this club and will certainly be missed - we wish him the best moving forward in Muskegon. That said, we are excited to add Rhett Pitlick to our forward group as he possesses an elite skill set, speed, and is a dynamic playmaker which we feel will help create and generate more offense for our team moving ahead. Rhett has been productive in his previous USHL stops and during his days of high school hockey in Minnesota and we feel the situation he walks into with us will be a very positive and successful one. He brings an element that we could use and we feel he'll be a boost to our club as we head into the second half of our season and playoffs."
"We feel we added a seasoned junior experienced defenseman in Conner Hutchison. He has two years of junior experience (Penticton in the BCHL) under his belt as well as some time and experience at the college level. Conner is an agile defender and has always shown the ability to produce offense from the back end and contribute on the power play. A key piece to this acquisition and decision was also the fact of his success three seasons ago winning a U18 AAA National Championship with Selects Academy in Philadelphia, PA. There he was teammates with former Storm players Zac Jones and Shane Pinto who both rave about him as a player and person. Given we've had some previous success with players from Head Coach Matt Plante when he was with that program, it was an easy decision to add Conner to the puzzle here." General Manager Jason Koehler
• Discuss this story on the United States Hockey League message board...


United States Hockey League Stories from January 19, 2021
The opinions expressed in this release are those of the organization issuing it, and do not necessarily reflect the thoughts or opinions of OurSports Central or its staff.