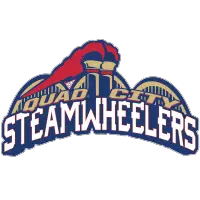 Steamwheelers Fall Just Shy in Opening Night Shootout to the Rattlers
March 18, 2023 - Indoor Football League (IFL) - Quad City Steamwheelers News Release



The Steamwheelers opened the 2023 IFL season at home vs. the Arizona Rattlers. The matchup pinned 2x IFL Offensive Player of the Year EJ Hilliard vs. 3x IFL MVP Drew Powell.
Powell and the Rattlers' offense begin their opening drive by gaining yards up the middle of the field. A few plays later, Powell connects with WR Jamal Miles for a 26-yard touchdown. PAT good, Rattlers up early 7-0.
Quad CIty responded, going 31-yards resulting in a Hilliard scramble from 11-yards out to strike pay dirt. PAT missed, Rattlers up 7-6.
Arizona took the kickoff past mid-field to the 19 of Quad City. Penalty trouble put the offense in a tough position, turning the ball over on their fourth down attempt.
With good field position following an illegal defense penalty, Hilliard rushed for a 9-yard gain. The offense stalls out and kicker Chase Allbaugh missed a 34-yard field goal attempt-wide right.
Rattlers start their drive with a 27-yard burst from Powell. WR Braxton Haley took a jet sweep and picked up the first down two plays later to get into redzone. Powell finds a well-covered Isiah Scott for 6. PAT missed, Rattlers up 13-6.
Needing a scoring drive, Quad City opens up with two rushing plays, including a powerful 9-yard run by WR Mike Carrigan. After the first down conversion, Hilliard is sacked by a den of Rattlers. Still, Hilliard manages to convert a first down later in the drive on a QB sneak before finding WR Kevyan Rudd who hurdles over defenders for the score. The kicking game still struggles, missing the PAT. Tie game.
Allbaugh picked himself up by getting a touchdown for the kicking team after the ball went live from hitting the goal post. 2-point play stopped, Wheelers up 18-13.
On the following kickoff, DB Dillion Winfrey slips through defenders taking the ball all the way to the Quad City 16-yard line. Powell works his way into the end zone two plays later. PAT missed, Rattlers up 19-18.
A surprise onside kick resulted in an illegal block not letting the ball advance 10-yards. Wheelers took over just outside of the redzone. A couple of rushing plays has the offense on a tough 4th down. An offsides penalty helped WR Jarrod Harrington rush for the 1-yard score against his former team. PAT missed, Wheelers up 24-19.
In a last minute attempt before the half, Powell led the offense down the field finishing the drive off with a 8-yard pass pulled in by Haley. PAT good, Rattlers up 26-24.
On Quad City's final drive of the half, Hilliard used his legs to get into field goal range. With 0:02 seconds left on the clock, Allbaugh nailed the FG attempt to go into half with the lead, 27-26 Wheelers.
After the opening kickoff of the second half launched into the stands, the Wheelers took over around mid-field. Hilliard finds WR CJ Windham running through defenders for an 18-yard completion. Hilliard doesn't stop there, connecting on 3rd-and-goal with Carrigan in the end zone. PAT missed, Wheelers up 33-26.
On Arizona's next drive, Powell heaved the ball down the field and the pass was broken up by DB Joseph Freeland. Powell then hits Haley as he stiff-arms his way for a 31-yard touchdown. PAT good, tie game.
Harrington ran with force to return the ball just past mid-field. A short run and a few incompletions later, the Wheelers turn the ball over on downs.
The Rattlers take over and two QB keepers totaling 19-yards gave their offense momentum. DB Derreon Jackson halted that momentum on 3rd down, breaking up a Powell passing attempt and holding Arizona to a field goal. Rattlers up 36-33.
On the next drive, Wheelers head coach Cory Ross calls Windham's number again, resulting in a gorgeous back shoulder fade for a 29-yard score to end the 3rd quarter. PAT good, Wheelers up 40-36.
Winfrey answers with a kickoff return for the score. PAT good, Rattlers up 43-40.
After a great return from Harrington, a blind side block erases Quad City's progress. Hilliard got away from defensive penetration, using his legs to gain 19-yards. Harrington laid out to pull in his second touchdown of the night. PAT blocked, recovered and brought back for 2 points by Arizona's DL Chris Terrell. Score: 46-45.
A quick offensive drive is capped off by a 11-yard sweep to Miles. 2-point conversion fails. Rattlers up 51-46.
Arizona responded, connecting on a deuce to get those two points back. Wheelers find themselves deep in their down territory. The offense converts a first down, but ultimately turns the ball over following a deflected pass at the line of scrimmage on 4th down.
Arizona picked up the first down and took the clock down all the way to the 1-minute warning. On the next play, a Powell QB draw races in for a 19-yard score. PAT good, Rattlers up 60-46.
With less than a minute to play, down 14 points, Hilliard showed no signs of folding and scrambled past the sticks for a first down. Trying to get another score, Hilliard maneuvers past defenders to the red zone. From the 5-yard line, Hilliard takes it in himself for another touchdown. PAT good, Rattlers up 60-53.
The Steamwheelers' onside kick attempt leaped bounced the wall, bringing the game to an end. Rattlers win an opening-night thriller, 60-53.
• Discuss this story on the Indoor Football League message board...


Indoor Football League Stories from March 18, 2023
The opinions expressed in this release are those of the organization issuing it, and do not necessarily reflect the thoughts or opinions of OurSports Central or its staff.
Other Recent Quad City Steamwheelers Stories