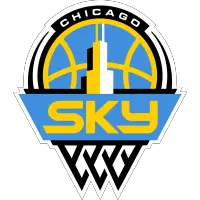 Sky Overseas Updates: Rundown No. 3
November 9, 2022 - Women's National Basketball Association (WNBA) - Chicago Sky News Release



CHICAGO - Five Chicago Sky players are currently taking their talents overseas with their respective teams this off-season. Below are the listed players, their teams and country.
Dana Evans - Besiktas JK Istanbul (Turkey)
Azurá Stevens - Galatasaray M.P. Istanbul (Turkey)
Rebekah Gardner - Spar CityLift Girona (Spain)
Julie Allemand - LDLC Lyon ASVEL Féminin (France)
Ruthy Hebard - Atomerőmű KSC Szekszárd (Hungary)
Rebekah Gardner and Spar CityLift Girona now has a 3-1 EuroLeague record after defeating Landes and Schio. Against Schio, Gardner tallied a game-high 14 points and 28 minutes, with four rebounds and two steals. Girona most recently fell to Casademont Zaragoza in a nail-biting matchup, 60-61. Gardner scored 12 points and five rebounds in 28 minutes. Girona continues EuroLeague play on November 10 against Kangoeros and then November 12 against Spar Gran Canaria in Spanish League play.
RuthyHebard and Atomerőmű KSC Szekszárd continued Hungarian league play and also began EuroLeague play this past week, recording a 3-1 overall record in those games. Szekszárd dropped its first EuroLeague matchup to USK Praha, 71-82, where Hebard notched a double-double with 11 points and 12 rebounds in 30 minutes. In its second EuroLeague game, Szekszárd narrowly defeated Fenerbahce, 103-101. Hebard tallied another double-double with 11 points and 12 rebounds in 44 minutes of play. In Hungarian League play, Szekszárd now holds a 7-2 record, most recently defeating TFSE-MTK in a 94-71 victory. Hebard is averaging 12.0 points and 7.4 rebounds in 21.4 minutes.
Dana Evans continues to dominate with her play overseas with Besiktas, leading the team with 15.2 points, 3.6 assists in 37.4 minutes of play. Besiktas, still searching for its first win of the season, dropped its last two games against ÇankayaÜniversitesi, 66-82, and against Antalya 07 Basketbol, 52-73. Besiktas will continue Turkish League play against Hatay and Rize.
Azurá Stevens and Galatasaray continue to be undefeated in Turkish League play at 5-0, most recently defeating Hatay, 78-57, and Rize, 75-70. Galatasaray is now 1-1 in EuroCup, dropping its last game to Gorzow Wlkp, 71-78. Stevens is averaging 14.5 points and 11.5 rebounds in the Turkish League, while averaging 20.5 points and 5.0 rebounds in EuroCup play. Galatasaray plays GM Ormanspor on November 13 and ÇBK Mersin YensehirBelediyesi on November 19.
Julie Allemand will play with LDLC Lyon AsvelFeminin. Lyon is currently 1-1 in the French League and 1-1 in EuroCup play.
View all games and stats of Chicago Sky players throughout their overseas play here.
*Courtney Vandersloot will not be traveling overseas (Euroleasing Sopron Basket - Hungary) for the foreseeable future. Emma Meesseman is tending to an injury from the FIBA World Cup and is not with the team as of now (Fenerbahçe Spor Kulübü - Istanbul). There are no further updates from the Chicago Sky at this time.
• Discuss this story on the Women's National Basketball Association message board...


Women's National Basketball Association Stories from November 9, 2022
The opinions expressed in this release are those of the organization issuing it, and do not necessarily reflect the thoughts or opinions of OurSports Central or its staff.