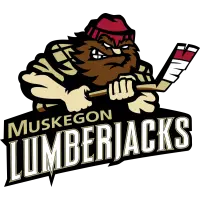 Sacha Boisvert, the Lumberjacks' 16-Year-Old Rookie, Already Scoring and 'Living up to the Hype'
September 27, 2022 - United States Hockey League (USHL) - Muskegon Lumberjacks News Release



MUSKEGON - There was a chance that the hockey world might have lost Sacha Boisvert to kick boxing.
Boisvert's dad, Jimmy Boisvert, had a lot of success years ago as a kick boxing and taekwondo champion, and currently trains fighters at his gym in Quebec.
So Sacha grew up in the fighting realm and had a handful of bouts as a youngster, before deciding that hockey was his calling.
"I've been a boxer my whole life, but my dad basically reminded me that you can fight in hockey, and he wanted me to be a hockey player," said Boisvert, a very promising 16-year-old rookie forward with the Muskegon Lumberjacks.
The Lumberjacks, who will play their 2022-23 home opener on Friday night against Chicago, are certainly happy that Boisvert turned to the ice.
The Jacks "tendered" Boisvert last winter, meaning they gave up a first-round selection in order to sign him before the regular USHL draft.
The team made that move based on Boisvert's massive offensive potential.
Last year he had an amazing 51 goals and 43 assists while playing prep school hockey at Mount St. Charles Academy in Rhode Island.
The Lumberjacks were obviously thinking into the future when they snagged Boisvert, because 16-year-olds in the USHL generally take some time to put on some bulk and adjust to the speed of the game.
But in Boisvert's case, the Jacks may not have to wait, because he's already proven he can produce at this level.
Boisvert had a goal in the Lumberjacks' 7-4 victory over Sioux Falls on Thursday in their season-opening game at the USHL Fall Classic in Pittsburgh.
He scored another goal on Friday in the Jacks' 6-4 loss to Tri-City. He reportedly scored twice in that game, but the league later changed the ruling and credited the goal to teammate Michael Callow, with Boisvert getting an assist.
In either case, it's clear that the youngster will be a valuable contributor for the Lumberjacks, sooner rather than later.
"I was real excited," Boisvert said about finding the net so early in his rookie year. "Those were my first games and first goals. You couldn't ask for anything better."
Lumberjacks Coach Mike Hamilton was pleased with what he saw from Boisvert.
"He's got a scoring touch," Hamilton said. "That's the part we're most excited about, and he's going to continue to develop his entire game.
"He's always putting himself into good spots on the ice. He's always there to make plays. He has a way of finding rebounds and making puck recoveries. His hockey smarts are really off the charts."
The Jacks were playing Boisvert as a wing during preseason games, but he was unfamiliar with the position and struggled a bit. Hamilton moved him to center for the season-opening games and he quickly flourished.
"As a coach, that's something I usually don't like to do," Hamilton said. "I usually prefer to have a seasoned veteran playing down the middle. But in the preseason we had him on a wing and he was getting stuck along the wall. Then we put him in the middle and started to see some flash.
"He's something that's not seen much around the league - a 16-year-old in the lineup and playing center. He's living up to the hype at this point."
A year ago Boisvert was competing with and against players who were 15 and younger. Now he's playing with mostly 18, 19 and 20-year-olds who are much bigger and skate a lot faster.
He said the transition to the new level of hockey was challenging at first, but he's adjusted quickly, partially because of his size. He's already 6-foot-2 and weighs about 165 pounds.
"The guys are way older, way bigger and faster and there's less space on the ice," Boisvert said. "In the first preseason game I was kind of like 'This is not going to be easy,' but as the preseason went on I gained a lot of confidence. I'm not really undersized. I think I'm pretty powerful for a guy who weighs 165, and I skate well."
Boisvert is not only comfortable playing against older guys - he's also comfortable fighting with them, if the situation arises.
There was some pushing and shoving in a preseason game between the Lumberjacks and Chicago Steel a few weeks ago, and Boisvert was right in the middle of it.
That probably has something to do with being raised and trained in boxing gym.
"I'm not afraid to get in a scrap," he said. "I love it. It gets me in my game."
• Discuss this story on the United States Hockey League message board...


United States Hockey League Stories from September 27, 2022
The opinions expressed in this release are those of the organization issuing it, and do not necessarily reflect the thoughts or opinions of OurSports Central or its staff.