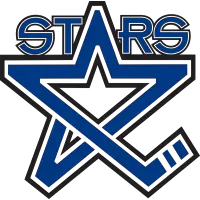 Round One Playoff Preview
April 24, 2022 - United States Hockey League (USHL) - Lincoln Stars News Release



The Lincoln Stars begin their first Clark Cup playoff run since 2017-18 with a first-round matchup against the sixth-seeded Waterloo Black Hawks. The series starts on Monday, April 25th at the Ice Box in Lincoln, NE. This year's series will mark the fourth time the Stars and Black Hawks have clashed in the Clark Cup Playoffs (2012, 2016, 2018). Waterloo has won all three previous meetings in the postseason.
SERIES SCHEDULE (Best of 3)
Game 1 - Mon., Apr. 25 | 6:00 PM | Ice Box - Lincoln, NE
Game 2 - Tue., Apr. 26 | 6:00 PM | Ice Box - Lincoln, NE
Game 3 - Wed., Apr. 27 | 6:00 PM | Ice Box - Lincoln, NE*
*if necessary
REGULAR SEASON SERIES (Stars won 5 of 6)
Oct. 22, 2021 @ Waterloo: Lincoln 3-2 W
-Cameron Whitehead stopped 31 shots
-Dalton Norris (PPG), Luke Johnson and Gleb Veremyev scored
-Aidan Thompson picked up two assists
Oct. 23, 2021 @ Waterloo: Waterloo 8-4 W
-Carter Batchelder scored his first career USHL hat trick
-Johnson scored twice
-Jackson Baker made his USHL debut in relief for Lincoln
Jan. 21, 2022 @ Lincoln: Lincoln 5-4 W
-Waterloo led 2-0 after 40 minutes
-Doug Grimes scored his first two goals with the Stars in the third period
-Yu Sato broke through with the game-winner with under three minutes remaining
Mar. 4, 2022 @ Lincoln: Lincoln 8-4 W
-Thompson recorded a four-point night (two goals, two assists)
-Killian Kiecker-Olson scored in his first game since being acquired from Des Moines
-Kaidan Mbereko made 24 saves
Mar. 26, 2022 @ Lincoln: Lincoln 6-2 W
-Lucas Wahlin notched his second career USHL hat trick
-Aidan Thompson had five assists, including his 100th USHL point
-Jo Lemay posted a plus-four rating
Mar. 27, 2022 @ Waterloo: Lincoln 5-3 W
-The Black Hawks controlled a 3-1 lead heading into the third period
-Lincoln scored four unanswered goals
-Wahlin scored twice while Kiecker-Olson grabbed the GWG
HOW THE STARS GOT IN
The Stars, led by first-year head coach Rocky Russo, put together a solid 2021-22 campaign, securing the third seed in the Western Conference with a record of 35-20-3-4.
Captain Dalton Norris led by example all season long, posting career-highs in goals, assists and points. He scored 26 goals, the third-most in a single season by a defenseman in USHL Tier I history and most by a Stars blueliner. Aidan Thompson also broke a franchise record, tallying 58 assists in 57 games. He finished the year with 82 points, the third-most in a single season in Stars history.
Lucas Wahlin broke out offensively in his first USHL campaign after playing in the North American Hockey League in 2020-21, leading the Stars with 31 goals. The 20-year-old held the longest goal streak in the USHL, scoring 19 goals over an 11-game period. The Stars finished with four 20-goal scorers (Norris, Thompson, Wahlin and Killian Kiecker-Olson), doing so for the first time since 2006-07.
Antonio Fernandez turned in a great rookie season, scoring the most goals and most points among rookie USHL defensemen this year. Jo Lemay (46 points) and Carter Schade (31 points) ate up the majority of minutes defensively, locking down opposing offenses and producing at both ends.
In net, Kaidan Mbereko adjusted well to the Western Conference in his first season with the Stars after being selected in the first round of the 2021 USHL Phase II Draft. The former Team USA product finished in the top ten in wins (18), goals-against average (3.01) and save percentage (.898). Only five goaltenders finished with more wins than him in the USHL.
Rounding out the goaltending tandem is Cameron Whitehead, flourishing in his first season in the league as an 18-year-old. Whitehead drew the eyes of scouts everywhere after his first USHL start in late September, stopping 29 shots in an overtime loss. He started the season 6-0, helping form the "two-headed monster" in the Stars crease.
The Stars power play scored 58 goals, which was the second-most in the Western Conference. Their penalty kill operated at 84.3 percent while also scoring 17 shorthanded goals (the most in the USHL).
At the Ice Box, the Stars posted a record of 20-8-1 and secured wins in six out of their last eight home games to end the regular season (6-1-1).
HOW THE BLACK HAWKS GOT IN
Like the Stars, Waterloo returned to the postseason with the help of a brand new leader behind the bench. Enter 36-year-old Matt Smaby, a former NHLer who previously joined the coaching staff of the University of North Dakota, his alma mater. Waterloo improved on their previous season (7th in the West, 45 points), winning 28 games and locking up the sixth and final playoff spot in the Western Conference.
Garrett Schifsky spearheaded the way offensively for Waterloo, potting 28 goals and 18 assists in 60 games. Ray Fust proved to be a key addition to the Black Hawks lineup, registering 20 points in 28 games after being acquired from the Sioux Falls Stampede. John Waldron, who had his previous season cut short due to injuries, broke out with 45 points in 51 games. Three Black Hawks rookies (Connor Brown, James Hong and Owen Baker) scored 10 goals or more; Waterloo was the lone team in the West to reach this feat.
On the blue line, third-year Black Hawk Mason Reiners stands out. A veteran of over 140 games, Reiners is a hard-nosed defender committed to St. Cloud State University. The 20-year-old missed three months of the season, but he's healthy and ready to go for Game 1.
Cooper Wylie (6'1," 189) and Tucker Ness (6'2," 216) are no strangers to physicality, solidifying an imposing group of Black Hawks defensemen.
Sam Rinzel joined the team in March after his high school season in Chaska, MN, fitting in very well down the stretch. Rinzel was ranked 26th among North American skaters on the NHL Central Scouting's Midseason Rankings and finished the regular season on a three-game point streak.
While Jack Williams handled the majority of starts in the first half of the season, a lower-body injury has sidelined him since early February. His status for the postseason is unknown.
18-year-old Emmett Croteau battled Williams for the top job up until his injury and assumed the starting role in net, as a result. Croteau finished the 2021-22 season 16-16-3 with a goals-against average of 3.00 and a save percentage of .899. He is 4-1 in his last five decisions. Croteau was named to the USHL's Second All-Rookie Team during his rookie year in 2020-21.
Waterloo's power-play generated 41 goals on 226 opportunities (18.1 percent), good for fifth in the West. Their penalty kill sparkled all year long, extinguishing 84.4 percent of opposing power plays, trailing only Tri-City (84.6). Waterloo finished the year 11-19-1 on the road, including 0-3 at the Ice Box.
• Discuss this story on the United States Hockey League message board...


United States Hockey League Stories from April 24, 2022
The opinions expressed in this release are those of the organization issuing it, and do not necessarily reflect the thoughts or opinions of OurSports Central or its staff.
Other Recent Lincoln Stars Stories