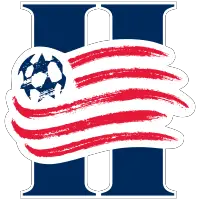 Revolution II Defeats Fort Lauderdale CF, 4-1
October 9, 2020 - United Soccer League One (USL1) - New England Revolution II News Release



FOXBOROUGH, Mass. - New England Revolution II (5-6-2, 17 pts.) claimed its fourth straight victory on Friday night, defeating Fort Lauderdale CF (4-8-2, 14 pts.), 4-1, in the first-ever meeting between the two teams. Homegrown Player Justin Rennicks scored the winning goal in the 60th minute, with Academy defender Colby Quinones picking up his first-career assist on the play.
Midfielder Nicolas Firmino put New England in front late in the first half on a free kick, his team-leading fourth goal of the season. Fort Lauderdale CF forward Felipe Valencia evened the match seven minutes into the second half, and just eight minutes before Rennicks regained the lead.
Defenders Tiago Mendonca and Ryan Spaulding each added their first career goals late in the second half. Defensively, New England recorded 29 clearances as a team and limited Fort Lauderdale to just three shots on target.
New England will play its final home match of the season at Gillette Stadium next Friday night, October 16, hosting North Texas SC in their second meeting of the season. Kickoff is scheduled for 7:00 p.m. ET on ESPN+ in the United States.
New England Revolution II 4, Fort Lauderdale CF 1
October 9, 2020 - Gillette Stadium (Foxborough, Mass.)
Homegrown Players Tally Goals in Victory
- Forward Justin Rennicks (South Hamilton, Mass.) and midfielder Nicolas Firmino (Somerville, Mass.) each scored goals in the victory for New England.
- Firmino scored off a free kick in the first half, his team-leading fourth goal of the season, and tallied his second assist of the year in the second half.
- Rennicks scored his third goal in five games since joining the squad on loan from the Revolution first team while adding two key passes.
- Midfielder Isaac Angking (Providence, R.I.) returned from injury to make his first appearance since Aug. 29, playing 12 minutes as a second half substitute.
Academy Defender Quinones Gets First Career Assist
- Academy defender Colby Quinones (2003 - Bedford, N.H.) recorded his first career assist, supplying a cross on Justin Rennicks' second-half goal.
- Quinones, who leads all Academy players with 11 games played this season logging 884 minutes, had four possessions gained and three interceptions defensively while recording a team-high three key passes.
Spaulding Strikes For First Time This Season
- Defender Ryan Spaulding scored his first goal of the season in the 75th minute, finishing off an assist from Nicolas Firmino.
- The left back finished the night with eight possessions gained, three interceptions, and two clearances.
Mendonca Tallies First Goal, Career-High in Clearances
- Defender Tiago Mendonca scored his first career goal in second-half stoppage time, cleaning up a loose ball in the six-yard box.
- Mendonca, who started at center back, had game high 13 clearances, eight possessions gained, and a blocked shot.
Revolution II Makes One Change to Starting XI
- New England made just a single change to the starting lineup on Friday, with Damian Rivera replacing Jon Bell. It was the first time this season Bell did not start, with the rookie defender having played every minute of the season prior to Friday night.
- Rivera made his first start since Sept. 16 at FC Tucson, playing 78 minutes and finishing the night with four possessions gained and two interceptions in midfield.
- Tiago Mendonca replaced Bell at center back, his second start and third appearance at the position this season.
GAME CAPSULE
Referee: Kenneth Rojas
Assistant Referees: Tom Felice (AR1), Eric Schreiber (AR2)
Fourth Official: Jeremy Scheer
Weather: 54 degrees and clear
Scoring Summary:
NE - Nicolas Firmino (Unassisted) 42'
FTL - Felipe Valencia (Edison Azcona) 52'
NE - Justin Rennicks (Colby Quinones) 60'
NE - Ryan Spaulding (Nicolas Firmino) 75'
NE - Tiago Mendonca (Mayele Malango) 90'+3
Misconduct Summary:
FTL - Eduardo Sosa (Yellow Card- Bad Foul) 24'
NE - Nicolas Firmino (Yellow Card- Bad Foul) 27'
FTL - Modesto Mendez (Yellow Card- Bad Foul) 30'
FTL - Servando Carrasco (Yellow Card- Bad Foul) 56'
New England Revolution II: Keegan Meyer; Ryan Spaulding, Tiago Mendonca, Collin Verfurth ©, Colby Quinones; Maciel, Damian Rivera (Isaac Angking 77'), Nicolas Firmino; Connor Presley (Meny Silva 86'), Orlando Sinclair (Hikaru Fujiwara HT), Justin Rennicks (Mayele Malango 77').
Substitutes Not Used: Matthew Tibbetts, Ryo Shimazaki, Jon Bell.
Fort Lauderdale CF: Andre Zuluaga-Silva; Sami Guediri, Ethan Hardin, Modesto Mendez (Christian Lue Young 61'), Brian Rosales; Blaine Ferri (Josh Saveedra 61'), Servando Carrasco © (Rivaldo Ibarra 82'), Eduardo Sosa (Jason Bucknor 82'); Felipe Valencia, Edison Azcona, Ricky Lopez-Espin (Jerome Kiesewetter 71').
Substitutes Not Used: Daniel Gagliardi, Frank Nodarse.
New England Revolution II Team Statistics Fort Lauderdale CF
15 (5) Shots (on Target) 11 (3)
6 Blocked Shots 3
2 Saves 1
5 Corner Kicks 7
5 Offsides 1
14 Fouls 12
374 (81.0%) Passes Attempted (% Completed) 595 (85.7%)
38.3% Possession 61.7%
POSTGAME QUOTES: New England Revolution II 4 vs. Fort Lauderdale CF 1
Revolution II Head Coach Clint Peay
On the game opening up in the second half:
Peay: "I didn't really expect that, but we knew in transition they were a team that was a little vulnerable so we knew we'd be able to get at them in transition and if we took care of the ball it would limit the amount of times we would have to defend in transition. Unfortunately, there were moments where we could have done a better job keeping the ball but overall I thought our team took opportunities well and did a good job of capitalizing off their mistakes."
On scoring four goals in consecutive matches:
Peay: "I think just being more efficient in and around the goal. Obviously, I think the group is finding a good rhythm, especially in counter-attacking moments, finding the open guy, making the extra pass, and then being clinical in our finishing."
On defending Fort Lauderdale's attack:
Peay: "We talked about being good individually in defending and we talked about being good dealing with combination play and expecting the unexpected. They've got a lot of clever players and their front guys make good runs in behind so being aware of that and always expecting the ball to be played in behind."
On Orlando Sinclair's injury & Isaac Angking's return:
Peay: "We don't know about Orlando [Sinclair] just yet. Obviously he came out of the game with a knock and we'll have to reevaluate him in the morning. As for Isaac, he's a guy we felt would it important to give him some minutes and get him back going again. I thought he showed his qualities but he certainly isn't game fit yet so that's something we'll have to continue to work on."
On facing North Texas SC next week:
Peay: "It's much of the same. Be good defensively, be better than your opponent in transition, take care of the ball, and be efficient with our chances that we create."
Revolution II Midfielder Tiago Mendonca
On 13 clearances and his first career goal:
Mendonca: "I'm very happy to score my first professional goal, of course. I've been looking for it. Coach wanted me to play center back tonight so I did my best to help the team. I'm just very happy to get the win."
On defending Fort Lauderdale's attack:
Mendonca: "We just recognized the pass, kept our lines, and just tried to anticipate or drop to not allow their forwards to get the ball."
On the change in the team offensively:
Mendonca: "I think we're just getting along now, we're appreciate playing with each other. We're starting to play better with each other and I believe Justin Rennicks was a great help on the ball. We're just feeling good now."
Revolution II Defender Ryan Spaulding
On scoring his first-career goal:
Spaulding: "It felt incredible, to do it at home especially. It would have been nice with some fans but I'll take it and it was a great win for the team."
On the game opening up in the second half:
Spaulding: "We knew their game plan was their outside midfielders like to make runs with double moves - checking to the ball and then running in behind - so we just had to be ready to keep our shape and run behind but keep our bodies facing them and stay with them on the sprint and not let too many get in behind. Then if they did play it forward we had someone on them to make sure they couldn't turn."
On defending as a unit:
Spaulding: "All the guys are working for each other. We try to collapse on them when their six or eight got the ball in midfield, keeping them from turning. We had guys getting out to the ball, me and Colby [Quinones] and we had our center midfielders and center backs covering for us, then we would cover for them. It's just really a well-oiled machine with a lot of communication and it's really coming together."
• Discuss this story on the United Soccer League One message board...


United Soccer League One Stories from October 9, 2020
The opinions expressed in this release are those of the organization issuing it, and do not necessarily reflect the thoughts or opinions of OurSports Central or its staff.
Other Recent New England Revolution II Stories