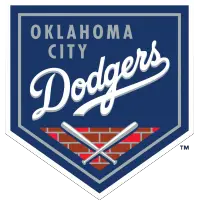 RedHawks Game Notes - June 21, 2011
June 21, 2011 - Pacific Coast League (PCL) - Oklahoma City Dodgers News Release



Oklahoma City RedHawks (30-42) at Albuquerque Isotopes (41-30)
Houston Astros vs. Los Angeles Dodgers
Game #73 of 144/Road #37 of 72 (16-20)
Pitching Probables: OKC-RH Sergio Perez vs. ALB-RH Jonathan Broxton/LH Randy Keisler
Tuesday June 21, 2011 | Isotopes Park | Albuquerque, N.M. | 8:05 p.m. CT
Radio: KGHM AM-1340 The Game, 1340thegame.com, IHeartRadio - J.P. Shadrick-play-by-play, Darren Headrick- Pre-game, Post-game
UPCOMING SCHEDULE AND PROBABLE PITCHING MATCHUPS (ALL TIMES CENTRAL)
Wednesday, June 22 @ Albuquerque Isotopes (LAD): OKC-LH Ryan Rowland Smith (2-7, 6.46) vs. ALB-RH John Ely (3-3, 5.93) - 8:05 p.m., KGHM AM 1340, 1340thegame.com, IHeartRadio
Thursday, June 23, @ Albuquerque Isotopes (LAD): OKC-LH Gustavo Chacin (2-4, 3.88) vs. ALB-RH Tim Sexton (3-0, 4.88) - 8:05 p.m., KGHM AM 1340, 1340thegame.com, IHeartRadio
Friday, June 24 @ Albuquerque Isotopes (LAD): OKC-RH Nelson Figueroa vs. ALB-RH Ian Snell - 8:05 p.m., KGHM AM 1340, 1340thegame.com, IHeartRadio
Saturday, June 25 @ Round Rock Express (TEX): OKC-LH Andy Van Hekken vs. RR-RH Eric Hurley - 7:05 p.m., KGHM AM 1340, 1340thegame.com, IHeartRadio
Sunday, June 26 @ Round Rock Express (TEX): OKC-RH Sergio Perez vs. RR-TBA - 7:05 p.m., KGHM AM 1340, 1340thegame.com, IHeartRadio
RedHawks Open Second 12-Game Road Trip-- The Oklahoma City RedHawks begin a 12-game, 13-day roadtrip tonight with the opener of a four-game series against the Albuquerque Isotopes at 8:05 p.m. CT... The RedHawks will play four in Albuquerque, four at Round Rock and four at Memphis before returning home July 4 against the Iowa Cubs...The RedHawks are 16-20 on the road in 2011...Oklahoma City has split the season series 4-4 against Albuquerque, with all eight previous games played at RedHawks Field at Bricktown...Tonight the RedHawks play game 10 in a stretch of 17 consecutive divisional games with tonight's matchup (3-2 vs.ALB, 1-3 vs. NOLA, 0-0 @ ALB, 0-0 @ RR)...Following the current stretch, the RedHawks will have only three divisional series the remainder of the season (7/18-21 vs. Iowa, 8/29-9/5 vs. NOLA)...The RedHawks enter Monday 11.5 games behind first place Albuquerque and 7.0 games behind third place New Orleans...
Tonight's Probable Pitchers-- RH Sergio Perez (14GS, 4-5, 4.22) makes the start tonight, his second consecutive start against Albuquerque...Last time out, Perez allowed three earned runs and eight hits in 5.2 innings in the losing decision on June 16...In the month of June, Perez has made three starts with a 0-2 record and 3.86 ERA (lowest ERA in any month for Perez: 4.44-April, 4.24-May)...Albuquerque will see a rehabilitation appearance for RH Jonathan Broxton tonight (approx. 25 pitches), as he recovers from a bone bruise in his elbow...The Dodgers closer will be followed the original scheduled starter LH Randy Keisler (9G, 6GS, 3-2, 4.11)...Keisler has won three consecutive outings, giving up one earned run in 18.1 innings in that span...Last time out, Keisler, defending his PCL Pitcher of the Week honor, gave up one unearned run and six hits in five and one-thirds innings for a win at Oklahoma City...
Last Game: June 20 - Oklahoma City 2, New Orleans 1-- Andy Van Hekken dealt seven strong innings while a Koby Clemens RBI double in the fifth inning put the RedHawks ahead for good in a 2-1 win over the New Orleans Zephyrs before 3,617 Monday night at RedHawks Field at Bricktown...Van Hekken (2-3) allowed a second inning run with two walks and six strikeouts in the win...Elih Villanueva allowed two runs and three hits in six innings in a tough-luck losing decision...David Carpenter saved the game with a perfect ninth inning....A Vinny Rottino single drove in the only New Orleans run in the second inning, before a Collin Delome sacrifice fly tied the game in the fourth inning...Koby Clemens doubled in a run in the fifth inning, giving OKC the lead for good at 2-1...
Previous Series vs. Albuquerque-- The RedHawks won a five-game series against Albuquerque June 13-16 three games to two, dropping the first and last games of the series...The first four games of the series were decided by two runs or fewer...
RedHawks Offense vs. NOLA-- The RedHawks suffered a series loss, three games to one, against the New Orleans Zephyrs over the last four days... New Orleans outscored Oklahoma in the four-game series 30-10, and out-hit the RedHawks 49-20...In game on alone, New Orleans won 18-5 and out-hit the RedHawks 20-8...
Slam the Door-- David Carpenter delivered a perfect ninth inning last night and recorded his sixth save with OKC, while extending his scoreless streak to 16.0 innings...Carpenter made two appearances against Albuquerque in the previous series between the teams, picking up a save on June 14 in game one of a doubleheader...Jose Valdez is 5/5 in save opportunites with Oklahoma City, saving a pair of opportunities against Albuquerque June 14-15...
Seven Inning Starts-- Andy Van Hekken lasted seven innings last night, the tenth 7.0+ start for a RedHawks pitcher in 2011 (Lyles 3, Rowland-Smith 2, Perez 2, Van Hekken 1, Figueroa 1)...
OKC vs. American Southern-- The RedHawks have posted a 11-17 record against the American Southern division (4-4 vs. ALB, 5-7 vs. RR, 2-6 vs. NOLA)...
Quality Starts-- Of 72 starts in 2011, OKC starters have posted quality starts (6.0 innings-plus with no more than 3 ER) 28times....When the starter earns a quality start, the RedHawks have a 17-11 record...The RedHawks have posted three consecutive quality starts (Chacin, Figueroa, Van Hekken)...
• Discuss this story on the Pacific Coast League message board...


Pacific Coast League Stories from June 21, 2011
The opinions expressed in this release are those of the organization issuing it, and do not necessarily reflect the thoughts or opinions of OurSports Central or its staff.