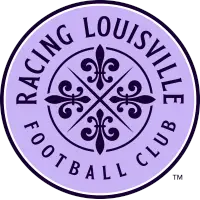 Racing Rallies Past Orlando to Get Back in the Win Column
October 16, 2021 - National Women's Soccer League (NWSL) - Racing Louisville FC News Release



A record crowd showed up to Lynn Family Stadium for Saturday night's Racing Louisville FC game. And the way the ladies in lavender performed, they're likely to come back.
Racing recovered from an early goal conceded to knock off the visiting Orlando Pride by a 3-1 score behind one-goal, two-assist evening from forward Ebony Salmon.
The performance was much to the delight of 8,488 on hand despite Racing having already been eliminated from NWSL playoff eligibility. A victory over Orlando in turn also knocked the Pride out from the postseason.
The result marked Racing's first win across all competitions since players raised The Women's Cup having defeated FC Bayern Munich back on Aug. 21.
"So happy for this team and these players," said interim head coach Mario Sanchez. "This is all about them and for what they've been through, I couldn't be happier for them. They've stuck with it. They've grown. They continue to get better, and they deserve it.
"I keep telling everybody about the character of this team, and sometimes results don't show that. Tonight, we absolutely saw what these ladies were all about and what this team was all about. I'm so so happy for them."
U.S. Women's National Team star Alex Morgan started the night on a down note for the host side when she played a weighted ball through to Jodie Taylor, who converted in just the third minute to give the Pride a lead.
But Racing settled in from there, ultimately out-shooting their opponent 13-10 while trying seven of those from inside the box. It was a try from distance as Salmon pulled on the final kick of the first half that equalized.
"In training we are constantly talking about getting through moments in games," Sanchez said. "Something clicked in them, and I think they just realized to just go out and do our thing. After the first 10 to 15 minutes, we played some fantastic soccer. To get the reward for the goals and the win because we played some really good soccer today.
"You can see the quality come out, but again I've told everyone that this team is made up of a lot of character. They've been through a lot, and nobody is ever going to know what they've been through, but they showed that they are winners. It's awesome for them to get the reward tonight in front of this amazing crowd."
Racing went on the front foot out of the locker room, taking its first lead in the 52nd minute. A flicked-on pass through from Salmon landed to forward Katie McClure, who delivered her first professional goal.
Wearing Racing's captain's armband for the first time, forward Yuki Nagasato got in on the fun in the 78th minute on - yes - another goal contribution for Salmon, whose lengthy cross landed at the back post for another goal.
Nagasato finished her chance as Salmon upped her season stats to a team-high six goals and three assists.
Racing got its first league victory since Aug. 8 with its primary captain, Michelle Betos, sidelined in favor of goalkeeper Katie Lund and vice captain Savannah McCaskill out on yellow card accumulation.
In the bigger picture, Racing also ensured it will end its season with more points earned than the two prior NWSL expansion teams before it. The ladies in lavender improved to 5-12-5 while to sit on 20 points, more than the 2014 Houston Dash (18) in and 2016 Orlando Pride (19).
Players, amid continued negotiations between the league and Players Association for better working conditions in the league, continued to take only non-soccer questions in postgame interviews.
"This is just a time of change," said defender Addisyn Merrick. "Our league deserves better, and that's what we're working towards - bettering everything, protecting our players more and taking things more seriously. Having the conversations that need to be had even if it's uncomfortable: We are starting to have those. That's just the beginning of it and pushing toward change is to continue having these talks and educate people on things that are and aren't OK. Overall, transparency throughout the league would be really good for us."
"The biggest thing that I've noticed so far that has been super positive is the transparency," said forward Cheyna Matthews. "The conversations that are happening I haven't experienced before. Even our president sits down and talk with us just really wanting to know how they can even make things better for us as players. It's just been an outpouring of transparency and just receptiveness to what we're saying and the things that we would like to see different. It seems like there's a fluid piece of communication now and that was lacking before."
Game Summary: Racing Louisville FC vs. Orlando Pride
Date: Oct. 16, 2021
Venue: Lynn Family Stadium
Kickoff: 7:30 p.m.
Weather: 61 degrees, partly cloudy
Player of the Match: Ebony Salmon
Attendance: 8,488
Scoring
Racing Louisville FC (1, 2, 3)
Orlando Pride (1, 0, 1)
Goals
Racing Louisville FC:
45+1' Ebony Salmon (Yuki Nagasato)
52' Katie McClure (Ebony Salmon)
77' Yuki Nagasato (Ebony Salmon)
Orlando Pride:
9' Jodie Taylor (Alex Morgan)
Lineups
Racing Louisville FC: 23-Katie Lund, 19-Taylor Otto, 18-Kaleigh Riehl, 14-Nealy Martin, 16-Julia Ashley (83' 12-Sinclaire Miramontez), 17-Yuki Nagasato (89' 13-Emina Ekic), 11-Emily Fox, 2-Lauren Milliet (83' 20-Cheyna Matthews), 22-Katie McClure (70' 8-Freja Olofsson), 5-Cece Kizer, 9-Ebony Salmon (89' 33-Jorian Baucom)
Subs not used: 1-Michelle Betos, 27-Vanessa Kara, 3-Erin Simon, 15-Brooke Hendrix
Head Coach: Mario Sanchez
Orlando Pride: 1-Erin McLeod, 17-Courtney Petersen, 11-Ali Krieger, 4-Amy Turner, 7-Ali Riley (75' 5-Emily Van Egmond), 8-Gunny Jonsdottir (59' 22-Taylor Kornieck), 14-Marisa Viggiano (59' 15-Erika Tymrak), 10-Marta Vieira da Silva, 9-Jodie Taylor (65' 3-Toni Pressley), 2-Sydney Leroux, 13-Alex Morgan
Subs not used: 18-Kaylie Collins, 12-Carrie Lawrence, 23-Kylie Strom, 28-Meggie Dougherty Howard, 21-Phoebe McClernon
Head Coach: Becky Burleigh
Stats Summary: Racing / Pride
Shots: 13 / 10
Shots on Goal: 6 / 3
Possession: 42.3% / 57.7%
Corner Kicks: 5 / 0
Fouls: 9 / 4
Offside: 3 / 1
Discipline
Orlando Pride
16' Jodie Taylor (yellow card)
Referee: Matthew Franz
• Discuss this story on the National Women's Soccer League message board...


National Women's Soccer League Stories from October 16, 2021
The opinions expressed in this release are those of the organization issuing it, and do not necessarily reflect the thoughts or opinions of OurSports Central or its staff.
Other Recent Racing Louisville FC Stories