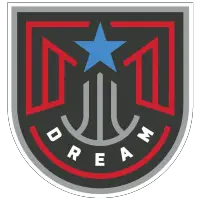 Postgame Notes - Atlanta 82, Connecticut 75
September 11, 2020 - Women's National Basketball Association (WNBA) - Atlanta Dream News Release



Atlanta Notes
- After tonight's win, the Atlanta Dream are now 25-23 all-time against the Connecticut Sun. Atlanta last dropped a 93-82 decision to the Sun on August 10.
- Four Dream players grabbed at least eight rebounds in one game for just the second time in franchise history (last time - vs Las Vegas - 9/5/19).
- The team recorded a season-low eight turnovers - the fewest in a game since they had eight against Chicago on July 17, 2019.
- Betnijah Laney finished in double-figures for the 18th time this season with 14 points.
o Laney grabbed 10 rebounds and earned her fourth double-double of the season.
o Her eight defensive and 10 total rebounds tie her career high records, both of which she set in the last game just two days ago.
- Courtney Williams scored 20 points for her 15th double-digit effort of 2020.
o Williams scored at least 20 points for the fourth time this season.
- Chennedy Carter continued her incredible rookie campaign with 22 points, her 12th double-digit game of the year.
o She finished with her fifth 20 point game of the season.
o She tied her season high with two steals.
- Monique Billings scored 13 points off the bench for her seventh double-digit game of the year.
o Billings has 11 games with at least eight rebounds this season.
- With her two blocks tonight, Elizabeth Williams has 30 for the season and 307 for her career.
- Blake Dietrick tied her career high record with three steals.
- The Atlanta Dream started Chennedy Carter, Courtney Williams, Betnijah Laney, Shekinna Stricklen and Elizabeth Williams.
Atlanta Quotes
Head Coach Nicki Collen
On the effect of having four different players make runs; how dangerous that makes them ...
"It allows us to play to that matchup. I just kept going back. Coming out of halftime I felt like Courtney [Williams] hadn't had enough touches, so we really made a concerted effort coming out of halftime to get touches, pin downs, high sloppy actions, just get her on the move and get her to her jumpshot. We kind of started there. I thought B [Betnijah Laney] had an advantageous matchup there for a while. I thought it was a little ugly. The number of points we left on the board with missed layups. We were 9-24 in the first half in the paint and the majority of those were at the rim. We took a couple jumpshots, but the majority of those were at the rim. We just got to finish better on the rim. Elizabeth [Williams'] got to finish better on the rim. She knows it. She keeps playing. She's such a good defensive player. She separates so well off screens that she's open all the time because she's done such a good job of separating. We just have to finish around the rim. Mo [Monique Billings] missed one early and then really settled in and did a good job as the game went on. When you think about the points that we left out on the board and the ability to take the lead into halftime as opposed to just hanging in there. You have to play to matchups. You have to play to the hot hand and the situation. For the most part, it's going to be those three guards. They're all such capable scorers in different settings and against different matchups. What we have around them is that we got to have complimentary players. Elizabeth [Williams'] setting good screens. She's gonna get open on rule. She's gonna get offensive rebounds and the same with Monique [Billings]."
Forward Monique Billings, #25
On how every game is a must win for them at this point ...
"Every game has a certain amount of seriousness to it. We're preparing every single game like it could be our last, we don't want it to be our last. But the mindset is just to keep playing and to keep giving ourselves opportunity."
On what the identity of the team is ...
"That's a really good question. It's hard to say because we haven't really practiced too much, so we're kind of just learning on the fly. It still feels like we've been learning on the fly even though we've been playing together for months now. Still trying to figure everyone out, but we make it work. I would stay that's the identity of this team. Make it work. Make it happen."
Guard Chennedy Carter, #3
On her comfortability in the beginning of the season versus now toward the end...
"I really believe how far I've came. I've played with USA Basketball. I've just traveled and played so many times and in so many games. I've been in those type of situations. College has prepared me. Then just playing with the vets on our team and the coaches. They do a good job of just communicating to me. Making things simple and making my job easy. It's really them. I just try to be composed and be a great point guard when it's time to win."
On if it feels like "win or go home" now ...
"It's starting to feel like that. Now we got something we're actually playing for which makes people play hard. I play hard regardless, but when it's at stake that we got to go home and you can't compete no more. I'm trying to go out for forty minutes and play my heart out and do the best I can to get my team that win."
• Discuss this story on the Women's National Basketball Association message board...


Women's National Basketball Association Stories from September 11, 2020
The opinions expressed in this release are those of the organization issuing it, and do not necessarily reflect the thoughts or opinions of OurSports Central or its staff.