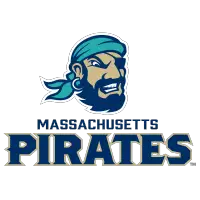 Pirates Seek First Title in Arizona
September 9, 2021 - Indoor Football League (IFL) - Massachusetts Pirates News Release



WORCESTER, MA - In just their third year of existence, the Massachusetts Pirates (11-3/2-0) are playing for their first ever championship. The 2021 season has been the most prolific in the history of the franchise and Sunday night at 6:00 eastern the ultimate chapter will be written as the second seeded Pirates take the field at the Footprint Center in Phoenix against the top seeded Arizona Rattlers with the Indoor Football League title on the line in the United Bowl.
This year Massachusetts rewrote its record book with its best regular season record, recorded its first playoff win, followed that up with a second-round victory to take its win total to 13 and did so by winning ten consecutive games, which is also a franchise record.
Arizona, whom the Pirates defeated in the regular season, has won six titles overall and makes it's second straight trip to the United Bowl. The Rattlers finished the regular season with a 12-2 record and with its two playoff victories has won its last seven games.
Last Week:
Pirates running back Justin Stockton scored twice while the Massachusetts defense limited the Frisco Fighters to just 23 yards rushing in a 43-22 win at Phoenix Field at the DCU Center. It was the tenth consecutive victory for the Pirates and their thirteenth overall as they advanced to the United Bowl.
The Pirates led 23-9 at the half and increased their lead taking the second half kickoff and driving 30 yards in four plays with Alejandro Bennifield connecting with Thomas Owens with a seven-yard strike for a 30-9 advantage. Frisco came as close as 37-22, but another Bennifield to Owends TD pass from two yards closed the scoring in the final quarter. The Pirates quarterback ended the game just four of 11 for 26 yards, but three of his passes went for touchdowns. Owens had three receptions for 15 yards and two scores. The Pirates' defense was led by Martrell Spaight who had 6.5 tackles and one tackle for a loss. The three turnovers caused by the Massachusetts defense all resulted in scores. Defensive Back Harlan Miller had five tackles, one for a loss and an interception return for a touchdown. DB Khalid Wooten finished with two tackles, a fumble recovery and two passes broken up.
The Arizona Rattlers dodged two bullets in the final seconds as they advanced to their second consecutive United Bowl with a 58-54 win over the Duke City Gladiators. Trailing by three points, Duke City was one yard away from taking the lead with seven seconds to play. Quarterback Nate Davis hit wideout Jared Elmore with what would have been the game winning touchdown, but it was nullified by an offensive pass interference call on Xavier Amey for an Illegal pick. The Gladiators attempted to send the game into overtime, but the potential game tying kick by Kevin Goessling from 25 yards out was wide left as time ran out. The game saw nine lead changes, all coming in the second half.
The Rattlers were led by QB Drew Powell who ran for 98 yards on 13 carries with three scores. Darrell Monroe carried 11 times for 70 yards and scored three times. Powell was 10 of 14 passing for 89 yards with a touch down and an interception. His TD pass went 22 yards to Jamal Miles. Miles was the Rattlers top receiver with five receptions for 52 yards and a score.
This will be the second meeting between the two teams. The first ever meeting was July 18, 2021, on Phoenix Field at the DCU Center, Worcester, MA, with the Pirates winning by a score of 68-44.
The victory by the Pirates stopped the Rattlers six game winning streak while handing them their second and latest loss of the season. The Pirates' defense held the Ratters to 219 yards of total offense (91 rushing and 128 passing) while the offense had its highest point production of the season. Pirates' running back Justin Stockton was Massachusetts' leading rusher with nine carries for 35 yards and two scores. Quarterback Alejandro Bennifield ended the game 16 of 26 passing for 203 yards and four touchdowns. Dontez Byrd was the Pirates' leading receiver with four receptions for 75 yards and a pair of touchdowns. Wideout Thomas Owens had four catches for 42 yards and a score while Laquvionte Gonzalez added a TD with three grabs for 48 yards. R.J. Turner chipped in with three receptions for 48 yards.
Arizona QB Drew Powell was the games' top rusher with 11 carries for 68 yards and three touchdowns. He was 16 of 21 passing for 142 yards and three scores. Jarrod Harrington was the Rattlers top receiver with four catches for 43 yards and a TD, Jeremiah Harris had four catches for 31 yards and a score, Jamal Miles also had four receptions for 31 yards and Troy Pelletier added three receptions for 28 yards and a touchdown.
All statistical totals are from the regular season:
Team Stats:
The Pirates scored 44.4 points per game which was third in the IFL. The Massachusetts defense gave up a league low 33.1 points per game. The Rattlers ranked second scoring 50.6 points per game while their defense was second allowing 35.8 points per contest. Should the game come down to a critical fourth down play the Pirates may have an edge with the leagues' best success rate at 62.5 percent while Arizona ranked sixth at 57.9.
The Rattlers had the number one rushing offense in the league averaging 117.8 yards per game while the Pirates defense was number two against the run holding opponents to just 57.2 yards per contest. Arizona was third in the IFL averaging 242.8 yards per game while the Pirates were ninth gaining 200.1 yards per game.
When it comes to passing, the Pirates had the edge as they ranked fourth gaining 143.0 yards per game while Arizona ranked tenth with 125.0 per contest.
This game features two of the IFL's two defenses. The Massachusetts defense was impressive allowing a league low of 178.0 yards per game. Arizona ranked fifth allowing 209.9 yards per game. The Pirates gave up the fewest touchdowns (60) and yielded a league best 4.1 yards per play.
The Pirates were the best team against the pass, dominating opposing quarterbacks, leading the league holding passers to an average of 120.8 yards per game on 49 percent passing with each completion going for an average of 4.7 yards. The Rattlers were eighth in the IFL giving up 142.3 passing yards per game. The Pirates defense also had the best third down conversion rate at 30.9 percent. On fourth down the Massachusetts defense ranked third with a 39.9 success rate.
The Rattlers were second in the IFL with 20 sacks while the Pirates were right behind with 19.
Players to Watch: (league rankings included)
Ball Carriers:
Rattlers quarterback Drew Powell led the IFL with 902 yards rushing on 137 attempts (2nd). His 35 rushing touchdowns were a league best as was his 64.4 rushing yards per game. He was second averaging 6.6 yards per carry. The Pirates' Justin Stockton had 84 carries for 359 yards (10th) averaging 4.3 yards per carry (8th) and 35.9 yards per game (7th).
QB's:
Pirates quarterback Alejandro Bennifield had 144 completions (4th) in 260 attempts (4th) with 8 interceptions (3rd) for 1,750 yards (3rd) with 37 touchdowns (2nd), averaged 125.0 passing yards per game (7th) with an efficiency rating of 152.7 (4th). Bennifield also had 16 rushing touchdowns which was sixth in the IFL. Powell of Arizona was 168 (2nd) of 242 (5th) with seven interceptions (6th) for 1745 yards (4th) with 30 touchdowns (3rd) averaging 124.6 yards per game (7th) with an efficiency rating of 165.1 (2nd).
Wide Receivers:
Thomas Owens of the Pirates ended the regular season as one of the best in the IFL. Owens had 66 receptions (2nd) for 911 yards (2nd), 22 touchdowns (2nd), averaged 13.8 yards per catch (4th), 4.7 receptions per game (3rd), and 65.1 receiving yards per game (2nd). Jarrod Harrington of Arizona had 52 receptions (5th) for 620 yards (6th) with 11 touchdowns (9th). He averaged 11.9 yards per reception, 3.7 catches per game (9th) and 44.3 receiving yards per contest (8th).
Scoring:
Drew Powell of Arizona was first in the IFL averaging 15.3 points per game. Thomas Owens of the Pirates was sixth in the IFL averaging 10.4 points per game.
Kick Scoring:
Ernesto Lacayo of Arizona was second in kick scoring with 100 points this season. He had the most extra points (82) and attempts (89). Lacayo was six of ten on field goals. His conversion rate of 60 percent was second, right behind the Pirates Ali Mourtada who had the same stats in fewer games before signing with Winnipeg in the Canadian Football League.
Former Super Bowl Champion Garrett Hartley will be kicking for the Pirates. In his first ever indoor football game last week against Frisco Hartley was one of two on field goal attempts making a 24 yarder and four of six on extra points.
Kick Returns:
The Pirates Laquvionte Gonzalez had 45 returns (4th) for 957 yards (2nd) with three touchdowns (1st) with a long of 57 yards (2nd) and averaged 21.3 yards per return (1st). Jarrod Harrington of the Rattlers had 29 returns (8th) for 511 yards (8th) with no touchdowns and averaged 17.6 return yards per game (7th).
Total Offense:
Drew Powell of the Rattlers was second in total offense with 2,647 yards and ranked third averaging 189.1 yards per game.
Alejandro Bennifield of the Pirates was fourth in Total Offense with 1,927 yards and eighth with 137.6 .1 yards of total offense per game.
All-Purpose Yards:
Jarrod Harrington of Arizona ranked third with 1,404 all-purpose yards and ranked sixth with 100.3 all-purpose yards per game.
Laquvionte Gonzales of the Pirates was fourth in the IFL with 1,386 all-purpose yards and was fourth with an average of 106.6 all-purpose yards per game. Thomas Owens ranked ninth with 929 all-purpose yards and was tenth with 66.4 per game.
Defense:
Santos Ramirez of the Pirates was fourth in the league with 84 tackles and fifth averaging six tackles per game.
The Rattlers Nikolaus D'Avanzo was second in the IFL with 14.0 tackles for a loss and ranked second in sacks with seven.
Arizona defensive back Dillion Winfrey was first in the IFL with 20 passes broken up, 11 interceptions and 31 passes defended. Teammate Tyrell Pearson was third with 18 passes broken up, ranked ninth with three interceptions and third with 21 passes defended.
Khalid Wooten of the Pirates was fourth with 14 passes defended. Harlan Miller of Massachusetts finished fifth with 14 passes defended, seventh with nine passes broken up and second with five interceptions. Aarion Maxey-Penton of the Pirates ranked sixth with 13 passes defended and tied with Miller with five interceptions.
Defensive back Chucky Williams of the Pirates and Josh Gordon of the Rattlers tied for the lead in the IFL with three fumbles recovered. Harlan Miller of the Pirates was seventh with two. Tyrell Pearson of Arizona and Santos Ramirez of the Pirates also had a pair. Toby Johnson of the Pirates was second in the IFL with three forced fumbles and Santos Ramirez ranked fourth with three, while playing in more games.
All-IFL:
Nine players from each team earned postseason honors being named to the IFL's All-League teams. The Pirates had four players on the IFL's All-League First Team in wide receiver Thomas Owens, center Jordan McCray, defensive lineman Toby Johnson and defensive back Harlan Miller. Offensive lineman Jared Thomas, defensive lineman JD Griggs, linebacker Martrell Spaight, defensive back Chucky Williams and kick returner Laquivonte Gonzalez all made the league's second team.
The Rattlers had four players on the first team as well. Wide receiver Jarrod Harrington, offensive lineman Jahair Jones, defensive lineman Nikolaus D'Avanzo and defensive back Dillion Winfrey were selected to the First-Team. Second team honors went to QB Drew Powell, offensive lineman Lamar Mady, center Steven Gurrola, defensive back Tyrell Pearson and Kicker Ernesto Lacayo.
Jahair Jones of the Rattlers along with Jared Thomas and Laquvionte Gonzalez of the Pirates were also named to the IFL's All-Rookie Team. Gonzalez made the squad both as a wide receiver and kick returner.
The Massachusetts Pirates are members of the Indoor Football League (IFL). The Pirates play all home games at Phoenix Field at the DCU Center located at 50 Foster St. Worcester, MA, 01608. For more information on the Massachusetts Pirates please call (508)452-MASS (6277), email contact@masspiratesfootball.com or visit http://www.masspiratesfootball.com. Single game tickets are available now at ticketmaster.com or the DCU Center Box Office. For 2022 season, half-season, luxury, or group ticket packages please call 508-452-MASS (6277). Follow the Pirates on Facebook via Facebook.com/MAPirates, Instagram @mass.pirates, and Twitter @mass_pirates. #GetHooked #AllAboard
• Discuss this story on the Indoor Football League message board...


Indoor Football League Stories from September 9, 2021
The opinions expressed in this release are those of the organization issuing it, and do not necessarily reflect the thoughts or opinions of OurSports Central or its staff.
Other Recent Massachusetts Pirates Stories