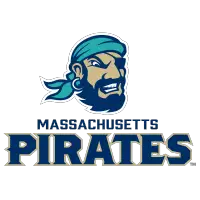 Pirates Receive Key to the City
September 27, 2021 - Indoor Football League (IFL) - Massachusetts Pirates News Release



WORCESTER, MA - September 21, 2021 has become a date etched in Massachusetts Pirates history. On that day, during the team's championship celebration at City Hall, the Pirates received the key to the City of Worcester.
During the Celebration, Worcester Mayor Joseph Petty congratulated the team stating how the Pirates made the city proud winning the Indoor Football League Championship over Arizona in overtime 37-34, and then delivered the following proclamation.
"Amid a truly difficult year trying to adapt to limitations from the covid-19 pandemic, the team achieved greatness under the watchful eyes of your head coach Patrick Pass and the Yatim family. Your players pulled off a dramatic and stunning overtime victory to end the season. In recognition of representing our city with distinction on the football field, naturally, it is only right and fitting that you should receive Worcester's highest honor. Congratulations and I wish you all the best in the years to come. On behalf of the City of Worcester, it's my pleasure to congratulate you. I present to you the key to the city in recognition of winning your first Indoor Football League championship."
The presentation took the Pirates Founder, Co-Owner, President and General Manager Jawad Yatim by surprise.
"I was not expecting that at all," Yatim told the crowd. "That was an absolute treat and I'm sharing that with all my guys. This is just so amazing," he added. Yatim went on to say, "This really is for the city. I'm from here, so this is a little different. We're not from out of town or somewhere else, we're from here, so this is by the city; for the city. We wanted to give you something to be proud of and hopefully we did make you proud," Yatim said.
The celebration featured comments from several dignitaries including District City Councilor Candee Mero-Carlson, City Manager Ed Augustus, Worcester Regional Chamber of Commerce President/CEO Tim Murray and Sandy Dunn, General Manager of the DCU Center.
In addition to comments from Pirates Offensive Coordinator Bone Bagaunte and Defensive Coordinator and Assistant Head Coach Rayshaun Kizer, the event became even more special as Pirates Head Coach Patrick Pass addressed the crowd.
"Like I've said all year it's not about me, it's about these guys right here," Pass said. "They did exactly what we asked them to do all year. It was so easy to coach these guys because they believed in the coaches and they trusted the process. I think what they learned over the course of the year is that the friendship that they built was a great thing. It brought them closer together and it allowed us to go on an 11-game winning streak and to bring this trophy home. My motto is, "If you win, you must defend." We'll see you guys in 2022," he concluded.
Above all else it was a day of thanks and Yatim took the opportunity to share the spotlight with those who made the 2021 season a success.
"I'm the one making the decisions, but there are a lot of people behind me that have been right here with me, working their butts off and making all of this come true," he said. First and foremost, I'd like to thank God for putting me in this situation and giving me the opportunity to do what I do. After that, my family for giving me a platform to show my abilities and what I can do. We obviously want to thank the city, the mayor and everybody here from the Worcester Chamber of Commerce, Mr. Murray, Sandy Dunn from the DCU Center; everybody. Without their approval and consent, we would not be able to do what we do so obviously we want to thank them," Yatim added.
He also thanked his operations staff and his coaches.
"We have such a young staff; a young passionate group. We really put everything into this. We're experiencing the best part of it all and that's sharing the joy of winning a championship with you (the fans). "
He went on to say, "Obviously (thanks) to all of the guys here, my players. It's not possible without them. It all happens on the field. They are the ones who make it happen. They deserve all the credit; each and every one of them. They gave us everything they had and that's how you win championships," said Yatim.
He then took time to recognize his front office staff including Director of Marketing and Community Outreach Adrian Figueroa, Director of Ticket Sales Brittany Fuller, and specifically Jonathan "Jojo" Charles, his Director of Operations.
"Jojo; he's another local. We're full of locals so when you come to support us, you're supporting yourselves at the same time," Yatim said. "Jojo is really the backbone of our operations team. He makes a lot of this stuff happen, a lot of the behind-the-scenes things that you don't see that are crucial to what we do. Adrian, Brittany, the list goes on. We have such a great staff. I'd like to thank the fans for their support, for coming out and enjoying this with us. Without you it's not possible," Yatim said.
Before leaving the stage, Yatim turned his attention back to the field and looked forward to 2022.
"Like I said after the game, you know where we're from, so one isn't enough. We want more. This is just the beginning. We want to keep bringing championships to Worcester. We want to keep bringing championships to Massachusetts because this is "Title Town", this is the city of champions, so we're just glad to be a part of it," Yatim said.
Defensive lineman Toby Johnson addressed the crowd as did United Bowl MVP quarterback Alejandro Bennifield who thanked those who helped him the entire year.
"I want to thank God for the opportunity, "he said. "I've had a long career with ups and downs. I want to thank the Yatim family for giving me the opportunity. Bones (Offensive Coordinator Bones Bagaunte), the defense, and everyone on the offense just being there for me. I came in as a backup and they held their arms around me when I was struggling early on. I just worked hard and found a way for my team. I just want to thank God for that. I want to thank the Pirates Nation for being there. We have our diehards out there. They love us, taking pictures and signing autographs after the game. We embrace it all and hope we can fill those stands next year. We're going to run it back; Champions in 2022," Bennifield said.
The Massachusetts Pirates are members of the Indoor Football League (IFL). The Pirates play all home games at Phoenix Field at the DCU Center located at 50 Foster St. Worcester, MA, 01608. For more information on the Massachusetts Pirates please call (508)452-MASS (6277), email contact@masspiratesfootball.com or visit http://www.masspiratesfootball.com. Single game tickets are available now at ticketmaster.com or the DCU Center Box Office. For 2022 season, half-season, luxury, or group ticket packages please call 508-452-MASS (6277). Follow the Pirates on Facebook via Facebook.com/MAPirates, Instagram @mass.pirates, and Twitter @mass_pirates. #GetHooked #AllAboard
• Discuss this story on the Indoor Football League message board...


Indoor Football League Stories from September 27, 2021
The opinions expressed in this release are those of the organization issuing it, and do not necessarily reflect the thoughts or opinions of OurSports Central or its staff.
Other Recent Massachusetts Pirates Stories