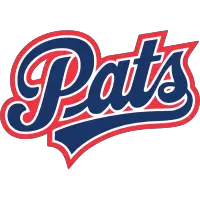 Pats Host Hitmen for First Meeting at Brandt Centre
January 18, 2022 - Western Hockey League (WHL) - Regina Pats News Release



Regina, Sask. - The Regina Pats (15-17-0-0) host the Calgary Hitmen (14-12-4-2) in the second game of a five game homestand, with puck drop set for 7:00 p.m., inside the Brandt Centre.
The Regina Pats are coming off a 7-1 victory over the Moose Jaw Warriors on Sunday afternoon at the Brandt Centre, as the Pats take a 5-2 season series lead over the Warriors, while staying perfect against Moose Jaw at home this season, going 4-0. It was the largest margin of victory this season, while also tying a season high for goals scored in a period with four in the first, and tying the season high for total goals in a game.
The Pats got a combined six points from 16-year-old forwards Tanner Howe (2G-1A) and Connor Bedard (1G-2A), while Logan Nijhoff tallied two helpers and Ryker Evans finished with a career high four assists. The Pats have now won their last two games and three of their last four contests since the Christmas break.
For the Calgary Hitmen, they are coming off a 3-2 overtime loss to Brandon on Sunday, January 16th, ending the clubs three game homestand where they went 2-0-1. In fact, the Hitmen are 3-1-1 over their last five games, but have dropped their three road contests. The Hitmen are four points up on the Pats in the Eastern Conference, holding the seventh seed.
Match Up
Calgary
Regina
Team Record 14-12-4-2 - 34 points 15-17-0-0 - 30 points
Division Ranking 3rd Central 6th East
Conference Ranking 6th Eastern 11th Eastern
League Ranking 11th 18th
Past 10 Games 4-3-2-1 6-4-0-0
Streak 2-0-1-0 2-0-0-0
Last Game 3-2 L vs Brandon (Jan 16 2022) Final OT 7-1 W vs Moose Jaw (Jan 16 2022) Final
Home Record 10-5-3-0 10-8-0-0
Away Record 4-7-1-2 5-9-0-0
GF 100 116
GA 98 121
PP (Overall) (22/138) 15.9% (32/131) 24.4%
PP (Home) (19/89) 21.3% (21/70) 30.0%
PP (Away) (3/49) 6.1% (11/61) 18.0%
PK (Overall) (32/139) 77.0% (36/146) 75.3%
PK (Home) (20/79) 74.7% (21/74) 71.6%
PK (Away) (12/60) 80.0% (15/72) 79.2%
PP vs. Opp. (4/5) 80% (0/3) 0%
PK vs. Opp. (0/3) 100% (4/5) 20%
Leading Rookie Tulk (6-4-10) Howe (14-15-29)
Most PIM Slaney - 61 McNutt - 59
Team PIM/GM 12.9/Game 14.1/Game
Leading Scorers Fiddler-Schultz (17-25-42) Evans (5-29-34)
Stevenson (13-21-34) Bedard (19-12-31)
Tschigerl (17-15-32) Howe (14-15-29)
Funk (11-9-20) Nijhoff (13-13-26)
Quiring (6-9-15) Dubinsky (10-9-19)
Last 5 Games 3-2 L vs Brandon (Jan 16 2022) Final OT 7-1 W vs Moose Jaw (Jan 16 2022) Final
4-1 W vs Prince Albert (Jan 15 2022) Final 7-6 W vs Moose Jaw (Jan 1 2022) Final OT
4-2 W vs Medicine Hat (Jan 2 2022) Final 4-2 L vs Winnipeg (Dec 29 2021) Final
3-2 L @ Medicine Hat (Dec 30 2021) Final 6-5 W vs Edmonton (Dec 27 2021) Final
3-1 W vs Medicine Hat (Dec 28 2021) Final 5-3 L @ Moose Jaw (Dec 18 2021) Final
Leading After 1st 10-2-1-1 10-0-0-0
Leading After 2nd 12-0-1-2 14-0-0-0
Tied After 1st 2-2-1-0 4-5-0-0
Tied After 2nd 2-2-2-0 1-3-0-0
Trailing After 1st 2-8-2-1 1-12-0-0
Trailing After 2nd 0-10-1-0 0-14-0-0
Out Shooting Opponents 10-4-2-2 10-8-0-0
Out Shot by Opponents 3-8-2-0 5-7-0-0
1 Goal Games 3-5-4-2 5-4-0-0
2 Goal Games 5-1-0-0 3-5-0-0
3 Goal Games 3-3-0-0 3-6-0-0
WHERE TO WATCH/LISTEN
Radio: 620ckrm.com
Stream: WHL Live
Today Dante De Caria and Kelly Remple have the call inside the Brandt Centre. Pre-game show coverage starts at 6:35, with puck drop set for 7:00 p.m., on WHL Live, 620 CKRM, 620ckrm.com and the TuneIn app.
2021-22 HEAD TO HEAD
HEAD TO HEAD (0-1-0)
This will mark the second of six meetings this season.
Date Road Home Time Result
November 28th Regina Calgary 11:00 a.m. MST L, 10-3
January 11th Calgary Regina 7:00 p.m. CST
February 6th Regina Calgary 2:00 p.m. MST
February 11th Calgary Regina 7:00 p.m. CST
February 27th Regina Calgary 4:00 p.m. MST
March 12th Calgary Regina 7:00 p.m. CST
The Pats are 46-51-2-4-2 vs. the Hitmen, all-time and 25-21-2-2-2 at home.
These two teams last met on November 28th, 2021 in Calgary with the Hitmen defeating the Pats 10-3. The Pats went 0-3-1 against the Hitmen in the 2019-20 season, with their last win coming on February 22nd, 2019, winning 5-4 in overtime at home. The Pats have lost the last five meetings vs. the Hitmen (0-4-1).
HEADLINES
A career-high tying three points (2G-1A) for Pats 16-year-old forward Tanner Howe on Sunday vs. Moose Jaw...27 of his 28 points (13G-14A) have come over his last 18 games...he also leads the WHL in shooting percentage (31.8%) and is second among rookies in PPG (8).
The Pats made two moves on Monday's trade deadline, sending 2002-born forward Drew Englot to the Kamloops Blazers for 2004-born forward Tye Spencer...the club also traded 2002-born defencemen Tom Cadieux to the Vancouver Giants for a 3rd (2023) and a 5th round pick (2022).
BY THE NUMBERS
3-1: Record over the last four games since the Christmas break...during that time, the club has defeated Edmonton and Moose Jaw twice...they've outscored opponents 22-to-16.
4: Number of assists for Ryker Evans on Sunday was his new career high, breaking his previous career high of three assists in a contest...the Calgary, AB, native now leads all WHL defencemen in points (34) and assists (29)...he is the only active Pat' to play in all 32 games this season.
6: Wins over the Pats last seven home games...during that span, the club has outscored their opponent 47-to-25...this is versus their current season high five game road losing-streak heading into tonight's action where they've been outscored 28-to-14 during that time.
8: Consecutive games with a point for Pats captain Logan Nijhoff is the longest of his career...the Comox Valley, B.C., native has 15 points (7G-8A) during that span...he is one goal away from 50 in his career and recorded his 100th career point on Sunday versus Moose Jaw.
9: Number of points (3G-5A) for Pats defenceman Layton Fiest over his last eight contests...The Dawson Creek, B.C., native recorded a career high four points (1G-3A) on December 27th vs. EDM...he tallied five goals and nine points in 21 games last season as a 16-year-old.
9-7: Under John Paddock since November 18th, 2021...they've outscored opponents 67-to-63 during that time, while being outshot in seven of those 16 games, with equal shots twice (556SF, 34.75 avg / 520SA, 32.5 avg).
16: Points (9G-7A) over Connor Bedard's last six games...the North Vancouver, B.C., native also has goals in seven of his last nine games with 11 goals over that time...he is tied for first in the WHL in shots (150) and has scored in four straight games (8G-5A).
COMING UP
The Regina Pats continue their five game homestand with two home games this week, as the club will host the Calgary Hitmen today followed by the Brandon Wheat Kings on Friday, January 21st. The Pats will then host the Prince Albert Raiders on both Tuesday, January 25th and Friday, January 28th before a four game road swing where the Pats will take on Moose Jaw, Lethbridge, Calgary and Edmonton.
7:00 p.m., Friday, Jan 21 - Brandon Wheat Kings (18-14-4) at Regina Pats (15-17-0)
7:00 p.m., Tuesday, Jan 25 - Prince Albert Raiders (15-18-2) at Regina Pats (15-17-0)
7:00 p.m., Friday, Jan 28 - Prince Albert Raiders (15-18-2) at Regina Pats (15-17-0)
7:00 p.m., Saturday, Jan 29 - Regina Pats (15-17-0) at Moose Jaw Warriors (17-16-4)
• Discuss this story on the Western Hockey League message board...


Western Hockey League Stories from January 18, 2022
The opinions expressed in this release are those of the organization issuing it, and do not necessarily reflect the thoughts or opinions of OurSports Central or its staff.