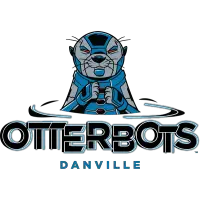 Otterbots, Ballad Brewing Announce 'Home Run Helles' Collaboration
May 22, 2023 - Appalachian League (ApL) - Danville Otterbots News Release



Over the course of the 2022 season, Ballad Brewing's Lagerbot found its way into the hearts and stomachs of Otterbots fans during each home game. As the team prepares for 2023 Opening Night on June 6th, Ballad Brewing and the Danville Otterbots are proud to announce their second joint venture in as many years: Home Run Helles!
A collaboration between the best fans in baseball and Ballad Brewing, Home Run Helles is a perfect companion for watching the 'Bots go yard. Otterbots Season Ticket Holders and Ballad Brewing Platinum Society Members joined together to craft a second beer brewed specifically for Danville's home team. With citrus- forward hops and a light malty finish, Home Run Helles will knock your taste buds out of the park!
"After the resounding success of Lagerbot last season, it made all the sense in the world for us to work with Ballad on concocting another grand slam of a beer for 2023," said Otterbots General Manager, Austin Scher.
"We could not be more grateful for our partnership with Ballad-the process and the people are only topped by the quality of the product, and Home Run Helles is sure to be a fan favorite all summer!"
For fans still craving Lagerbot, the club has good news: it's back for a second season at the ballpark, this time on tap. Cans of Home Run Helles will be available at all Otterbots home games and in the Ballad Brewing taproom at 600 Craghead St in the heart of Danville's River District.
"The Otterbots have proven themselves to be a premiere attraction in Danville - a place that friends and family can gather to, yes, enjoy a baseball game, but everything that surrounds it with the fan experience," said longtime Ballad Business Manager, Austin Bunn. "I couldn't be more proud of the collaboration effort between Ballad Brewing and the Otterbots to release Home Run Helles. The response to Lagerbot last year was incredible, and I know that baseball fans and craft beer fans will love this one as well."
FAMILY. FRIENDS. FUN.
BUILDING STRONGER COMMUNITIES
Mirroring the process that produced Lagerbot in 2022, the Otterbots and Ballad hosted a private event in the taproom in February 2023 for Otterbots season ticket holders and Ballad platinum society members. Guests had the opportunity to taste test several Ballad beers and rate them on all appearance, taste, color, finish, ABV, and overall drinkability. With the help of his team, Ballad head brewer Chris Myers compiled the taste test results and concocted a fresh new brew: Home Run Helles.
Home Run Helles will release in the Ballad Taproom on Wednesday, May 31st in celebration of World Otter Day. Members of the Otterbots staff, including Scotter the Otter, will be in attendance with awesome ticket and merchandise specials. Home Run Helles will be available at all Otterbots home games during the 2023 season beginning on Appy League Opening Night, Tuesday, June 6th.
Otterbots Single Game Tickets, Season Tickets, Group Outings, and limited Corporate Partnerships are available for the 2023 season. For more information, call 434-554-4487, email austin@danvilleotterbots.com, or stop by the front office.
• Discuss this story on the Appalachian League message board...


Appalachian League Stories from May 22, 2023
The opinions expressed in this release are those of the organization issuing it, and do not necessarily reflect the thoughts or opinions of OurSports Central or its staff.
Other Recent Danville Otterbots Stories