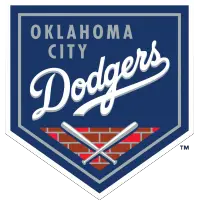 OKC Dodgers Game Notes - July 25, 2021
July 25, 2021 - Triple-A West League (AAA West) - Oklahoma City Dodgers News Release



Sugar Land Skeeters (39-29) at Oklahoma City Dodgers (36-33)
Game #70 of 130/Home #34 of 65
Pitching Probables: SUG-RHP Peter Solomon (4-0, 4.82) vs. OKC-RHP Markus Solbach (0-4, 5.81)
Sunday, July 25, 2021 | Chickasaw Bricktown Ballpark | Oklahoma City, Okla. | 6:05 p.m. CT
Radio: KGHM AM-1340 The Game, 1340thegame.com, iHeartRadio; Video: MiLB.tv
Today's Game: The Oklahoma City Dodgers and Sugar Land Skeeters continue their six-game series at 6:05 p.m. at Chickasaw Bricktown Ballpark. The Dodgers look to even the series between the top two teams in the East Division of Triple-A West. First-place Sugar Land sits 3.5 games ahead of the Dodgers.
Last Game: The Sugar Land Skeeters scored runs in both the seventh and eighth innings to break a tie and send the Oklahoma City Dodgers to a 6-4 loss Saturday night at Chickasaw Bricktown Ballpark. The Skeeters connected on five straight hits in the fourth inning as they built a 4-0 lead. The Dodgers then scored four straight runs starting with a sacrifice fly from Yoshi Tsutsugo in the fourth inning. Kenneth Betancourt's RBI double cut Sugar Land's lead to 4-2 in the fifth inning, and Tsutsugo belted a two-run homer out to center field in the sixth inning to tie the game, 4-4. Sugar Land then scored a run in the seventh inning on a two-out RBI single by Taylor Jones and added another in the eighth inning on a solo homer by C.J. Hinojosa as the Skeeters took a 2-1 lead in the series.
Today's Probable Pitcher: Markus Solbach (0-4) makes his 11th appearance for the OKC Dodgers tonight, aiming for his first win of the 2021 campaign...Solbach pitched a season-high 5.0 innings July 19 against Reno in OKC. He allowed three runs on six hits, with one walk and two strikeouts and was charged with the loss in a 7-5 defeat...In his four outings this month (three starts), Solbach has posted a 3.31 ERA and 1.22 WHIP while holding opponents to a .246 batting average. In each of his last three games, Solbach has also set a new season high in innings and pitches...In five starts this season, Solbach has allowed 17 runs (15 earned) and 29 hits over 20.1 innings. But in four relief outings, he's allowed five runs and eight hits over 10.2 innings...Solbach joined OKC May 24 from Extended Spring Training. He did not play in the U.S. in 2020 and played for San Marino of the Italian Baseball League, dominating over nine appearances (eight starts) allowing two runs total (one earned) over 30.1 IP for a 0.30 ERA. He scattered 15 hits while racking up 53 K's against eight walks...2021 is his 11th season of his pro career. He signed with the Dodgers as a free agent Jan. 3, 2019 and has spent time in the Twins (2011-13), Diamondbacks (2014-16) and Dodgers organizations, in two different independent leagues as well as the Australian Baseball League...Tonight is his third appearance and second start against the Skeeters. Across his first two meetings with Sugar Land, Solbach has allowed five runs and six hits over 4.2 innings, with nine strikeouts.
Against the Skeeters: 2021: 10-5 2019: N/A All-time: 10-5 At OKC: 5-4 The Dodgers and Skeeters meet for their third series of the season and second at Chickasaw Bricktown Ballpark...The Dodgers won each of the first two series between the teams, including most recently June 24-29 at Constellation Field, 5-1. They also took four of six games at home June 3-8...During the six-game series in Sugar Land, each game was decided by one or two runs, with three decided by just one run. In four of OKC's wins, the Dodgers scored the go-ahead run(s) in the seventh inning or later...Keibert Ruiz has led the OKC offense with 18 hits, five homers, 11 extra-base hits, 14 RBI and 15 runs scored in the 13 games he's played against the Skeeters...Through the first 15 games this season, OKC has outscored the Skeeters, 87-57, and has smacked 23 homers while holding Sugar Land to nine...Sugar Land leads the East Division with a 39-29 record and has a division-leading 23-16 road record, which is tied with Reno for most road wins in the league. The Skeeters' +58 run differential is best in the league. Their pitching staff's 4.46 ERA leads Triple-A West, and they have allowed a league-low 319 runs so far in 2021.
Down to the Wire: Including last night, eight of the last nine games between OKC and Sugar Land has been decided by one or two runs. And of the last 12 games between the teams, 10 have been decided by one or two runs, including five one-run games. The Dodgers are now 6-4 in those 10 close games with the Skeeters, but 2-3 in the one-run games. Within the last eight games between the teams, the go-ahead run(s) scored in the seventh inning or later six times.
Yoshi's Island: Yoshi Tsutsugo hit a game-tying two-run homer out to center field in the sixth inning Saturday, as he went deep for the third time in four games and for the fourth time in his last six starts. He finished yesterday 1-for-2 with a walk, sacrifice fly and a season high-tying three RBI. Tsutsugo has now reached base safely in 12 straight games, going 14-for-37 (.378) with five homers, a double, 12 RBI and 12 runs scored as well as a .489 OBP (OB 23/47 PA)...Over his last 11 games, Tsutsugo is 14-for-33 (.424) after going 8-for-67 in his first 17 games with OKC...During his current four-game hitting streak, Tsutsugo is 6-for-12 with six RBI and three walks.
Matt the Bat: Matt Davidson finished Saturday's game with three hits for a second straight night, as he went 3-for-4 and scored a run to extend his hitting streak to seven games - tying his season high. Over the last two games, Davidson is 6-for-8 with a homer, RBI, walk and four runs scored. The last time Davidson collected back-to-back three-hit games was Aug. 19-20, 2019, coincidentally also at Chickasaw Bricktown Ballpark, but as a member of the Nashville Sounds...During his current seven-game hitting streak, Davidson is 11-for-24 (.458) with four homers. He also compiled a seven-game hitting streak earlier this month from June 29-July 10. Davidson last hit safely in eight straight games Aug. 28-Sept. 4, 2018 with the Chicago White Sox...He has homered in four of his last six games and has seven homers in his last 10 games, 12 homers in his last 19 games and 14 homers in his last 25 games. He's currently tied with Keibert Ruiz for the team lead with 16 homers this season...Since June 29, his 12 homers, 25 RBI and 65 total bases lead all Triple-A players, while his 16 extra-base hits are tied for most and his .915 SLG and 1.328 OPS are both second. His home run total since June 29 is also tied for most in the Minors...Davidson has hit safely in 10 of his last 11 games (15x38, 7 HR) and in 17 of his last 19 games, batting .352 (25x71) with 16 extra-base hits and 25 RBI.
Keibert Goes Kaboom: Keibert Ruiz doubled and scored a run Saturday and has now hit safely in a season-best eight straight games, going 14-for-35 (.400) with four homers, four doubles and 11 RBI. He has now reached base in 20 of his last 21 starts, batting .368 (31x83) with six doubles, eight homers, 16 runs scored and 23 RBI...On Friday he went 4-for-4 with three homers, a double, walk, four runs scored and five RBI Friday, recording his first career three-homer game, tying his career-high mark with five RBI and tying his season-high with four hits in addition to setting a career high with four runs scored. Friday marked the third time this season Ruiz has collected five RBI in a game after recording one five-RBI game over the first five seasons of his career, and none since 2016 in the Arizona League. It was also his fourth multi-homer game of the season - something he had accomplished three times prior to 2021, all during the 2018 season with Double-A Tulsa...Ruiz ranks third among Triple-A West players in SLG (.641) and OPS (1.020) and is tied for eighth in the league with 32 extra-base hits in 2021. He leads OKC with 59 hits and is tied for the team lead with 16 homers and 43 RBI. His 16 doubles and 38 runs scored are both second...He is in the midst of his longest hitting streak since 2019 when he hit safely in 12 straight games starting with three games July 17-19 in Tulsa before hitting safely in each of his first nine Triple-A games with OKC July 21-Aug. 3...Ruiz is currently one of six players in all of the Minors with at least 16 homers and 16 doubles, as well as one of three in Triple-A West, joining current opponent Jake Meyers (Sugar Land) and Cody Thomas (Las Vegas).
Dinger Details: With another home run last night, the Dodgers have now homered in 10 straight games (20 HR) and in 14 of the last 15 games (31 HR). Their current stretch of consecutive games with a homer ties their season-best 10-game streak initially set June 13-24...The Dodgers have homered in each of their first nine games of the current homestand and have hit nine homers over their first three games against Sugar Land. Their six homers Friday tied the Chickasaw Bricktown Ballpark record for homers in a game, first set May 10, 2018 against Memphis...Their 31 homers since July 8 are tied for most across the Minors or Majors with High-A Hickory (Texas Rangers)...The Dodgers' 36 homers through 21 games in July are second-most in Triple-A West and two behind league-leading Las Vegas (38)...On the other hand, C.J. Hinojosa's solo homer in the eighth inning Saturday was the first allowed by OKC in four games, and the 21 homers allowed by the Dodgers so far in July are fewest in Triple-A West. They have allowed 37 homers over the last 45 games - fewest in Triple-A West by 16 since June 3. The 79 homers allowed by the Dodgers overall this season are also fewest in Triple-A West.
Sales Pitch: Dodgers pitchers recorded 11 strikeouts Saturday for the team's fourth straight game with double-digit strikeouts and the seventh time in the last eight games with 10 or more K's. It's the team's second-longest double-digit strikeout streak of the season, only trailing a season-best seven-game streak May 11-18. Along with 15 strikeouts Thursday and 13 K's Friday, the 39 punchouts mark the team's highest three-game total this season...Dodgers pitchers also held the Skeeters to one walk Saturday and have only walked four batters over the first three games of the series. They've issued two walks or less in nine of the last 13 games, but in the other four games during the stretch, they have issued seven walks each time...However, when the Skeeters have not struck out this series, they are batting .423 (30x71) with 14 extra-base hits...At the plate, the Dodgers tied their season low last night with only three strikeouts (previously June 10 vs. El Paso).
Around the Horn: Cristian Santana has hit safely in 12 of his 16 games this month, including 12 of his 14 starts. He's batting .305 in July after batting .236 through June...Zach Reks ranks among Triple-A West leaders in OBP (5th, .416), OPS (5th, 1.014), doubles (T-7th, 17), AVG (8th, .320) and SLG (9th, .598).
• Discuss this story on the Triple-A West League message board...


Triple-A West League Stories from July 25, 2021
The opinions expressed in this release are those of the organization issuing it, and do not necessarily reflect the thoughts or opinions of OurSports Central or its staff.